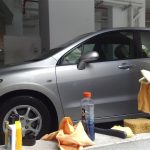 Washing a car for one hour burns 314 calories, according to the Health Status Calculator, for a person weighing about 70kg. My 2.4km jog burns only 171 calories. It seems more fun to be washing car than to jog 2.4km. Well, except that one hour is a long time, and I don't have a lot of hour-long time slots to spare.
Washing car is a tiring activity. Of course, I'm not just only discovering it now. I've been washing cars on and off for a long time… usually corresponding to when I acquire a new car. Now my current Honda Stream is still quite new, so I'm washing it. I'm not sure how long more I will be doing it… at some point I imagine I'd outsource this activity…
The funny thing is that when I wash the car myself, it seems to take exceedingly long. It actually takes me at least one hour just to complete the exterior cleaning. So by the time I'm done, I don't have the energy (or time left) to do a proper interior cleaning. I usually end up just emptying out the rubbish, dust the floor mats, and other simple things.
One hour for exterior cleaning seems like an enormous amount of time. Afterall, the car wash at petrol kiosks only take like 10 minutes or so.
I've been thinking that I must be doing something wrong. Wrong as in "inefficiently". But I don't know how to work faster. One limitation that I have to work with is that the water must be filled up into a pail. Yeah, no hoses. But I park next to the tap, so it is not like I am spending a lot of time carting water back and forth.
Someone needs to invent a car paint protection system that only requires a simple wipe down. Something that bird droppings don't get stuck on, does not get swirl marks, no water stains, etc. A paint protection system that is impervious and repels everything (except the car body). That would be superb.