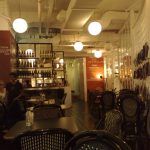 We were at Paragon one of the mornings recently. We were looking around for some breakfast to eat. Somehow the usual Delifrance and Coffee Bean did not strike our fancy. Then we recalled the Project Shop Blood Brothers on the 3rd story had a cafe. It looked nice and we had been thinking about trying them out before. We decided this would be the time. So we went up, looked at the menu, and hesitated because the prices weren't cheap. But well, nothing else really fancied us that morning, so we ended up in the Project Shop Cafe for breakfast.
Our two orders of beakfast were "The Big" and "Portabello Mushroom Stack". They each cost about $18 or $19.
I think the breakfast was excellent! My Portabello Mushroom Stack came with "poached egg, crispy potato, pork breakfast sausage, goats cheese, roast tomato & rocket, drizzled with prune balsamic vinaigrette" (quoted from the menu). The goat cheese was really superb. I really liked it. The prune balsamic vinaigrette drizzled salad was really good too. The mushrooms were huge, and they were really good. There's nothing wrong with the poached egg, roast tomato and pork sausage, but they were simply overshadowed by the goodness of the other items.
"The Big" was made up of "2 eggs (poached or fried) with crispy bacon, pork breakfast sausage, caraway toast, mixed mushrooms, grilled tomato, wilted baby spinach, baked beans and herb mayo" (again quoted from the menu). Again, it was really good. There's enough mushrooms in there to satisfy mushroom lovers, no need to go for the Portabello Mushroom Stack. I thought the crispy bacon was slightly too toasted. The only thing missing is the goat cheese (yeah, I like the goat cheese), otherwise I would have loved "The Big" just as much.