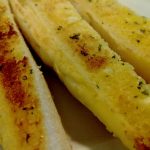 Some time ago, a friend introduced me to this nice little cafe restaurant, Buddy Hoagies, located in a quiet shopping centre, Bukit Timah Shopping Centre. This is one of the kind of place that you're never going to find on your own, unless someone tells you about it, and perhaps even having to bring you there. It's located in the basement, and even though it can be accessed directly from outside the shopping centre, it is below road level so you're not going to see it unless you're walking around looking out for it.
The food at this cafe restaurant is quite decent, and if you consider how much it costs, it is really pretty good value for money. You can get a set meal dinner for a little over $10, includes the main course, soup, and drinks. I'm not sure if the garlic bread comes with the set, or it is something always served anyway. The garlic bread was good too (I guess it's nothing difficult to make it good, you just have to be generous with the garlic and butter spread).
The buffalo wings are pretty good. Juicy and flavourful. Most people would probably rate it "hot" (i.e. chilli hot), but if you ask me, it's "ok hot". Yes, I like chilli hot food.
The main course pictured in the photo here is the chicken chop.
The ambience in this place is quite laid back, just like the Bukit Timah Shopping Centre that it is located in. Some of the other patrons are there studying. I think a lot of their patrons are actually students from the nearby polytechnic. The place is spacious enough, with not much crowd, so I suppose they don't really mind students studying in there so long as they order something.
Incidentally, I've been slightly familiar with this area since my NS days, because I used by pass by to change bus, and often stop for food at Beauty World or Bukit Timah Plaza. But never in Bukit Timah Shopping Centre. It already wasn't a "high-traffic" area back then.
Address: 170 Bukit Timah Road, #B1-05 Bukit Timah Shopping Centre
Tel: 6466 1505