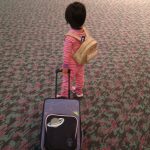 When I first told Vanessa that we were bringing her to Japan for a holiday, the mind in her had many questions. The first one that popped out (quite instantly, I must add), was, "Japan got playground?" Quite obviously, playground is the highest priority in her list of many logistic concerns.
I thought it will be a good idea to note down some of the funny things she has said or asked about concerning this trip.
We were going to Disneyland and DisneySea… that would be the giant playground for her. She asked, "like my school's one?" Erm, many many many times larger. The whole idea of going to Japan for a holiday makes it like a playground too. But these were probably difficult concepts for her to fully appreciate. More about this playground thingy later…
On another day, as I was trying to explain to Vanessa about going to the toilet… she asked "Japan got toilet?" Oh of course there are plenty of toilets… just that toilets just might not be so easy to come by while we're traveling. Like on the plane, you couldn't expect to always have instant access to the toilet. (She doesn't want to wet her diapers nowadays.)
This is not her first overseas trip. But perhaps, this is the age when she starts asking more intelligent questions and can reason things out. So she's constantly trying to understand many new things. Like, for example, the spatial concepts of traveling, what/where Japan is, etc. When she had enough of the outing one of the days, she asked, "can we go home now?" When we were in Tokyo Disney Resort area… she asked, "can we go back to Japan?"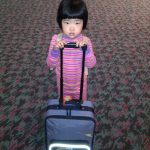 Hmm, how do we explain that Japan is a country. Disney is in Japan, our hotel is in Japan, Tokyo is in Japan, Kyoto is in Japan, Nara is in Japan. Japan is a very very very big place. Vanessa kept thinking that Japan was a specific spot… a place like, say, her child care centre.
Somewhere along the way, Vanessa started to miss Ian, so she asked, "can we bring Ian to Japan tomorrow?" Not like we're going to come back again that soon at all. But I guess she misses her little brother, because in the last few days of the trip, she kept asking about bringing Ian to the playground to play with her.
We try to make sure there are activities suited for her. Unfortunately, it seems the many things we imagined to be "fun" for a 3 year old wasn't quite what Vanessa had in mind. She took a long while to warm up to Disney. I don't think she enjoyed the first day at all. She started to warm up on the second day, but it was only the third day that she was really ecstatic about a few of her favourite rides.
The thing about all the fun is… she seems to be just as happy playing inside the hotel. We stayed at the Sheraton Grande Tokyo Bay. It's a really nice hotel, and we were supposedly "upgraded". I'm not sure how our rooms are better, but we can tell that the lobby and common area decor on our floor was different. It was very bright and cheery, with pictures, boxes, cushions, etc. On the first day at Disney, it seemed like Vanessa was happier playing in the lift lobby on our floor than at Disney park itself! On our last day, we finally had time to visit the children's play area in the hotel annex… and would you believe it… she was so excited about it. To top it off, the Mummy won a big stuffed bear in the adjacent games arcade, and which instantly became Vanessa's most-favourite toy.