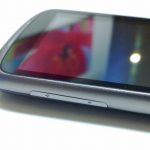 Google has released Maps 5.0. Yup, a bump in the major version number, so you'd expect that this update brings about some significant new features. In a nutshell, the new features are compass mode, 3D maps (and pan/rotate viewing options), and offline map caching. Not all the new features are fully available on all devices though. Some "older" phones, which unfortunately includes my Nexus One, only support a partial list of the features.
There is 3D support on the Nexus One, but you can't manually rotate the map. It's weird, since in compass mode, the map does orientate itself according to your heading. So it's not as if the phone's hardware wasn't sufficiently capable of handling such 3D operations.
The new navigation looks nice and pretty. As you move from point to point (e.g. bookmarks or latitude friends), the map moves smoothly, zooming out and in as needed, kind of giving a sense of flying between places. It's a little unsettling initially, at least to me, simply because it's different from how it used to look, but I think this is something that you could get used to.
Offline maps is a big thing in Google Maps. It's something that many other phone maps applications (e.g. Nokia Maps) and GPS navigation gadgets already support. But until now, Google Maps always required an active data connection before it can show map data. However, while other  maps applications typically preload map data by geographical regions (e.g. Singapore map, or USA map, etc), Google Maps work on a prefetching principle. This means that you have to visit the map location before mapping data for the area is fetched and stored in the phone's memory for subsequent use when the phone is offline. It's a compromise between online mode, where mapping data is always "fresh" because you are fetching it from map servers, and offline mode where you update your mapping data manually. (The reality is that the so-called fresh data from map servers aren't always updateed anyway.)
Google Maps 5.0′s new features are important, but the features are sort of expected… features that other map applications already have. The next most important thing we need to get, because it is still not available in Singapore, is turn-by-turn realtime navigation directions.
ps: Oh, the fact that distances are now presented in km rather than miles is a welcome relief. I've been thinking too long in terms of miles.