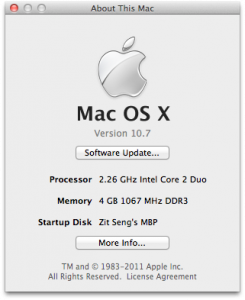 I wasn't planning to be such an early adopter of Mac OS X Lion. After all, there wasn't anything glaringly wrong with Snow Leopard. I've read about the nice things that would come with Lion, but I could wait. Maybe one or two weeks. I've gone from Tiger to Leopard to Snow Leopard, so I've some faith in the quality of Apple's major version releases. But I thought I might even wait for the point-one version update, simply because I wasn't all that excited about Lion.
However, in the run up to Lion's official launch, I got interested. Snow Leopard wasn't much of a change from Leopard. The UI had gotten a bit stale. Lion would be more adventurous in its UI improvements. It would be nice to see something new. The Mac App Store installation would be a new experience too. Then, I found out that for $29.99, I could upgrade multiple Macs (that belong to me, of course). How neat!

So, without much more deliberation, I surprised myself by purchasing Mac OS X Lion on day two of its launch. The whole process of upgrading was relatively painless. I think the most painful part is actually spending 4 hours or so for my Time Machine backup to complete (I made a brand new Time Machine backup).
Lion is downloaded just like any other application from the App Store. This application is special, of course, since it installs a new operating system. Once the installation is done, the original "application" is deleted. So if you want to make a copy of it, do it before you upgrade. You can, in fact, burn Lion into a DVD or make a bootable thumb drive, but you've got to do it before using the application to install Lion. (Find the application, Show Package Contents, Contents, SharedSupport, then copy the InstallESD.dmg file.)
From the time my MBP rebooted to start the upgrade, it took just 17 minutes or so before the installer completed and rebooted into Lion. The installer originally estimated 33 minutes. I'm thinking my SSD probably helped a lot.
Then, once Lion was up… I got stuck at the silly Setup Assistant. You know, many users don't read instructions. Setup Assistant was trying to explain how scrolling has changed. But I didn't digest the information. I was getting annoyed trying to figure out how to dismiss that screen… when I accidentally discovered Steve Job's new natural scroll.
Natural scroll was truly frustrating. I couldn't stand it after 15 minuts of use, and figured out how to undo it (from System Preferences, of course). But after that, I thought I'll give Steve Jobs a chance and try to relearn scrolling. At the end of one day, I think I've made some progress accepting how natural scrolling is in fact more natural. Hmm, except that it still got disorienting when I went back to use a Windows PC.
Overall, the Lion upgrade has been pretty pleasant, but there are also a few surprises and disappointments. Here's a bunch of them that I encountered. They are all probably already mentioned in some review somewhere, but either I didn't take notice of them, or it's just important enough to me that I want to mention them again.
First of all, the Mail app has changed somewhat. I've read that it has undergone some changes. The change is substantial enough that it could be unsettling for some people. It is unsettling for me. The UI layout now follows the style of the iPad mail program. The conversation threading is neat and very useful, as is the button to "show related messages". But the new layout taking up three vertical columns (it's two by default, but I really want to see my Mailbox list, and revealing it adds the third column) uses up more screen real-estate than I'm happy to let the Mail app have. Perhaps I need a higher resolution screen.
The way desktop spaces work has also changed. You start off with no spaces. To add a new space, move your mouse pointer to the top right corner of Mission Control (the new expose-spaces thingy), and click on the plus icon that appears in that corner.
There are plenty of new gestures to do a whole bunch of useful things. I like them. I like using CLI, but gestures represent a neat alternative to clumsy pointer movements and clicks.
Fullscreen apps work quite differently in Lion than they did before. When an app is made fullscreen, it now appears in a new space of its own. This is assuming, of course, that the application uses Lion's new fullscreen API. You can swipe between spaces to move in and out of fullscreen apps. Chrome doesn't support the new fullscreen API, but Google has said that they will update Chrome to offer the best native OS platform experience.
I did find some bits of the UI looking a bit odd. For some reason, the font size in the Finder's sidebars, as well as the Mailboxes sidebar in Mail.app, has gotten to big. It's easy enough to fix: Go to System Preferences, General, Sidebar icon size, change that to "small".
All the applications I typically run on a daily basis seem to run without problems. Some may not take advantage of Lion's new features (e.g. fullscreen API, versions, etc). I was disappointed to note, however, that Microsoft Word seemed to take noticeably longer to load than before. I'm not sure if it is just me… but at least another colleague has shared the same experience with me. It seems to be Word only. Excel and Powerpoint appeared to load just as fast (or slow…) as before.
In case you don't yet know… Rosetta apps won't run anymore, because Rosetta is no longer available. This is how we get to run PowerPC binaries after the Mac moved to the Intel CPU. The only PowerPC application I had is ZTerm (a terminal emulation program). Fortunately, I can substitute that with the Unix screen command.
Over the next couple of days, I'm sure there'll be many more new things to learn. Like… maybe to find out what the new Safari 5.1 has to offer. This is just my first day (or so) impression of the new Mac OS X Lion. I'm happy that the upgrade experience has overall been pretty pleasant.