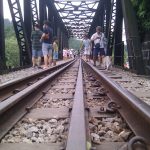 I hadn't really planned to visit the KTM railway tracks. At least not in the sense that it was a "must do" activity. The railway tracks actually run by just behind where I stay. It's really close by, and some people would probably say it'd be such a pity to miss the opportunity. But I didn't really think it was such a big thing. Maybe it's because I live so nearby and seen the trains passing by so often that it wasn't such a big novelty to me. The two weeks when the railway tracks were officially open to the public passed by. I did not visit.
Then, the weekend one week after official public access to the railway tracks had been closed, I happened to head over to Rail Mall for dinner. The car park was swarmed with cars, but I was fortunate enough to locate a free lot pretty quickly. There was still a hive of activity. So I thought, why not just make a little detour to at least walk across the railway bridge that runs over Upper Bukit Timah Road. It was still in the early evening, plenty of daylight and the weather wasn't too hot (although still humid). Seems like a nice time to walk across the bridge.
I think the railway tracks themselves weren't very interesting. What's nicer to see is the greenery along the sides of the railway tracks, particularly to see the railway tracks disappear into the trees and bushes in the distance. I also liked standing on the bridge itself, looking down on Upper Bukit Timah Road, and looking beyond at Rail Mall.
I can see that many people are very excited about the railway tracks though. Whole families are there, posing and taking photos non-stop. Yeah, it is quite impossible to not get in the way of any photo-taking, because they're everywhere.
Should we preserve this corridor of natural greenery that cuts right through Singapore? I think that would be really nice. I can imagine there will be pressure to develop every inch of space in land-scarce Singapore, and there will be no doubt some creative ideas to "optimize" the land occupied by the railway tracks. But just stop to think about this one. I don't even want this corridor turned into a park. Just leave it as it is… for as much as possible.