I rarely visit Chinatown. Never, particularly, the part where the Chinatown Visitor Centre is located. So this was another one of those times when I became a tourist in my own country. We had an out-of-town guest, and the original place we had planned to go for Dim Sum brunch was out of food (yes, imagine that!), and Chinatown thus became our next destination.
We're not terribly familiar with Chinatown. I've travelled along the main roads of Chinatown before, and walked through one side street searching for a cab on another occasion, but not actually really walked into the heart of Chinatown. So there I was, touring a part of Singapore that's actually quite accessible but yet I've never actually been to all these years.
Just like a typical tourist, I'm seeing scores of T-shirts, keychains, buttons, pouches, fans, chopsticks, etc… all the sort of memorabilia you'd be getting if you had been a tourist here. Quite like Pagoda Street which is quite nearby, and which I was there not too long ago as well.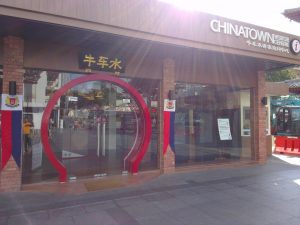 I was quite surprised that parking was just impossibly bad. On a Sunday morning, even the multi-storey car park was completely full. I wondered just where all the people had gone to. The streets were not quiet, but they were certainly far from overflowing with human traffic. Had everyone just disappeared into some eating places, just like where we were headed to?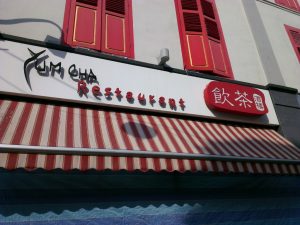 We had our Dim Sum brunch at the Yum Cha Restaurant. Totally packed place. The Dim Sum is "okay". I was reminded of all the foods we had when we visited Hong Kong last year. Having Dim Sum in Singapore is a bit of a test of luck, because what you get is sometimes good, other times it's not good.
None of these have anything to do with National Day, but nonetheless, I just thought to post something about Singapore on our nation's birthday.
Happy 47th National Day!