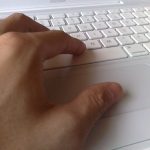 Apple has announced their refreshed notebook models for both the MacBook and MacBook Pro lines. Much of the earlier rumours have turned out to be quite accurate, such as the one about new MacBooks being carved out of a block of aluminum. An interesting twist is that there are now no trackpad buttons, because the entire trackpad itself is the button. Cool for people like me who don't use the button anyway.
The notebooks all come with new Nvidia chipsets. The top end MacBook Pro sports dedicated Nvidia graphics chips while the rest settle for integrated Nvidea graphics. This should be good news for gamers who need more graphics horsepower.
The trackpad is all glass, so that it feels like using the iPhone or Ipod Touch. The glass on the screen extends to the bezel around the screen too, so you have one nice and clean looking finish. The funny thing about it is I hear comments from some people on the web about how they want a screen and not a mirror (yeah, it turns out the glass is too reflective).
The notebooks all now come with LED backlit displays, just like the ones on the MacBook Air. LED backlighting consumes less power and produces more even and "instant-on" lighting than the traditional display backlighting.
Since what I have now is a MacBook, I'm more interested to spot the improvements in the new MacBook. The new MacBook is slightly thinner (0.95″ vs 1.08″), slightly lighter (2.04kg vs 2.27kg), and squeezes slightly more power out of its batteries (5hrs vs 4.5hrs) probably thanks to the more energy efficient LED display backlighting. The new MacBook does not have any firewire ports though.
The lowest end of the old MacBook line is still on sale. It is now known as the MacBook White, and retails for US$100 less (S$100 less too… doesn't seem right hor).
The new MacBook starts at S$2088. The downside with the new MacBook is that you get a 2.0GHz Intel Core 2 Duo, whereas the old S$1988 MacBook comes with a 2.4GHz Intel Core 2 Duo. Pay more, get a slower CPU.
So is the "upgrade" worth the additional money it will cost?