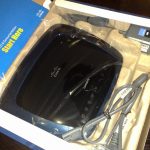 Last weekend, a Linksys WRT610N became the latest addition to the networking gear I have at home. It replaces my trusty old WRT54G which was starting to go bonkus after serving for many years.
I have been thinking about upgrading my wireless broadband router for some time. In fact, I was considering StarHub's free Apple Time Capsule promotion last year. It does 802.11N wireless, Gigabit Ethernet wired ports, includes 500GB or 1TB of storage and printer connection sharing.
But there was no urgency when my WRT54G was still working. Of course, now things are different. So I quickly refreshed my comparison survey of the various wireless broadband router products. The Apple Time Capsule is off the list, because it is too expensive and its disk storage capability has been filled in by a Maxtor OneTouch 4 Plus direct attached storage I bought last year.
The main new feature I want is draft 802.11n support and Gigabit Ethernet wired ports. The main contenders were the Linksys WRT310N, WRT350N, WRT610N, and D-Link DIR-655. The Apple AirPort Extreme was considered too.
In the end, I bought the Linksys WRT610N. I liked that it was Dual 802.11n Band, operating at both 2.4GHz and 5GHz frequency bands. Everyone nowadays has at least a 802.11b wireless device somewhere. The 2.4GHz frequency band is extremely congested. I see a dozen Wireless LANs in my home. But the 5HGz frequency band is lesser used. It is occupied by 802.11a, which is not common. Furthermore, Dual Band 802.11n wireless broadband routers are not so common either. The reduced congestion is distinct advantage of running a Wireless LAN on the 5GHz frequency band.
The WRT610N has the new Linksys outer casing design. The device has a UFO-like shape and features internal antennas. It definitely looks nicer than their older products, and many of their competitors' products. But the router is does not need to be looked at, so in my opinion, it is not something terribly important. Not unless it is so beautiful that you want to show it off.
The WRT610N cost $245. I don't think it was a terribly good bargain. Considering that one can get the Apple AirPort Extreme for just $13 more ($258 with educational discount from Apple Store), which would have come with just about everything the WRT610N has plus USB printer connectivity sharing.
The AirPort Extreme looks beautiful. Yes this is something you could display in your living room (except that its white colour tends not to gel with most living room gadgets). But I've not used or seen the the box in operation, so I don't know exactly what kind of configuration options there are. I am concerned about configuration flexibility because I have rather specific things I want to do. I consider myself somewhat of an expert at networking, and there are some not-so-standard things I want to do with my home network. I have used a variety of Linksys broadband products for many years, so I know what it can and cannot do. It was thus a safe choice to go with the WRT610N.
One common complaint about many Linksys products is that they get very hot. So far my WRT610N has not gotten hotter than "warm to touch". Setup and configuration is similar to any other Linksys broadband router product, so Linksys users should be quite familiar with the administration interface. The 5GHz and 2.4GHz wireless radios are configured independently, so you can have different settings between the two Wireless LANs.
Although 802.11n is still in draft status, the WRT610N works perfectly with my MacBook (supports 802.11n in both 2.4GHz and 5GHz frequency bands as well). In the past, "draft" often means you have to buy everything from the same brand manufacturer. Fortunately 802.11n draft is sufficiently advanced for this to become a non-issue.
Just for record sake, I managed to clock about 80Mbps transfer rate from my MacBook approximately 2m aware from the WRT610N, performing scp file transfer from a PC connected to the Gigabit Ethernet port. Decent performance I guess.
Update (9 Jan 2009): I'm told that Apple's AirPort Extreme may be dual band, but operates at only one band at a time. I.e. you can configure it to work at 2.4GHz, or at 5GHz, but not to provide wireless coverage on both 2.4GHz and 5GHz frequency bands at the same time.