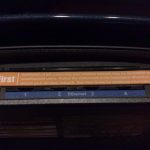 In the past, most companies don't care. They do sell products with security features, but the features are turned off by default because they usually make the product more difficult to setup and use, and customers may get turned off by the complexity of getting the product to work. Fortunately, some companies are now trying to make security easy. They are putting some extra effort to take care of their customers' interests.
One area has got to do with wireless network security. Wireless broadband routers are so prevalent nowadays. The biggest security risks with these products is with the wireless network access. Anyone in the nearby vicinity can connect to the wireless network and get direct access into your home network, as if they were plugged in with a cable to your broadband router. There have been many security enhancements to the wireless network technology: WEP, WPA, WPA2, etc.
But in the past, few manufacturers bother to turn them on, because it was difficult to explain to customers what needs to be done to setup their computer. If a product was difficult to setup, customers are going to "condemn" the product as "not-working".
Sometimes, "setup wizard" programs make the security configuration easy. But it is even easier to not have to run the wizard. So again, it ends up that end-users don't bother with it. What does it take to get the security awareness message across?
Well, the Linksys WRT610N I bought recently had a sticker pasted across all its ethernet ports. You can't plug in a UTP cable until you've peel off the sticker. What's written on the sticker?
WARNING: If left unsecured, your wireless network may be accessible by unauthorized users. Follow the instructions in the installation Wizard to secure your wireless network. See User Guide for additional information.
That's really good.