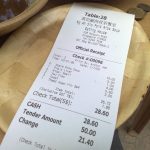 I'm quite surprised to see some of the "traditional" kind of eateries turning high-tech. The kind of oldish places with long established fame and huge loyal customer bases. They don't need air-conditioning, pleasant ambience, good service, etc and which will still continue to pull in crowds. But they invest in high-tech.
One such place I recently visited is the famous Ng Ah Sio Pork Rib Soup at Rangoon Road. Their Bak Kut Teh is well-known in Singapore. The simple coffee shop is hot (no air-conditioning), noisy, and plenty of tables spill out unto the outside pavement. Orders used to be shouted out.
But it has changed. We had a family outing some weekends ago. The order taker entered our orders into a PDA, which wirelessly transmits the order information to the backend. Moments later, our order is served. No more shouting. No more running back and forth to pass on order information to the kitchen.
Then it was time to pay the bill. You know how it works with some of these eateries in the past. They come to the table, look at empty plates and bowls, and somehow they'll know what you've had. They'll do all the sums in their head and announce the bill amount to you. Well, with modernization at Ng Ah Sio Pork Rib Soup, we now get a printed receipt.
Another similarly modernized place is the Five Star Chicken Rice which I posted about previously. They also have wireless PDAs.
Sometimes I wonder if there is really any benefit to their wireless PDAs, particularly at eateries where their menu is rather limited. E.g. everyone goes to Ng Ah Sio Pork Rib Soup for pork ribs. Are they going high-tech for the sake of being high-tech? Does the technology actually save cost or improve efficiency?