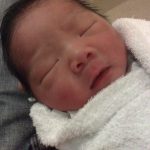 We still haven't thought of a name, so he's still Baby #2 now. I hope he doesn't mind. He should be happy that his name is so important that we're taking so long to decide.
Baby #2 is strong. At day 1, he was already trying to lift his head. He loves to crane his neck and turn to look around. Babies this age aren't supposed to be seeing much yet, so I'm surprised that he's turning he head around so much as if he is really trying to explore his surroundings.
Speaking of exploring, he actually opened both his eyes quite early. Right in the labour ward, even before he was weighed. That's like only barely 10 minutes after birth, both eyes opened.
His arms can put up quite a strong resistance too when I try to reposition them. Of course it is not like I have to struggle with him, but he puts up enough resistance that I have to firmly grasp his arms and pull/push them to where I want them to be.
Maybe it is a boy thing… they come out stronger…
Oh I'm trying to get used to the fact that he's a boy, because after having Vanessa, everything about babies are "she", "her", "hers", etc. So several times I referred to Baby #2 as "she". I wonder if the nurses are getting confused when I talk to them and refer to Baby #2 as "she".
This boy doesn't like cold. He needs to be totally wrapped and bundled up. and the room's air-con needs to be turned off. (Good thing, when we get home we can save on electricity for the air-con.)
We'll be seeing less of Baby #2 today because he has an all-day suntanning appointment.