You've probably heard of the UE brand of Bluetooth speakers like the Boom or one of its siblings. They've all been well received and often come highly regarded by many review websites. Logitech (or Logi, as the company is now called), has taken the Boom and made a sequel, the Boom 2.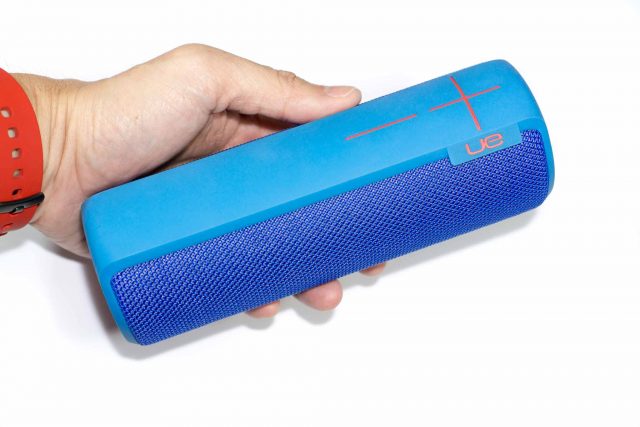 If you've something great going, make another of it, and fit in a couple of upgrades. That seems to be pretty much what the Boom 2 is. At first glance, the Boom 2 looks similar to the original Boom. In fact, if you're familiar with the Megaboom, the Boom 2 is practically just like a miniaturised version of it. To some extent, this is a nice move to give consumers some options as to how large a speaker they want to carry around, or how loud a sound they need to project.
The Boom 2 is the mid-tier speaker in UE's lineup. It's a Bluetooth speaker that features 360° sound so you can place it right in the middle of your room. It's got quite an impressive sound volume level, so it can liven up your house party. The best part of it, and this is one of the upgrades from the original Boom, it's now truly waterproof, as opposed to just being water-resistant. You can drop the Boom 2 into a pool and not worry about it. In fact, this is one of the fun things that I had to do.
On the outside, the Boom 2 looks funky. It comes in a variety of bright and cheery colours. I have the blue one in this review. The unit has a tall slim cylindrical shape, 180 mm high and 67 mm in diameter. It's easy to hold it in your hands, and its 548 g weight isn't too hefty. It's reasonably portable, but of course, whether it's big or small, or heavy or light, is something subjective and relative to what you want to compare it with.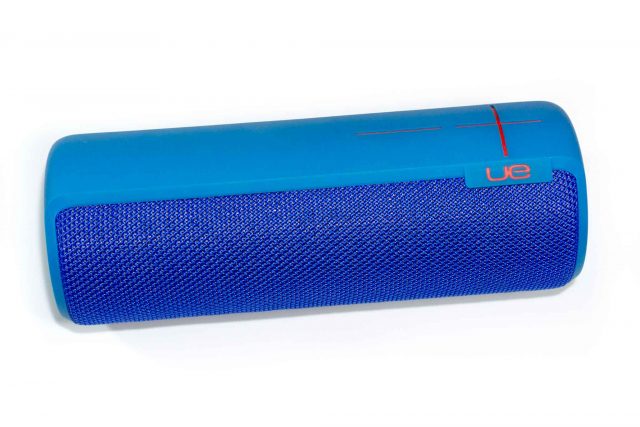 The Boom 2's sides covered almost all around with a tight-weave fabric. It only keeps the water out, but also sand and other grit. Since the entire speaker is waterproof, it's easy to wash down the Boom 2 if you take it to the beach and had it roll around in the sand.
There are minimal controls on the Boom 2. At the top, there's a slightly recessed power button in the centre, and a small slightly protruding button for Bluetooth pairing. Both buttons have a small LED indicator embedded in them.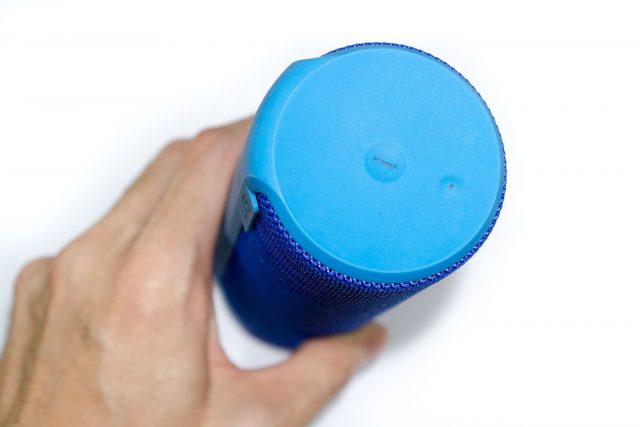 On the side panel, there are the volume '+' and '-' control buttons. That's all the buttons there are! But there are some hidden motion controls which I'll come to later.
At the bottom of the Boom 2, under the rubber flap secured by a tool-less screw, you'll find a 3.5 mm audio jack and a Micro-USB port used for charging. A nice feature with the screw hole in the Boom 2 is that it's compatible with camera tripod mounts. That means you can put the Boom 2 on a tripod and place it in the centre of a room, perfect with its 360° sound.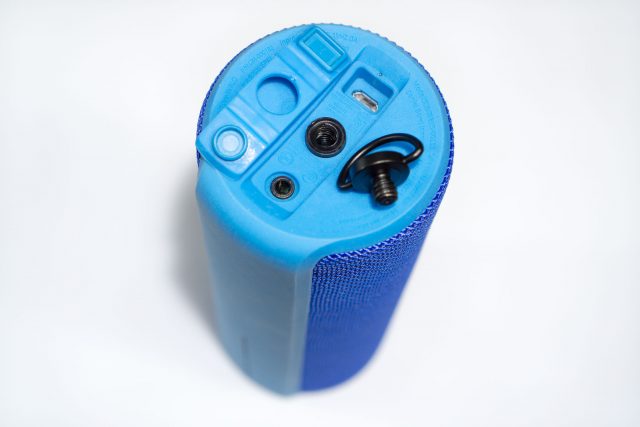 Interestingly, that rubber flap is just extra protection for the ports beneath it. It's alright if the flap is not secured. The Boom 2 is still waterproof and will not be damaged even if the Micro-USB port and 3.5 mm audio jack are exposed.
The built-in Lithium-Ion battery is good for 15 hours of use, before you need to charge it for 2.5 hours to bring it back to full capacity.
You can pair up to 8 Bluetooth devices to the Boom 2, with two of them connected at the same time. This is really useful because you can stream music from, say, your computer while still be able hear notification sounds played from your smartphone.
The Bluetooth range runs a cool 33 m, supporting both A2DP and HFP1.5 profiles. The Boom 2 is also NFC enabled for easy pairing on Android devices (Jellybean and newer).
If you want to play from a wired audio source, the 3.5 mm audio input jack on the bottom of the Boom 2 will come in handy.
To get the most of the Boom 2, you'll need to download the companion smartphone app. The UE Boom app, available on both Android and iOS, allows you to adjust equalizer settings. You can also use Double Up, the UE feature that lets you link two of its speakers together to double the volume. You can also configure them to play in stereo. The best thing is that you can pair up with another Boom, Megaboom, or Roll. The app also includes an alarm clock feature.
The Boom 2 has internal software that can be updated from time to time. Updates are performed over Bluetooth using the UE Boom app.
A new feature was recently added through such an update. Called Block Party, the new feature allows other people to play music over Bluetooth to your Boom 2, through your smartphone. I know I had mentioned earlier that the Boom 2 could already connect two Bluetooth devices simultaneously. This is a little different because the Boom 2 is only connected to your smartphone, and other people are simply streaming their music through you. Block Party then gives you the ability to easily kick off streams that you don't like.
Some cool tricks with the Boom 2 include the tap-based controls. If you pickup the Boom 2, you can tap once on the top to pause or resume music, and double-tap to skip to the next track. You do have to pick up the Boom 2 for the tap controls to work. Tapping it while it sits on your desk won't work. I found the feature to be a little unreliable. At times it took seconds before the control was effected, and sometimes it completely misses. I suppose a future software update might get this sorted out.
Before I get into sound quality, let me mention just one more use of the Boom 2. It works as a speakerphone! As hard as I tried and failed to find any sign of a microphone, and thus assuming with disappointment that the Boom 2 would not work as a speakerphone, it actually does! Pressing the Bluetooth pairing button servers to answer and end calls. That button, unfortunately, was designed to prevent accidental presses, which is apt for its original function to trigger Bluetooth pairing, but means it might be difficult to use on a regular basis if you need to entertain a lot of calls with the Boom 2.
That the Boom 2 can play music at an impressive sound level, for its size, is one thing. Equally impressive is the quality of the sound coming out from the speakers. It is really good. The bass is really powerful, again particularly for a speaker of its size. It will certainly do its job pretty well at a party, even outdoors.
Just to be complete with the technical details, the Boom 2 has two 45 mm active drivers, and two 45 x 80 mm passive radiators. Those are the guts that put out the massive sound at up to 90 dBA and a frequency range of 90 Hz to 20 kHz.
The UE Boom 2 retails here for S$319, and is available in Cherrybomb (Red), Phantom (Black), GreenMachine (Green), Tropical (Purple), and BrainFreeze (Blue) colours.
Conclusion
The UE Boom2 is an excellent Bluetooth speaker and a very deserving sequel to the Boom. I'm really impressed with the sound quality even at elevated volume levels.
Pros:
Great design, compact size
Great sound quality
Rugged and waterproof
Con:
Tap control seems to be a bit finicky