When Leagoo sent me their new Shark 1 flagship last month, I was really intrigued. That the phablet was huge, with a 6-inch display, is one thing. That it packed a 6300 mAh battery, that was amazing. Then, all of that fit in a body 8.5 mm thin, wow. I might not have known much about Leagoo previously, but now they have my attention.
The Android smartphone market is already very crowded. Then, there's the intense competition from numerous Chinese companies that are now reaching out to the global market. They used to compete primarily in the budget, entry-level, space. There are exceptions, of course, but it's tough to compete with premium, high-end, flagship devices.
For Leagoo, the Shark 1 marks the entry of their Shark-series devices in the high-end space. It comes after their Alfa and Elite series devices. The Shark 1 is their top-end offering, but all things considered, it's still quite affordably priced.
I have the gold colour Shark 1. It looks really nice, particularly with its matching theme which I'll mention later. Two other colour options are available: black and silver.
With a 6-inch display, the Shark 1 is definitely quite a handful to hold. It will take some getting used to if you're coming from a smaller sized phone. I suppose people who want a phablet, one with a 6-inch display, have to understand that the phone necessarily has to be bigger than most others. The good news though is that the Shark 1 is not excessively big. In fact, it's smaller than the Motorola Nexus 6, whose 5.96-inch display is, for all practical purposes, the same 6-inch big. Yes, the Shark 1 is smaller than the Nexus 6 is every dimension. That's despite the former having a 6300 mAh battery, almost double that of the latter.
That large battery, unfortunately, does take its toll on the Shark 1's weight. At a hefty 240.9 g, the Shark 1 weight might perhaps be a little bothersome for some people.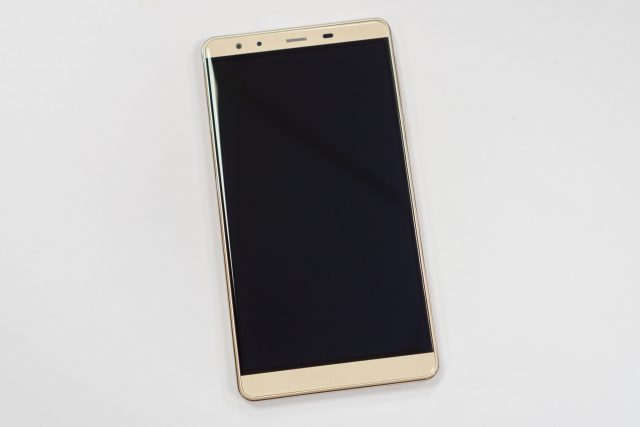 Just the way I like it, the Shark 1's face is plain and nondescript. Given the gold colour, the front sensors, speakers and camera are clearly visible. But otherwise, there are no other distractions. There are no physical buttons or capacitive buttons on the front, with Leagoo opting to go with soft Android buttons.
The 2.5D curved Corning Gorilla Glass 3 over the display is really good looking. The display itself is a LTPS panel with 1920×1080 Full-HD resolution. No, not the highest there is, but it's plentiful enough. Even on a 6-inch display, that's still 368 PPI of pixel density.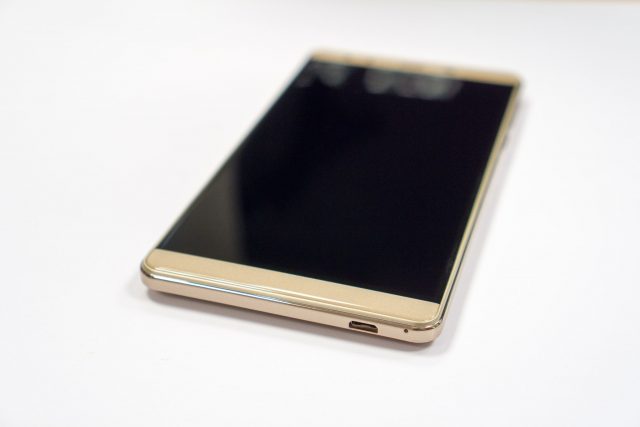 At the bottom, you'll find the Micro-USB near the right edge, together with the microphone hole. You know, it would have been nice to have the port centred, but you certainly couldn't seriously fault such a design choice.
On the right side, you'll find the volume rocker and power buttons, both surprisingly quite reachable.
On the left side, there's a slot for a dual-SIM tray. The Shark 1 uses micro-SIMs for both SIMs. Like you see on some other smartphones, you can optionally put a microSD card in place of the second micro-SIM.
On the top, there's the 3.5 mm audio jack and a cool Infrared port. The IR port seems to be making a spotty appearance in a handful of random devices. It's not terribly important, but it's certainly nice to have one around.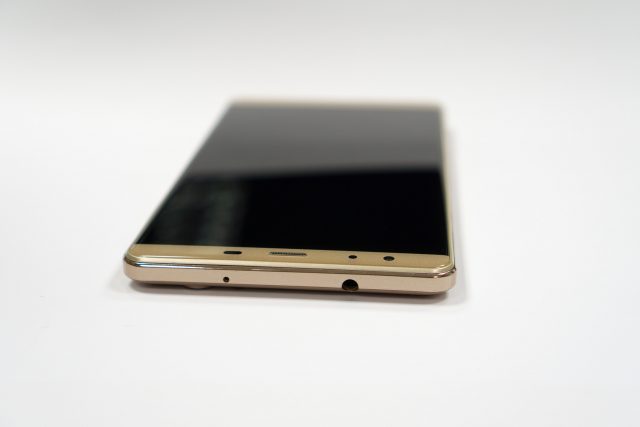 The back of the Shark 1 gets interesting. Recognise the Nexus style fingerprint sensor there? Yes, top-end smartphones this year all must have fingerprint sensors, and the Shark 1 has that checked. Leagoo has quite a bit to say about their fingerprint sensor, like 360° identification and 0.39 seconds recognition time.
The Shark 1's fingerprint sensor works, but not quite so well as I've become accustomed to on the Nexus 5X and 6P. On the Nexus devices, fingerprint recognition pretty much work all the time. I can't say the same with the Shark 1. It's functional, of course, but it could be better.
Aside from the fingerprint sensor, there's a 13MP resolution camera with LED flash. The speakers are back-firing, through the grills located at the bottom, with two dimples beside them to raise the back enough so that the speakers can still do its work even when you place the phone flat down on a table. It's good to see that Leagoo has thought about that. Speaker volume is pretty good. Actually, it's really loud for a phone.
Under the hood, the Shark 1 is powered by a 64-bit octa-core MediaTek MT6753 processor. All its eight A53 cores are clocked at 1.5 GHz. There's 3GB of DDR3 RAM onboard, and while the 16GB of flash storage might be a little small by today's standards, there is a microSD expansion slot available, though that would mean sacrificing the second SIM slot.
The Shark 1 supports LTE (FDD) band 1/3/7/8/20, WCDMA 900/2100, and GSM 850/900/1800/1900. Every band used in Singapore is supported in the Shark 1, guaranteeing you get the best coverage in every corner of Singapore. There's also dual-SIM support, with dual standby. Since the space for the second SIM is also used for microSD, you either use a second SIM or a microSD, but not both at the same time.
Other connectivity features on the Shark 1 include Bluetooth 4.0 and GPS / GLONASS / Galileo / BeiDou.
The Shark 1's 13MP resolution main camera takes decent shots. The camera utilises a Sony BSI-2 sensor, has a f/2.0 aperture, and dual-tone LED flash. Leagoo's camera app provides a bunch of shooting modes, including cool features like object tracking and a PRO mode. PRO mode allows you to make adjustments to white balance, ISO, and EV compensation. The latter can only be adjusted full-stops between +/- 3.
The front 5MP resolution camera is good for selfie and HD video calls. There's also a LED flash on the front, but I think it produces horrid results.
Leagoo ships the Shark 1 with Android 5.1 Lollipop. Their software theming is quite pleasant. Interestingly, the icon colours in the default selected theme matches exceptionally well with the gold colour Shark 1, as you can probably tell from the photo above, and screenshots below. I think just for that alone would have made the gold colour Shark 1 the most logical choice.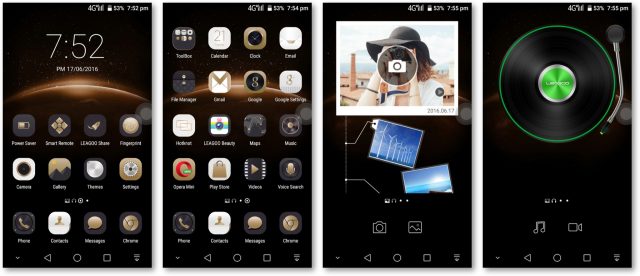 The software is pleasant to use. There's no apps drawer, like how it is with MIUI. The Android soft keys area can hide away so that you can see more of your the app. There are other little changes that Leagoo has done, but I'm quite pleased that they don't detract too far from the overall Android experience.
Some nifty stuffs include gesture controls, where waving your hand over the display can move between desktop screens, pull down the notification shade, or move between photos in gallery.
Other nifty features need more information, and notably no help is available. For example, there's this HotKnot feature that doesn't sound quite so intuitive what it might be. I thought it might have been about Hotspot getting misspelled. But no, it's apparently a cool MediaTek invented method for transferring data and files by utilitising the physics of a capacitive touch screen, such that the transmitting grid in the screen of one phone can interact with the receiving grid in a second when they are in close proximity. See this YouTube video for a demo.
Despite the relatively powerful processor and sufficient RAM, I did detect a hint of hesitation and lag in the software interface from time to time.
The Shark 1, according to Leagoo, can do 72 hours of talk-time (yes, 3 days straight of continuous talking) with its 6300 mAh batter. Of course, real-world experiences are a different thing, and it'll vary between different users.
In my own experience, the Shark 1 definitely and very comfortably lasts more than a day even with moderate to heavy usage. If I start at 6am with a fully-charged battery, it will run through the whole day, and I can opt not to charge the phone that night, and still comfortably reach the end of the next work day. Instead of charging every night, the Shark 1 allows me to charge every other night, without worries. (Though if you ask me, I think it's just easier to just remember to charge every night.)
The big 6300 mAh battery, incidentally, can also be used to charge another device. Yes, that means the Shark 1 can double up as a battery power bank, so you can top-up the juice on some other gadget that you carry around with you.
There are many good things with the Shark 1, but there are also a few misses. One, notably, is the lack of NFC, a feature that is becoming increasingly relevant, even if not just yet for everyone, what with Android Pay coming up and numerous other propriety payment apps making use of it.
Another bit, on the security front, that matters to me is the lack of hardware-based secure credential storage. This is a limitation with Leagoo's choice of MediaTek processor. Unfortunately, this means the Shark 1 doesn't have secure boot, secure credential storage, and it's anyone's guess how well protected your fingerprint data is going to be.
The Leagoo Shark 1 has its own smart cover accessory. I was provided with a matching gold colour smart flip cover that features a vertically oriented window at the side. As you can see in the photo, the Shark 1 shows an analogue clock through the window. Notifications icons for missed calls and messages will also show up in this window. This cover is a separate purchase and is not included in the Shark 1 retail box.
The Leagoo Shark 1 is available at S$399. Check out Leagoo's where-to-buy page for retail locations.
Conclusions
The Leagoo Shark 1 is a capable premium smartphone/phablet with big screen, huge battery, and a pretty affordable price tag. That the phablet can function as a battery power bank is a nice bonus.
Pros:
Big screen, big battery, but still relatively thin
Excellent display
Dual SIM
Good build quality
Cons:
No NFC
No secure boot / secure storage