A recent home renovation project presented an opportunity for me to get started on implementing some home automation features. A key component in a home automation setup is the controller. There are many of them around, with different features and supporting different protocols. I decided to go with the Vera Plus Advanced Home Controller.
I was drawn to the Vera Plus because it supports both Z-Wave and ZigBee protocols, the two popular protocols used in home automation. As a bonus, the Vera Plus also supports Bluetooth. Although there aren't many Bluetooth devices supported by the Vera Plus' software at this time, it's likely a matter of time before more support will be added through software updates.
The Vera Plus also supports Insteon and X10 through an external radio interface. I don't have any plans to add Insteon or X10 devices, so the lack of the included radio interface is good, since I don't pay for hardware I don't want to use. On the other hand, if you do plan to use Insteon or X10, they're just a radio interface away.
Interestingly, the Vera Plus has built-in dual-band 802.11ac Wi-Fi, though I honestly don't expect anyone would use it. The main IP connectivity to the device will come through its Ethernet port.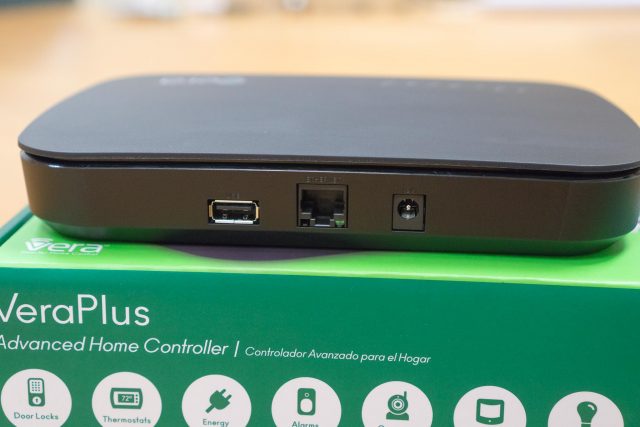 Unlike some other home automation controllers that depend on the Internet (i.e. the cloud) to operate, the Vera Plus can operate standalone. Yes, it has cloud-based features to help with remote access. However, even in the absence of any Internet connection, the Vera Plus can and receive input from all your home automation devices, including running predefined actions and scheduled jobs.
The Vera Plus has an extensive library of supported devices, so adding them to the controller is mostly straightforward. You can add devices either by identifying them through the library and following the on-screen instructions, or just choose to add a generic Z-Wave (or ZigBee or others) device and let the Vera Plus automatically try to identify and add the new device.
I have several devices connected and configured. This includes a TKB Home power plug (simple on-off control), a Fibaro Motion Sensor (also senses temperature, light, and vibration), and a Fibaro Smoke Sensor (also senses heat). I also have a few other generic devices, including a generic brand 3-gang light switch.
In turns out, however, that interoperability issues continue to be something that I had to grapple with. I have the Remotec ZRC-90 scene controller, for example, which doesn't work properly, and I'm still at this time trying to sort out the problems.
In terms of functionality, the Vera Plus does pretty much what you'd expect. There are scenes that can be triggered manually, by a device, or on a predefined schedule. Scenes can control devices. So, for example, you can have a door unlock event from a Z-Wave door lock triggering the switching on of the hallway lights.
The Vera Plus also has modes: Home, Away, Night and Vacation. You can arm sensors to trigger a siren when the controller is set in Away mode. In Vacation mode, you can have nights switched on and off at intervals to give the impression that someone's at home.
Vera has its own smartphone app so you can control the Vera Plus from anywhere. There are also third-party smartphone apps that work with the Vera Plus.
I got my Vera Plus from Automate Asia. It's also available from overseas online stores like Vesternet. I'll write more about the Vera Plus as I get things set up.