One of the most common pieces of any home automation setup is a remote controller. This could take the form of a wall button switch, a handheld remote, or key fob remote. I have here the Aeon Labs Minimote handheld remote control for this review. This is a Z-Wave device, which should work with pretty much any Z-Wave controller.
Having had some difficulties with other Z-Wave remote controllers initially, I was a little apprehensive with the Aeon Labs Minimote. My home controller is the Vera Plus, and fortunately, the Minimote works out-of-the-box.
Handheld remotes like the Minimote is, well, handy because you can carry them with you around the house. Bring it with you to the living room couch, or have it on your study desk as you work. It's great for lazy people who don't like to get off their comfy seats to switch on or off the lights, fans, or other appliance. Yes, too lazy even to unlock a smartphone, launch an app, in order to trigger a scene on the home automation controller.
There are four buttons on the Minimote. Each button supports a short press and a long press, giving two different commands. As a result, the Minimote's four buttons offers a total of eight different controls, allowing you to configure eight different scenes to be triggered.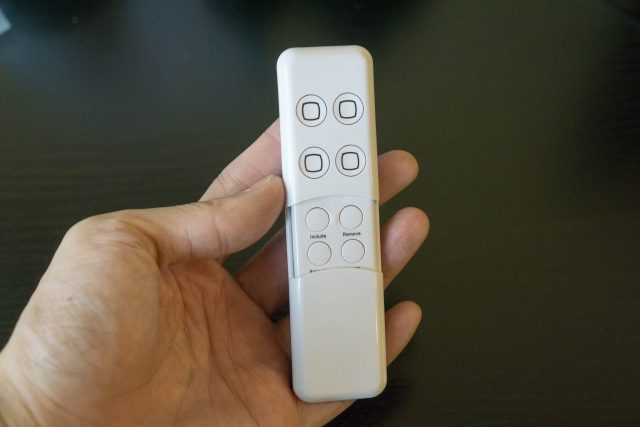 Pulling down on the cover reveals four more buttons inside the Minimote. These are programming buttons, used, for example, to have the Minimote join the Z-Wave network.
Like other Z-Wave remote controllers, the Minimote can function as a standalone Z-Wave controller. That is, the Minimote itself is the home automation controller. It will have very limited functions of course, and in practice, you would have a proper full-fledged home automation controller.
Setting up the Aeon Labs Minimote is easy. My Vera Plus specifically knows about the Minimote, so it can give me guided instructions on setting it up. Basically, start by first putting the home automation controller in Inclusion mode. Then, pull down the Minimote's cover and press the Learn button inside. The blue and red LEDs will blink quickly initially, then the blue LED still stay solid for 2 seconds to indicate successful inclusion.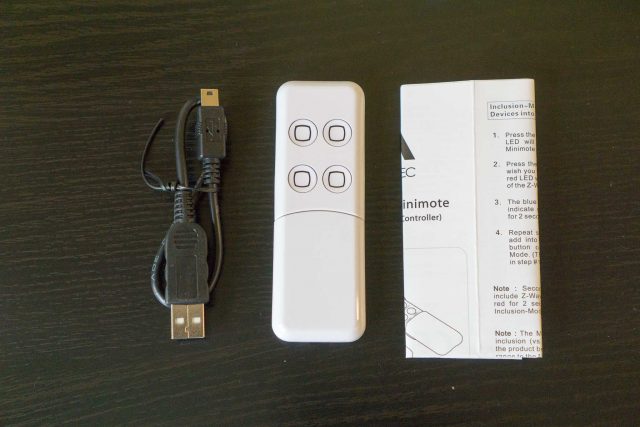 The Minimote is battery powered, and it uses a built-in rechargeable battery instead of replaceable batteries. Charging is easy. Connect a USB cable to its Mini-USB port. The cable is provided. You should probably be careful not to lose the cable considering that most USB devices now use Micro-USB or USB Type-C connections, so you might not have space Mini-USB cables lying around. I wished Aeon Labs had gone with the more common Micro-USB port.
The Minimote's buttons respond quickly, and I haven't had any trouble with it communicating with my Vera Plus. Buttons are firm and easy to use.
While the Aeon Labs Minimote is a Z-Wave device, it doesn't support the newer Z-Wave Plus standard. Z-Wave Plus brings increased range, extended battery, more RF channels and mandatory AES encryption.
The Aeon Labs Minimote cost £35 from Vesternet.
Conclusions
The Aeon Labs Minimote is a handy remote controller for Z-Wave networks.
Pros:
Compact size
Easy to use buttons
4 buttons, can trigger 8 different scenes
Works with Vera Plus
Cons:
Does not support Z-Wave Plus
Uses Mini-USB instead of Micro-USB for charging