I'm not quite a PC gamer, but I was excited when ASUS offered a review unit of their ROG GX700 gaming notebook. Everything about the GX700 is super cool, including the fact that it's the world's first liquid-cooled gaming notebook. You've probably heard or seen liquid-cooled gaming desktop computers, but this one is a portable notebook, albeit a rather big one!
On specs, the GX700 is extreme in every way. The 17-inch notebook is powered by an Intel Skylake Core i7-6820HK processor with 8MB cache and clocked at 2.7 GHz, up to 3.6 GHz turbo, and supports overclocking up to 4.1 GHz. It also has a desktop-class Nvidia GeForce GTX 980 GPU. Beyond those common CPU and GPU specifications, there are two versions of the GX700: one with an UHD 4K display, 64 GB of DDR4 RAM and 1 TB SSD; the other with Full HD, 32 GB DDR4 RAM, and 512 GB SSD. I have the latter one for this review.
The GX700's arrival at my office was itself an impressive affair. You see, it arrived in this suitcase. I wasn't quite expecting a suitcase. If someone sees my lugging this around and asks if I'm going on a holiday trip, my answer would be, "nah, just heading out to a LAN party," or something like that.
The hard shell suitcase, incidentally, is standard equipment that comes with the GX700. ASUS didn't package this GX700 specially for reviewers. Once you open up the suitcase, you'd better understand why one is needed.
The GX700 is not only enormous, its dock and accessories are huge too, and to make it practical for you to lug around everything to your next LAN party, you do need a proper carrying case. An ordinary carrying case won't do. You'd need this suitcase that's been fitted with custom shaped foam cushions to house all the parts of the GX700.
This suitcase, incidentally, with all of the GX700 packed into it, weighs in at a hefty 17.6 kg. No, it won't make it a carry-on luggage on your next flight, and I don't think you'll risk checking-in this piece of luggage, so this gaming rig is not likely to be travelling overseas, at least not by flight.
A big reason for the GX700's heft, both in size and weight, is about that liquid-cooling portion. The liquid-cooling component is housed in a dock, and that dock alone weighs 4.8 kg. ASUS calls this the ROG Hydro Overclocking System.
The dock enables the GX700 to serve as both a desktop and a notebook. Many of us prefer using a single system, having all your files with you, and having the same basic experience, whether you're at home or on-the-go.
To some extent, the GX700's dock enables it to transform between desktop mode and notebook mode. You can leave the dock at home, and just bring the GX700 with you. But don't forget that the notebook weighs 3.9 kg, and along with its 180 W power brick that weighs 0.69 kg, it's still quite hefty to lug around. However, if you need the power of a desktop-class Nvidia GTX 980 GPU to go around with you, this is in fact one of the slimmest notebook you can get.
Once at home, with the GX700 docked to the ROG Hydro Overclocking System, the notebook will spread its wings and turn into a true desktop replacement. Given the GX700's ability to overclock the CPU and GPU, you can gain some serious performance levels that will put many other desktops to shame. In desktop mode, the GX700 gets its power from the dock, which uses a larger 330 W power brick that weighs 1.22 kg.
Under the hood, the 512 GB or 1 TB SSDs are provided through a RAID0 configuration of M.2 PCIe x4 NVMe flash memory. That is, there is a pair of 256 GB flash modules for the 512 GB configuration, and a pair of 512 GB flash modules for the 1 TB configuration. The use of NVMe and RAID0 mean higher IOPS, lower latencies, faster reads and writes. Many other notebooks are still using SATA3 based SSDs, so the GX700 is really blazing far ahead.
In case this point was not apparent earlier, the GX700 incorporates Nvidia's desktop-class GeForce GTX 980 GPU, not the 980M. It has 8 GB of 7 GHz GDDR5 memory, and the GX700 supports overclocking up to 1.4 GHz.
The GX700's body sports a titanium plasma-copper design, with brushed aluminium, illuminated ROG logo, and long-lasting rubber-coated palm rest. There's also a bottom window panel for viewing the internal components.
Whether you get the UHD 4K model or the Full HD model, the GX700 comes with a 17.3″ anti-glare IPS display panel with Nvidia G-Sync. There's a built-in HD camera and array microphone.
The spacious back-lit keyboard is a joy to use, and notably, you get full-sized arrow keys. There are also 5 programmable macro keys at the top, and a dedicated button to start and stop XSplit Gamecaster streaming, for which ASUS provides a lifetime license with the GX700.
There are two 2 W speakers and two 1.5 W speakers to deliver high and low frequency sounds for an immersive gameplay with surround sound experience. The built-in ESS headphone DAC amplifier promises to deliver respectable quality when paired with audiophile-grade headphones.
The GX700 has a comprehensive list of ports. Starting on the left side, you'll find 2x USB 3.0 ports (a 3rd USB 3.0 port is on the right side), a microphone-in jack, a headphone-out jack with S/PDIF, and a 2-in-1 SD/MMC card reader.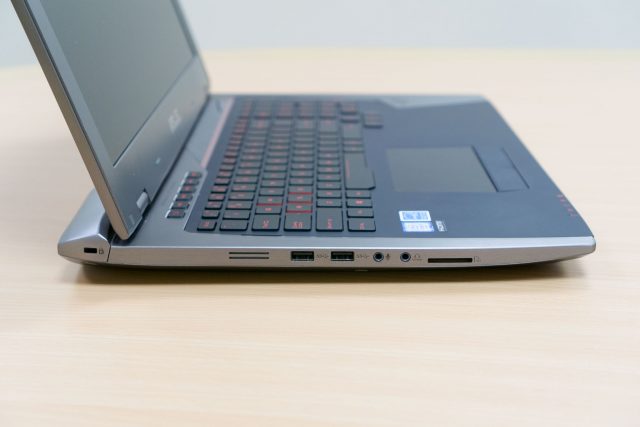 On the right side, there's the 3rd USB 3.0 port, a HDMI 2.0 port that supports 4K 60 Hz, a mini DisplayPort 1.3 with support for 8K @ 60 Hz or dual 4K at 60 Hz monitors, USB 3.1 Type-C port, a dedicated Thunderbolt 3 port (looks just like the USB Type-C port). There's also a RJ45 LAN port. The GX700 also supports 802.11ac Wi-Fi.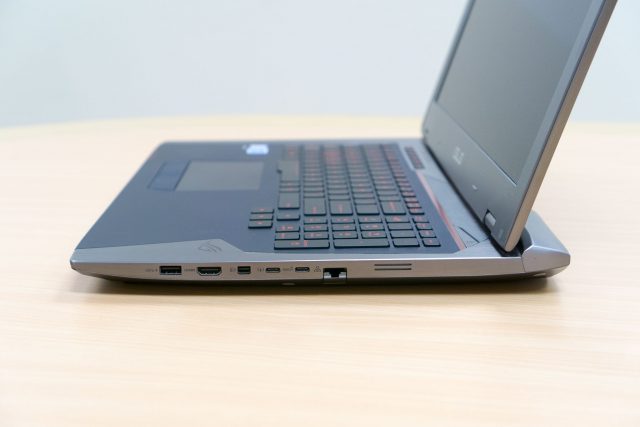 The most interesting and unique part of the GX700 is its ROG Hydro Overclocking System dock. Yes, there are liquid-cooling systems built for desktop gaming rigs. But liquid-cooling in notebooks? As crazy as it may sound, the GX700 is the first notebook to do liquid-cooling.
Traditional notebook docks are used to provide additional interface and ports, but on the GX700, it's used only for liquid-cooling capabilities and supplying extra power.
The docking system has a custom self-sealing valve design, a quiet and highly reliable pump, and dual 92 mm radiators. The system is capable of removing 500 W of heat. The pump and both radiators rest on 2 mm thick rubber washers, with more rubber padding between radiators and the top-cover to prevent vibrations and keeping noise to a minimum.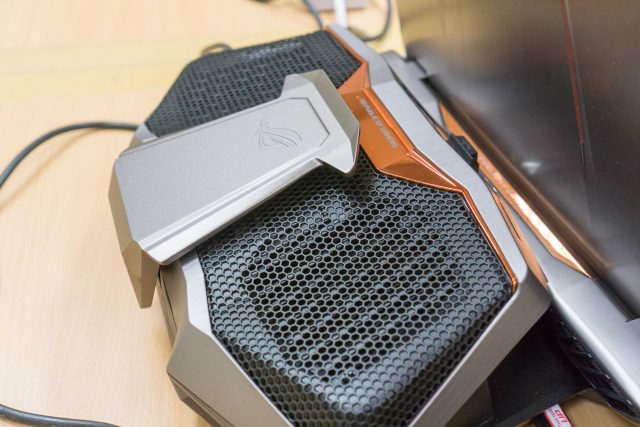 Inside the GX700 itself, the liquid-block is located right on top of the GPU, resulting in average GPU load temperatures of around 65°C, even when overclocked, which is well below the thermal threshold of 82°C that forces the GPU to drop its performance.
The dock contains enough coolant to last at least 2 years. If you run low on coolant, ASUS will refill or replace under warranty, or for a service fee (apparently some US$150) after the warranty runs out.
Overclocking settings are accessed through the ROG Gaming Center software. There are quite a number of controls you can adjust, including settings for CPU, GPU, the main DDR4 memory and the GPU's GDDR5 memory. ASUS' ROG Gaming Center software does place some safe limits on overclocking, but the actual hardware can be further tweaked using third-party tools like XTU and Nvidia Inspector.
Speaking of software, the GX700 comes with ROG Gamefirst III, which allows users to monitor network connections on the notebook, and decide which applications should get priority. This tool basically allows the network to be optimised for various usage scenarios. For example, you can prioritise your gaming traffic when you're, well, gaming.
There are plenty of benchmarks on the GX700 that you can find on the Internet, so I will leave you to Google for them. ASUS has provided sample list of games and their frame rates that the Full HD configuration can support:
Rise of Tomb Raider – 67 fps (high preset)
Assassin's Creed Syndicate – 78.4 fps (high preset FXAA)
Witcher 3 – 45 fps (ultra, post processing, HBAO+)
Fallout 4 – 80 fps (ultra preset 16AF TAA)
Crysis 3 – 60 fps (very higih, 16xAF, 2xSMAA)
Battery life is a big disappointing though. 3 hours of web browsing seems a little too short. This notebook is going to need its power brick whenever you take it out.
The ROG GX700 as reviewed (Full HD configuration) sells for S$6198. That's the price serious gamers have to look at, if they need desktop-class GTX 980 performance and a liquid-cooling system.
Conclusion
ASUS' ROG GX700 is an extreme notebook with totally impressive specifications, especially the first of its kind liquid-cooling system for a notebook, and a desktop-class Nvidia GTX 980 GPU.
Pros:
Extreme performance
Great design, comfortable keyboard
Unique liquid-cooling system for overclocking
Cons:
Short battery life
Huge and heavy