A year or two ago, wireless headphones meant having no wires connecting to your music source device, but there would still be something connecting between the left and right-side earpieces. Now, however, the era of truly wire-free earbuds is fully upon us, with products from major brands like Apple and Samsung. Then, there's Doppler Lab's Here One 3-in-1 wireless smart earbuds.
The Here One just launched in Singapore earlier this month. Doppler Labs, a technology company based in San Francisco, describes their Here One as more than just a headphone. Its' a hearing system that delivers premium audio, smart noise cancellation, and speech enhancement.
I recently reviewed Bragi The Dash, and the Here One shares some similarities with it: touch controls, multiple microphones, and an interesting feature that let's you hear the outside world on the headphones. It also has a charging case which itself has a built-in battery.
Although Doppler Labs calls the Here One earbuds, they are rightfully more of in-ear style, not like say Apple's AirPods. As with any in-ear headphones, a good fit is essential for both comfortable wearing and good sound quality. To this end, Doppler Labs includes both silicon tips and memory foam tips, each in small, medium and large sizes.
As with all other truly wire-free earbuds, I worry the Here One would fall out from my ears. I would still be rather cautious with vigorous movements, but in most other situations, the Here One is light enough and fits sufficiently secure to not fall out all that easily.
The charging case doubles up as a carrying case. It would be best to use it, lest the Here One earbuds get lost in your bag. The built-in battery in the charging case adds another 6 hours of listening time to the earbuds. The earbuds on their own are good only for 2 hours of listening, which is a little on the short side. The plastic shell of the charging case makes it feel a tad cheap, but it's otherwise functional and lightweight.
Inside the charging case, LED indicators show the battery charge level. An additional LED indicator on the outside shows the charging status.
Setting up the Here One is relatively straight forward. Just head to hereplus.me/app for the links to download the appropriate Android or iOS app, then follow the in-app instructions to setup the Here One. The app takes you on a quick tour on the Here One, good for people like me who refuse to read printed quick-start guides.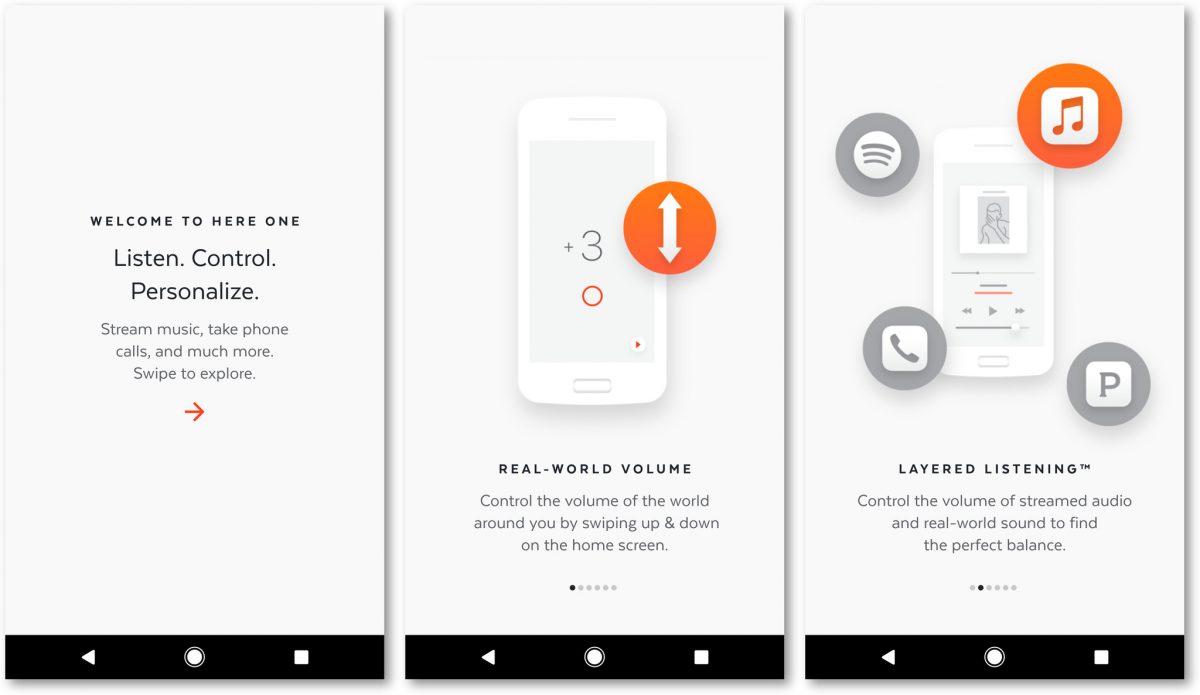 Pairing was simple too. There are two steps to it. First, two Bluetooth Low Energy connections are setup, one for each side of the earpiece. This is used for app control. Then, a regular Bluetooth pairing is required for music and phone calls.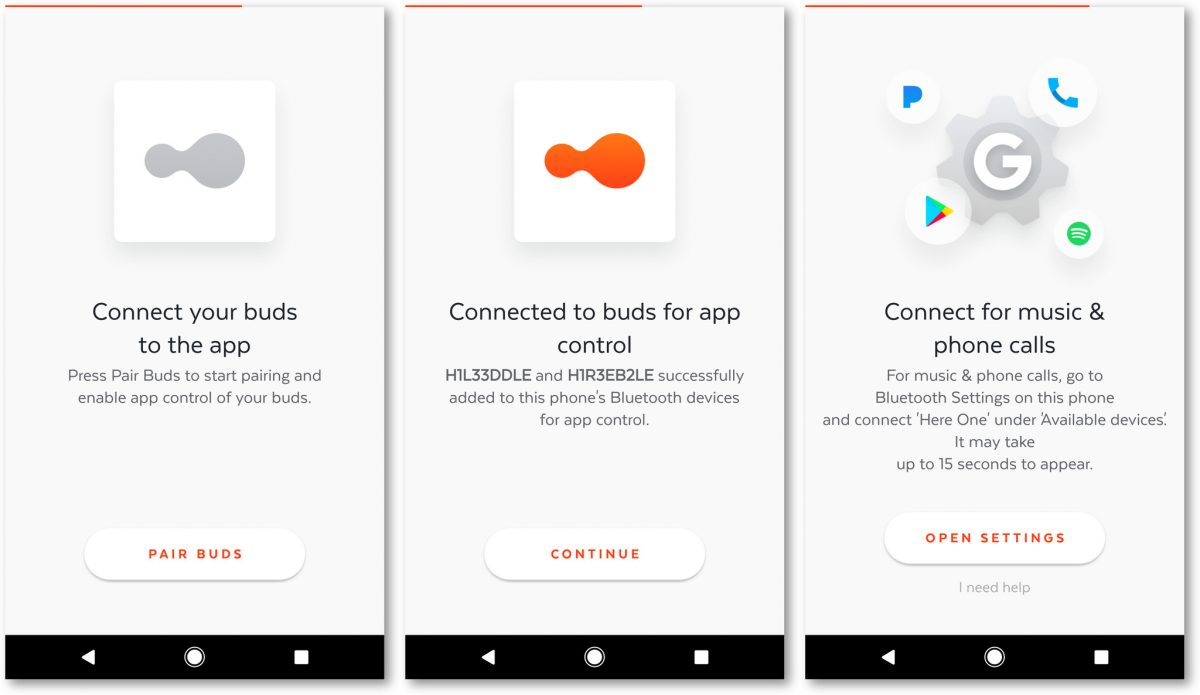 Sound quality on the Here One is pretty good. In fact, it is quite impressive, particularly in the category of truly wire-free earbuds. The sound is full-range, with voluminous bass, overall warmth, and expansive sound stage.
If you feel the need to tweak your music, the Here One app offers more than just simple EQ adjustments. You can add special effects, like echo and reverberation, for example. I personally don't feel the necessity of these effects, but perhaps there may be others who will like them.
One feature that makes the Here One unique is its noise filters. It's not just noise cancellation. It's clever, selective, noise filtering. For example, you can get the Here One to tune out crowd noise, or to reduce jet engine noise in an airplane. You can also add white noise to mask out other sounds around you. You can adjust the level of these filtering effects, meaning you can control how much of the noise cancellation effect you want.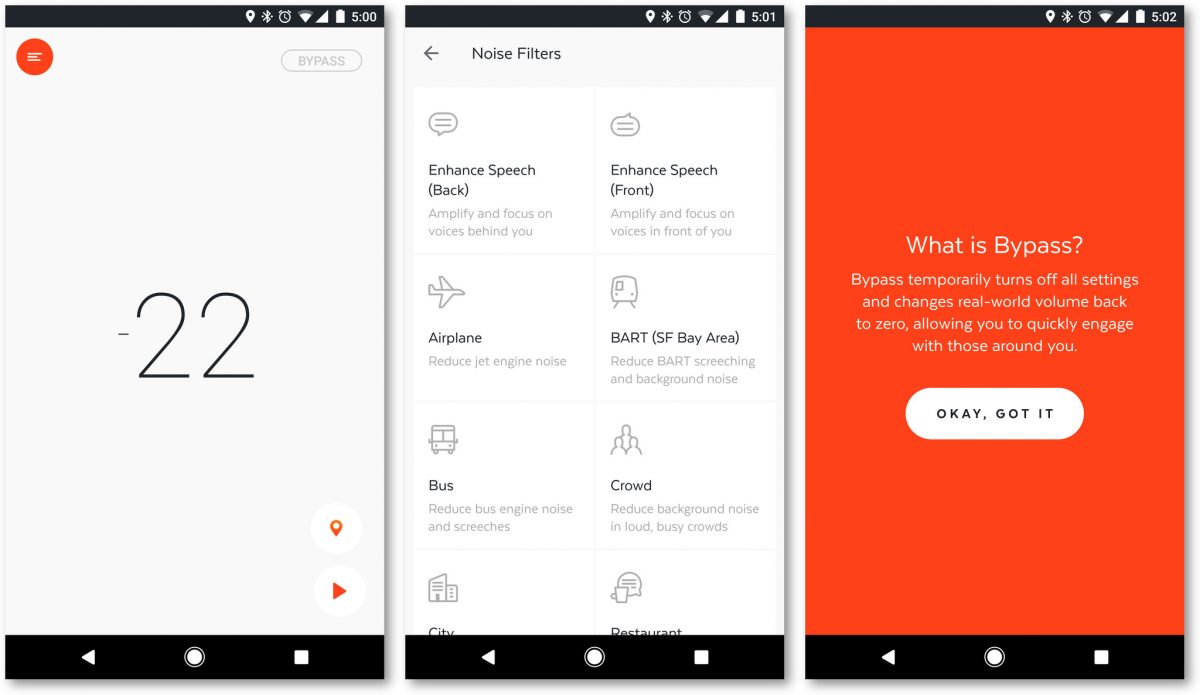 If that isn't interesting enough, how about the Here One's filter that helps to enhance speech from others? Think about situations when you are trying to have a conversation with someone in a very noisy environment. Tune out noise, good, but how about also enhancing the voices? To some extent you could even begin to describe this as a hearing aid. It helps you hear better.
The noise filters don't work perfectly. Sometimes I'd think a simple active noise cancellation headphones might work better. But when the Here One noise filtering does work, it reminds me that the remarkable feature is far more than just about cancelling out noise. It's about enhancing what you want to hear. This is the future of smart noise filtering, and it's simply amazing. Software updates will certainly make this yet better in time to come.
Apart from the carrying case and the variety of ear tips, which interestingly come assembled in a proper holder, the Here One also comes with a Micro-USB charging cable.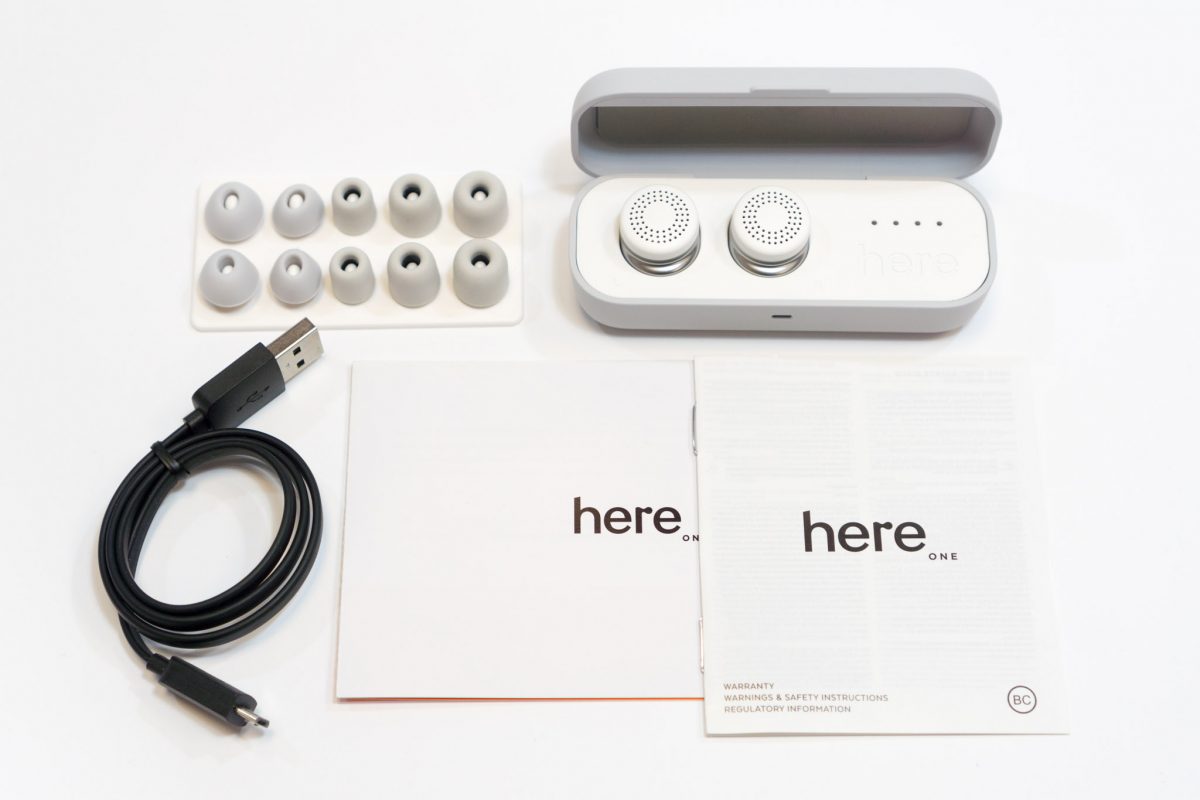 The Here One 3-in-1 wireless smart earbuds are available in blank and white colours, and retail at S$459. They are available at select retailers, including "We the People", AV One, Best Denki, Challenger, Connect IT, Jaben, Headphones SG, SixFive, Stereo, and Xgear, and via truewireless.sg.
Conclusion
Doppler Lab's Here One is a truly wire-free earphones with great sound quality and really amazing noise filtering features.
Pros:
Great sound quality
Amazing noise filtering
Convenient charging case
Cons: