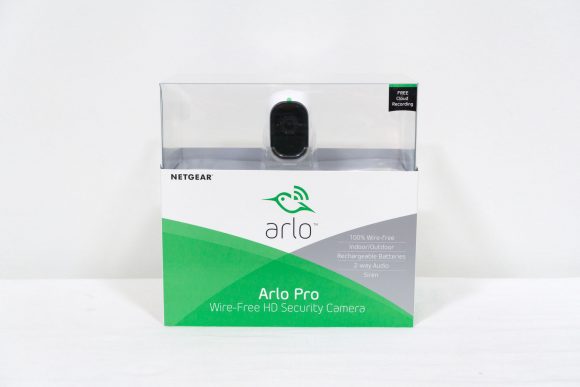 There are lots of Internet-connected home security cameras in the market. What makes Netgear's Arlo Pro standout is that it's battery powered, so you can put the camera anywhere you want, no need to worry about cabling. The original Arlo was launched in 2015. The new Arlo Pro updates the original Arlo with even more features.
Many of us have, or want to have, some sort of video surveillance system at home, so that we can keep an eye on whatever's happening at home while we're away. We could, of course, engage a professional installer to setup a complete home security system. But seeing all the very affordable consumer security cameras in the market, it seems like it's something we could all DIY. Wi-Fi features solve the problem of physical network connection. Unfortunately, most home security cameras still require a power supply. Sometimes, power supply might not be available where you want the camera located.
Netgear's Arlo Pro, like the original Arlo, solves this problem with its built-in battery. There are no wires needed to connect to the Arlo Pro. You can literally place the Arlo Pro camera anywhere, including outdoors, because it is IP65 rated weatherproof, making it safe from rain. Netgear says the Arlo Pro's built-in rechargeable Lithium-ion battery pack lasts 6 months before needing a recharge, so this is an actually practical solution if you need a camera some place without a power supply.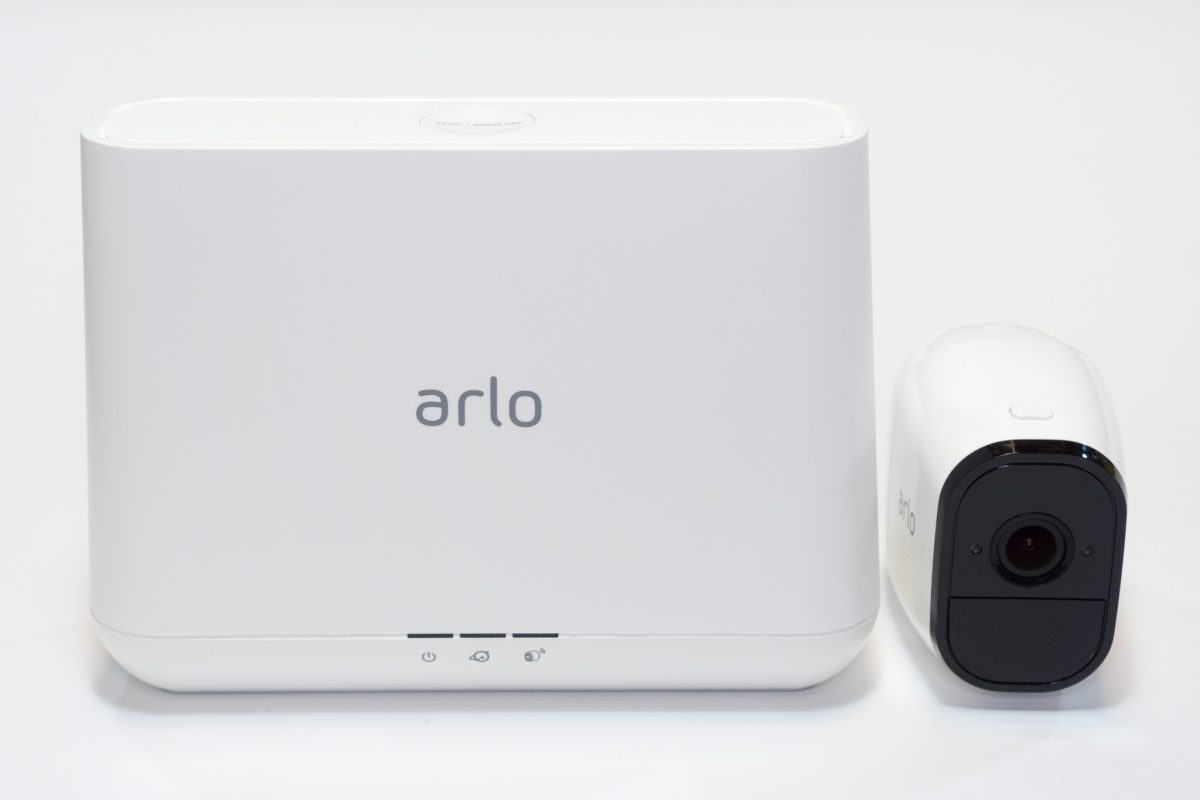 The way the Arlo Pro works is that there are two parts to it: there is the camera unit itself, and then there's a base station. The camera runs on batteries. The base station, on the other hand, is mains-powered. The camera communicates with the base station using its own radio, not standard Wi-Fi. The base station acts as a bridge, connecting to your home network via a wired Ethernet LAN port.
The base station can be paired with multiple camera units. Netgear sells multi-camera packs of the Arlo Pro, though for this review I have just one a single camera.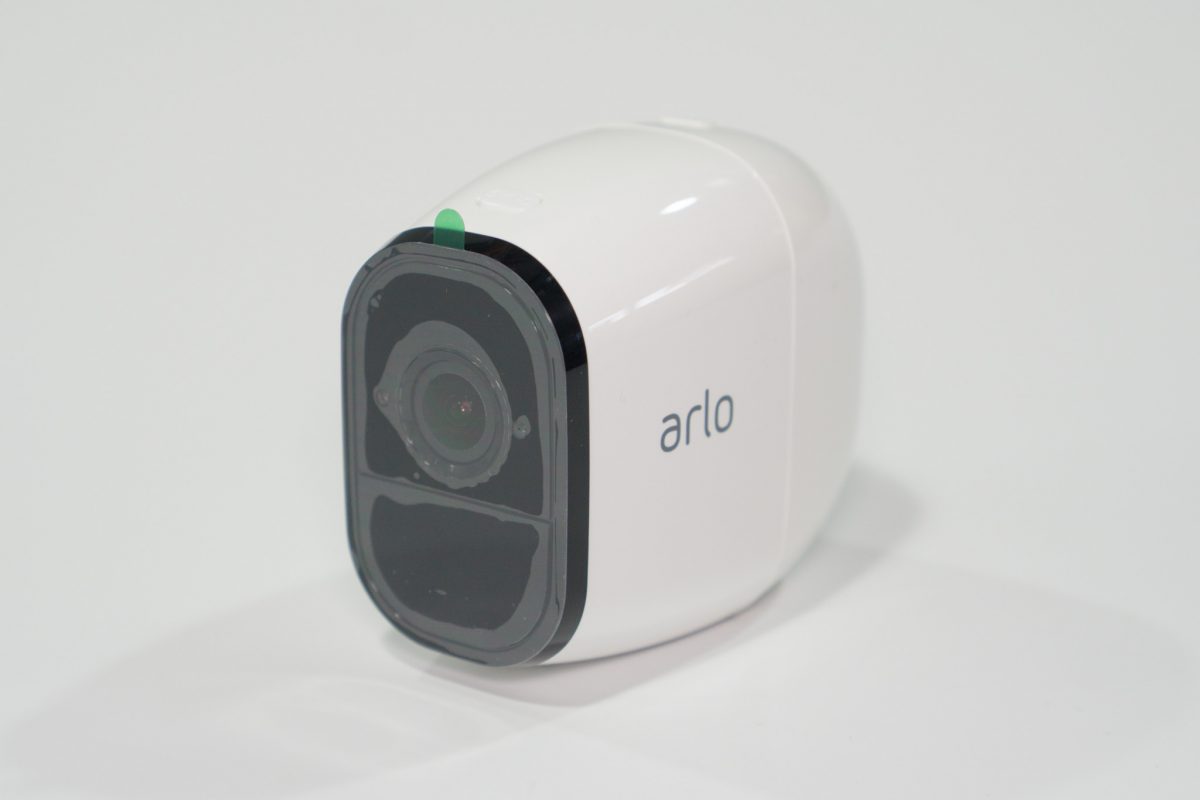 The camera has 720p HD resolution with a 130° viewing angle. It has infra-red LEDs for night-mode operation. There is a Micro-USB port on the back of the camera for charging the batteries, or, if it works for you, can serve as a continuous power supply. The USB power supply is included in the box, and since it's just USB, you could use any other USB power source you want.
The Arlo Pro supports two-way audio with a built-in microphone and speaker. This allows you to use the Arlo Pro as a video intercom at your front door, or any other indoor situations where you want to both hear and speak.
Setting up and using the Arlo Pro all happens in the Arlo mobile app which is available on both Android and iOS.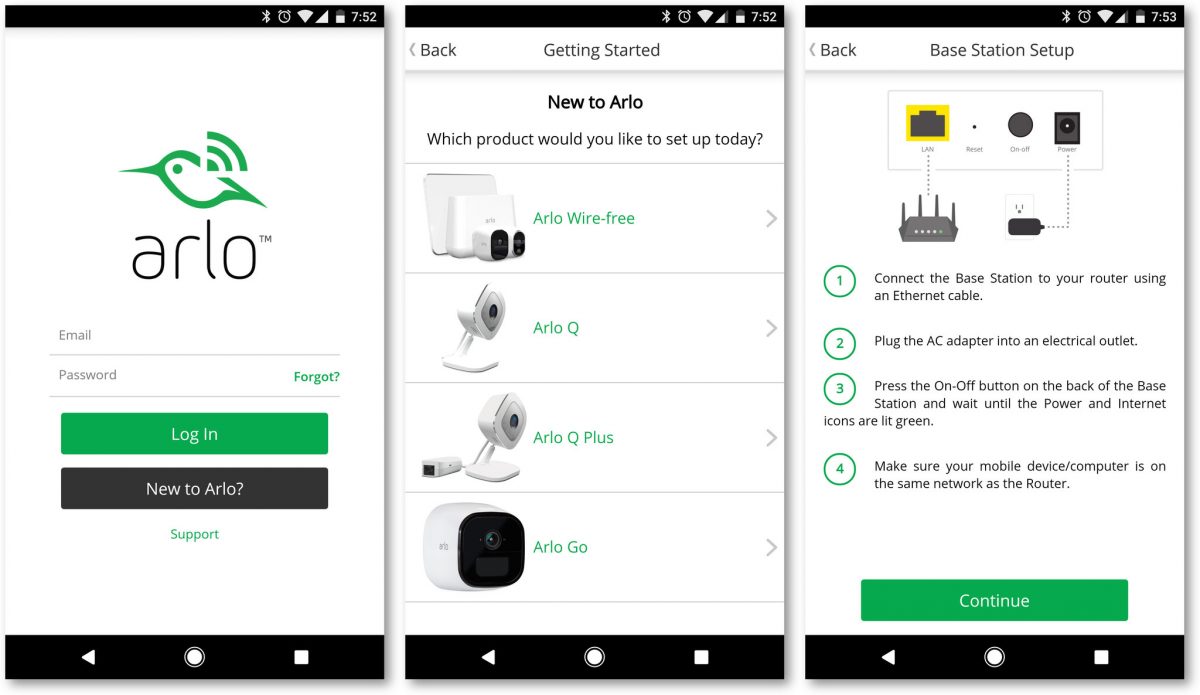 The first thing to do is to setup the base station. You'll need to create a cloud account, and choose a cloud storage plan. At this time, let me talk about your storage options for video recordings.
Arlo Pro, along with other cameras in Netgear's Arlo line, are designed to be cloud centric. All videos are recorded to the cloud. A free tier plan is available that provides 7-days of motion/event video recordings, up to 1 GB, and for up to 5 cameras. If you need more storage, or have more cameras, the next tier up is the Premier plan which provides 30 days storage, up to 10 GB, and for up to 10 cameras. There's a yet higher tier plan if the Premier's provision isn't good enough for you.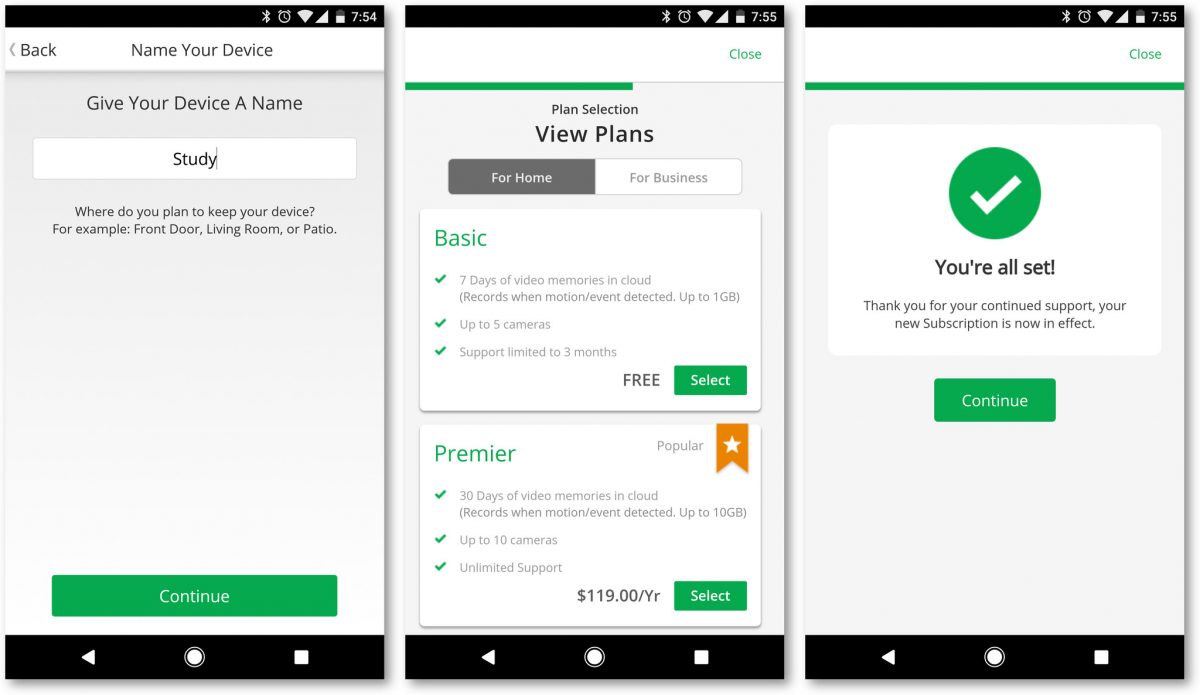 The cloud storage is convenient to setup and use. A benefit of cloud storage is that all your recordings are instantly backed up to the cloud, so even if your Arlo Pro is stolen by a burglar during a break-in, it's likely that the activity has already been streamed and saved in the cloud, and that hopefully offers clues to the police to investigate the crime.
If you rather keep your video recordings locally, you do have the option to attach a storage device to the USB port on the base station. Unfortunately, local storage is just an optional secondary location that the Arlo Pro uses. Video is always saved to the cloud.
Those who are privacy-conscious may be rightfully concerned about this arrangement. One workaround discussed in the product forum is to simply disconnect the network, or block the base station's access to the Internet. The local storage will still be used, and the local stored videos won't get synced back to the cloud if connectivity is restored. This workaround, however, does mean you also can't access the Arlo Pro remotely.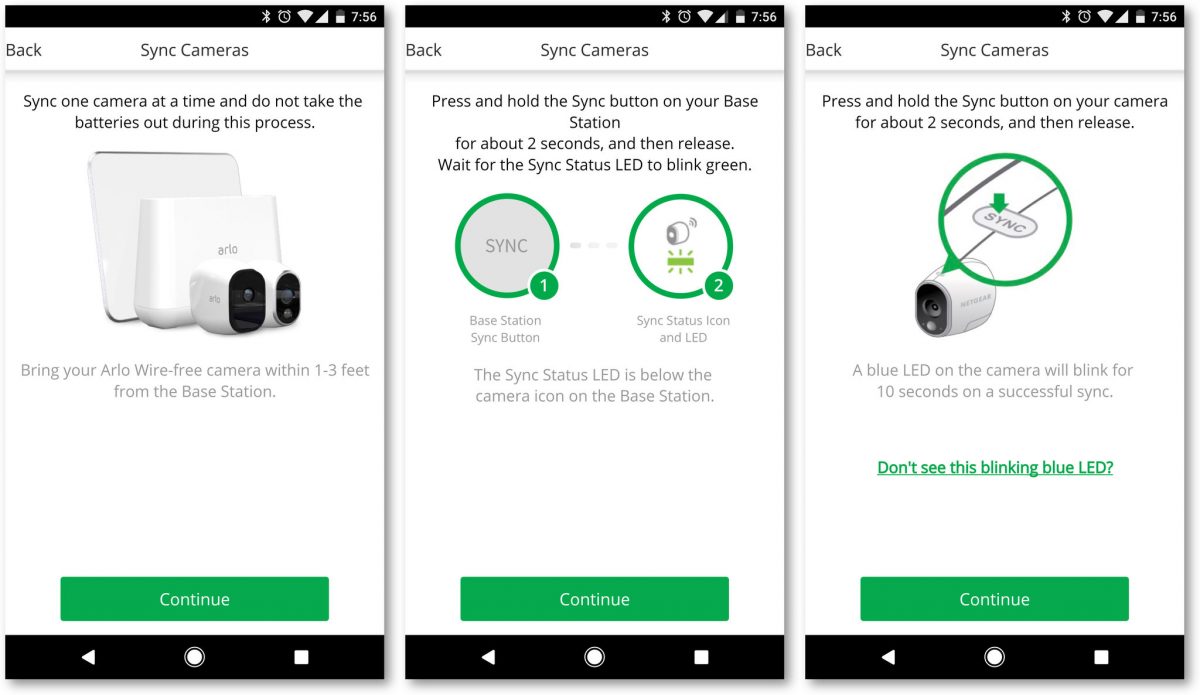 Setting up the camera unit is a simple process, guided by excellent on-screen instructions in the app. The app has a live-view to help with positioning the camera. You have a two choices with the physical camera installation: you can simply set it down on a surface, like a bookshelf, or use the provided wall-mount. The wall-mount attaches to the camera through a tool-less magnetic pivot.
The Arlo mobile app provides a couple of features: an overview of your cameras, a page to find and view all your recordings, and finally a configuration for recording.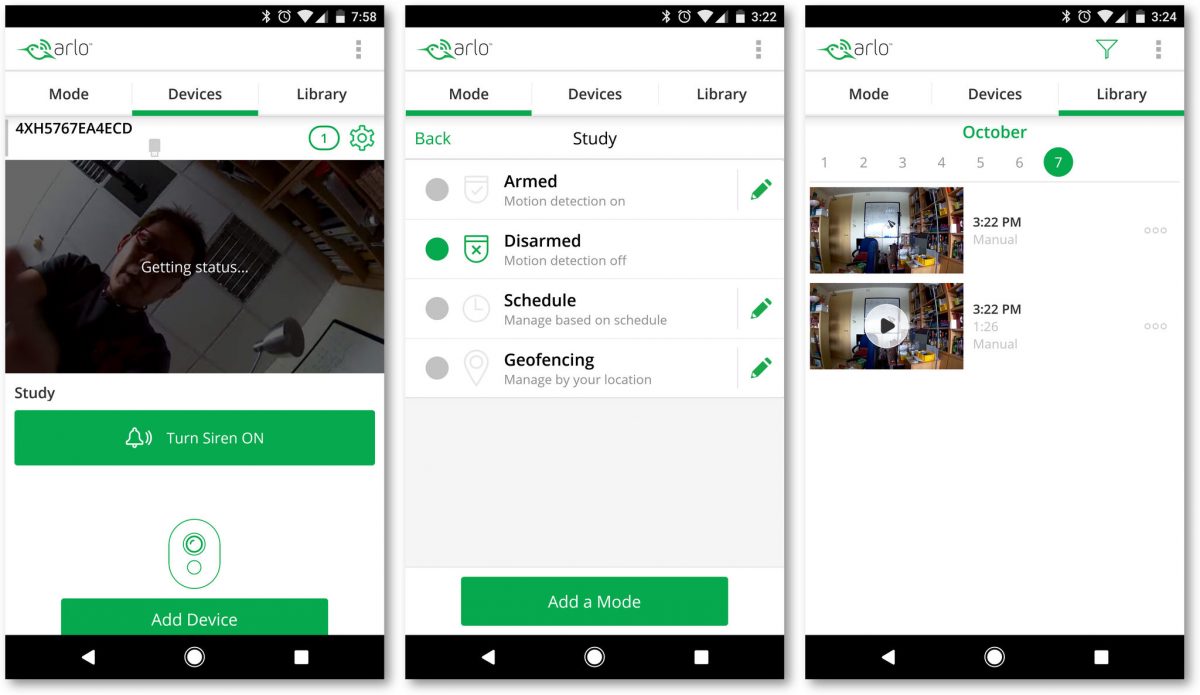 The Arlo Pro cannot do continuous recording. It's not something you'll want on a camera that runs on batteries anyway. Recording is activated by motion or sound. You can choose arm the recording activation manually, according to a schedule, or with geofencing. You can live-stream from the camera, and while in there, start a manual recording or capture still photos. You can also turn on the microphone to start two-way audio. I did find the app rather slow to access the camera though, and there's a fair bit of latency, so for it to function as a door-bell video intercom may lead to some frustration.
Being battery powered, there are certainly some limitations to the Arlo Pro's capabilities. An important one for some people is to pre-record from before the event is triggered, like say about 5 seconds worth. This is useful to see what happens during the time period leading to the motion or event trigger. Unfortunately, to do this, a camera would have to be processing video all the time, and this doesn't bode will for a battery-powered device.
Video from the Arlo Pro is excellent, if only at 720p HD. Images are sharp, with good colour. In night mode, the infrared light is sufficient at near to medium indoor distances.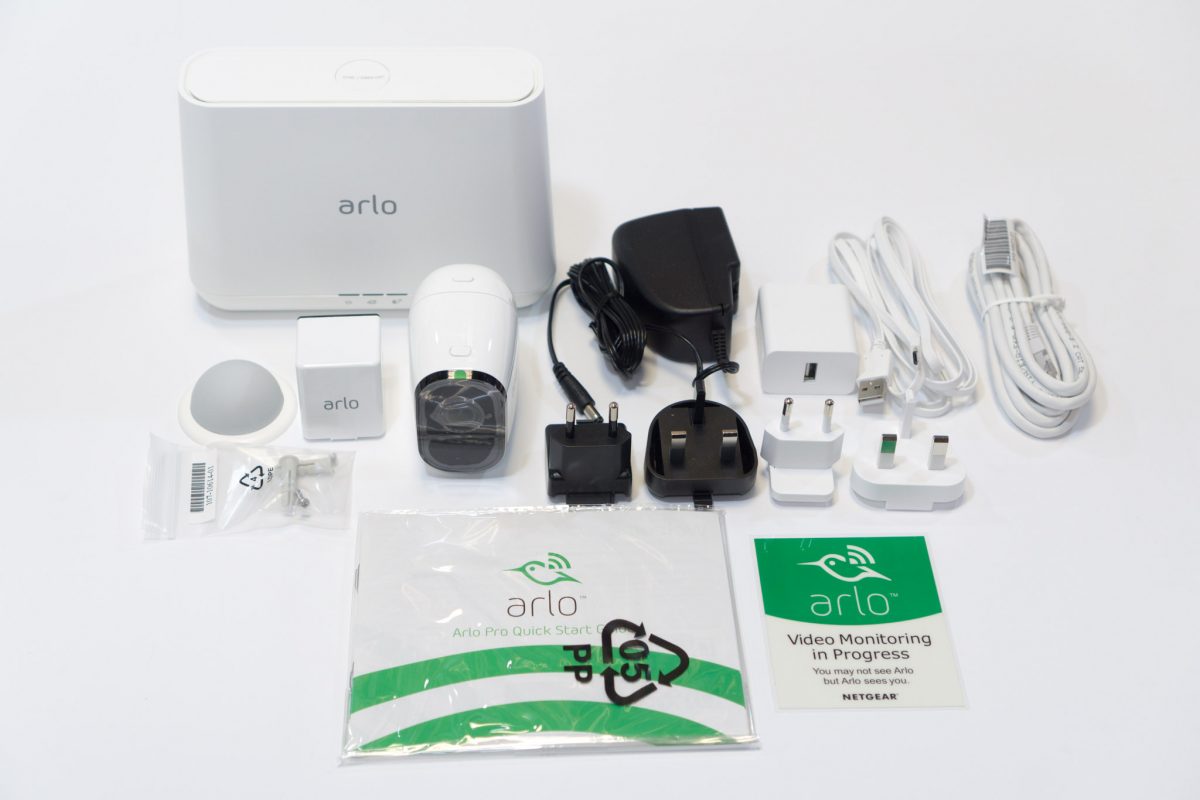 The Netgear Arlo Pro is available at S$699 for a two-camera pack, S$969 for a three-camera pack, and S$1199 for a four-camera pack.
Conclusion
The Netgear Arlo Pro is a complete home security camera system is easy to setup and use. The long-lasting battery-powered camera makes it convenient to place it anywhere, even if running power to it is inconvenient.
Pros:
Long-lasting rechargeable battery
Great video quality
Supports IFTTT, Samsung SmartThings
Weatherproof
Cons:
Cannot pre-record
Slow/high latency live-video