We had a quiet family staycation recently at Pan Pacific Orchard, the one located at Claymore Road, and little did we know that we were among the last guests to be staying there. You see, the hotel would be closed from 1st April 2018, for a major redevelopment that will take three years.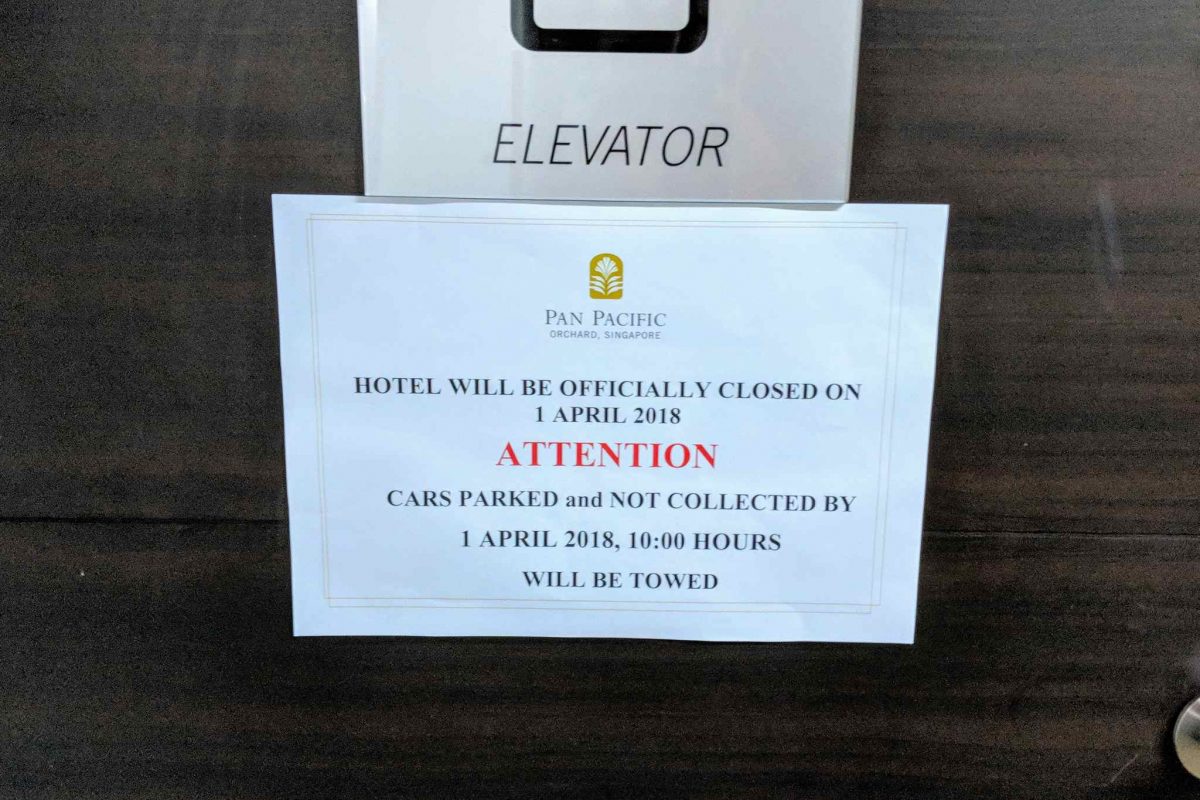 It almost seemed like an April Fool's joke when I saw the signage posted on the door. But alas, it is real. I suppose such is the situation in the hospitality industry. They need to renew their facilities from time to time in order to stay competitive and attract guests. I had intended to blog a little about the stay, but alas, it's not going to be relevant for future guests, at least not for them to learn what to expect with their stays.
This post will, instead, serve like a reminder and reflection of what Pan Pacific Orchard was, before April 2018.
Like what you'd expect with Pan Pacific's reputation, the Pan Pacific Orchard is a very nice, pleasant, hotel. In fact, I didn't even find it old that it needed to be redeveloped. Although there were certainly some signs of wear and tear, I think their redevelopment wasn't so much as a facility renewal, but more so to up their game and keep up with the rising expectations of more discerning travellers.
One of the notable highlights of the Pan Pacific Orchard is their swimming pool. It doesn't look terribly different from any other hotel swimming pool, but the special feature about the one at Pan Pacific Orchard is the water in the pool. They use mineral water, the first in Singapore. There's no chlorine in there.
Don't worry about the cleanliness of the water. They use some sort of NASA-patented water purification technology to keep the water clean.
We had booked the very comfortable Pacific Club Studio on the top floor of the hotel. It's large room of about 53 sqm in size.
Upon entering the room, you're greeted with a large, spacious, living area. That sofa can easily accommodate an extra overnight guest, if need be. Otherwise, you could gather there to watch TV. That TV, incidentally, swivels around so you can either watch it while on the bed, or on the sofa, the two places being on opposite sides of the TV, as you can see from the photo below.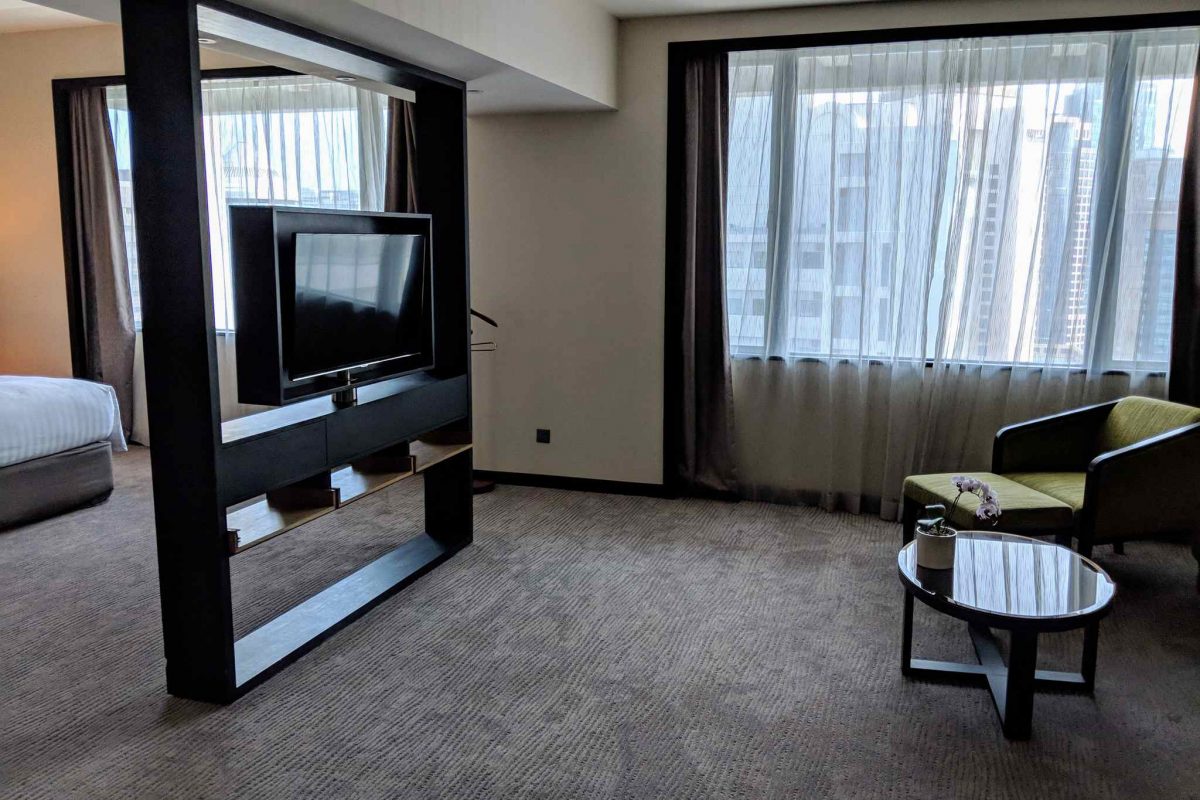 There's a comfortable, and again, spacious, work desk if you need to get work done. Although the desk is set up like you could meet with other persons across the desk, no extra chairs are provided.
As we've come to expect from better hotels, a Nespresso machine is provided for coffee, alongside other tea available. The mini bar refrigerator is located behind the door, at table height, so you don't have to bend down to find items within.
We have a king-sized bed in the room. I don't have much to say about the bed, other than it's comfortable and works for me. I do like that the bed isn't too soft.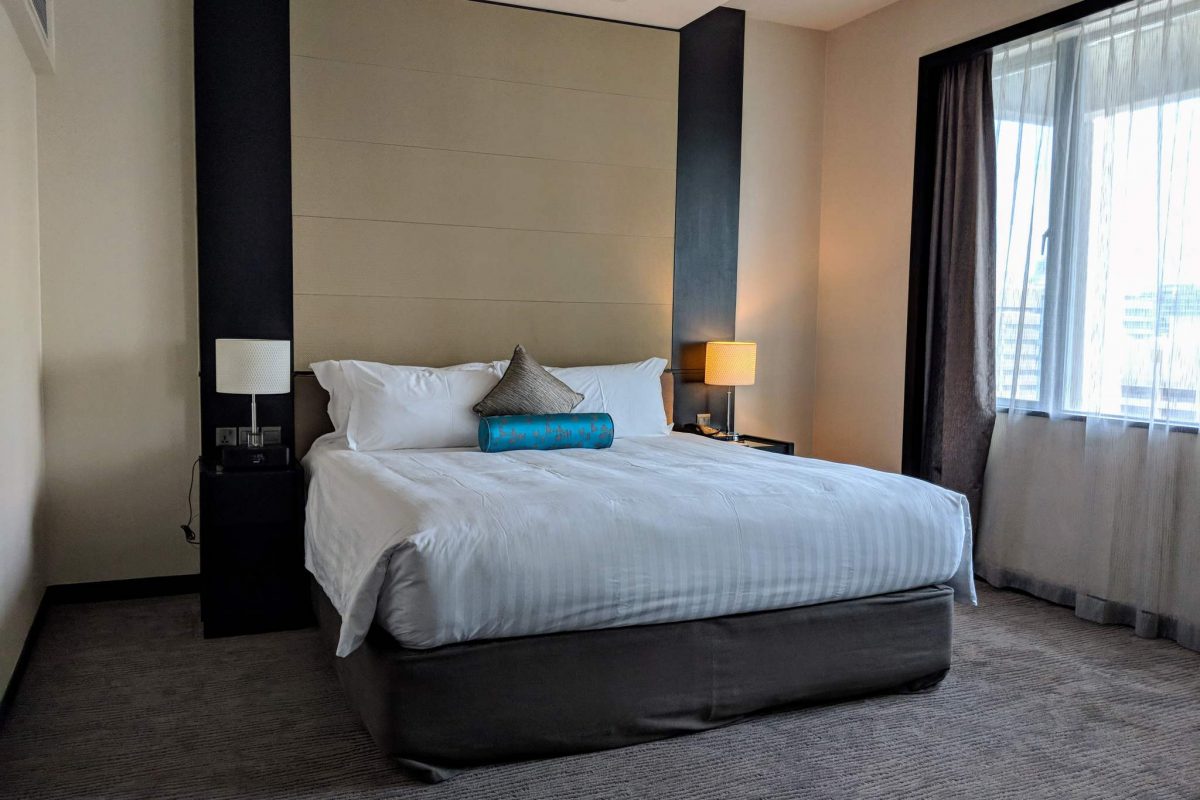 The Philips radio alarm clock on one of the bedside table provides two docking ports, one for the older 30-pin iPod connector and the other for the more modern lightning connector.
For some people, the bathroom is perhaps the highlight of the whole room. Sometimes, hotel rooms are decided because of the bathroom. The bathroom here at the Pacific is not just luxurious, it's also huge and spacious. When you see two basins side by side, you get the sense that there's no lack of space in here.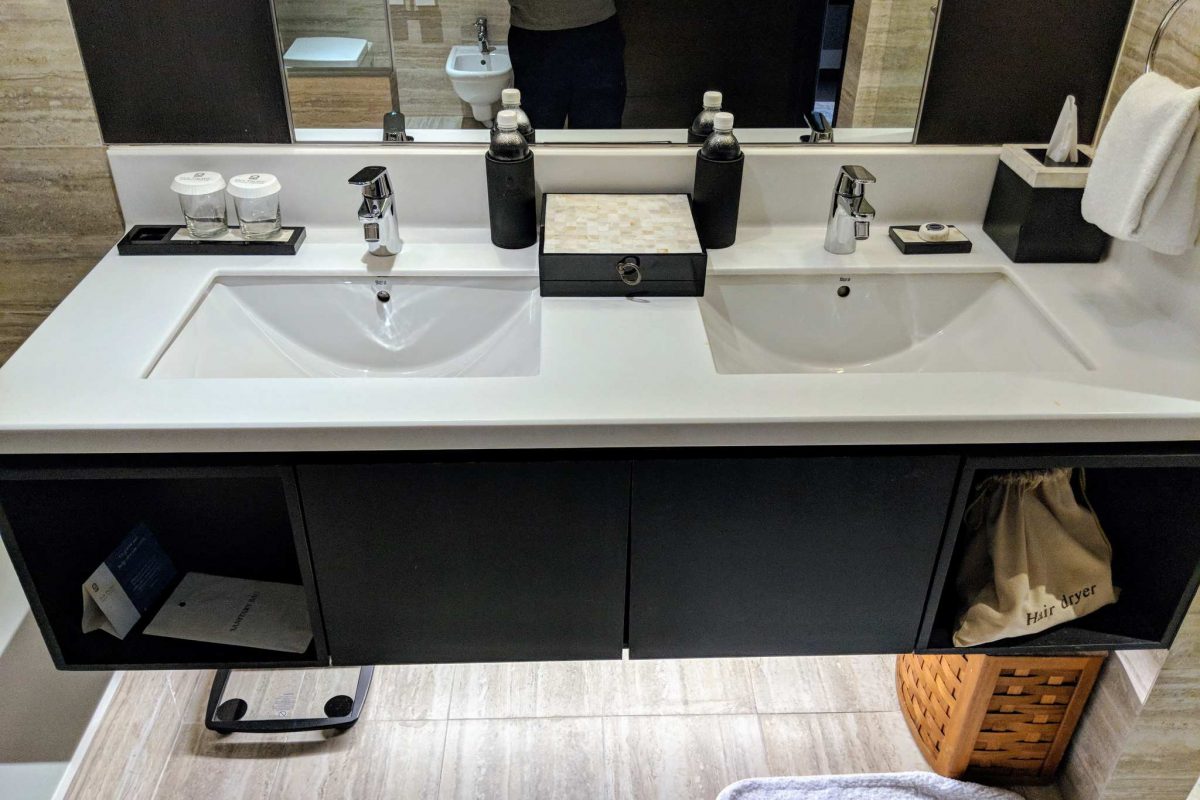 The bathroom is well stocked with many amenities, including bath salts. You will no doubt find yourself pampered.
Apart from a separate shower room, there's also a long bath that's sort of slightly sunken into the floor. This design makes it easier to get into and out of the bath, especially for older folks or young children.
There's also a separate area for the toilet itself. Alright, you can see it's, again, spacious.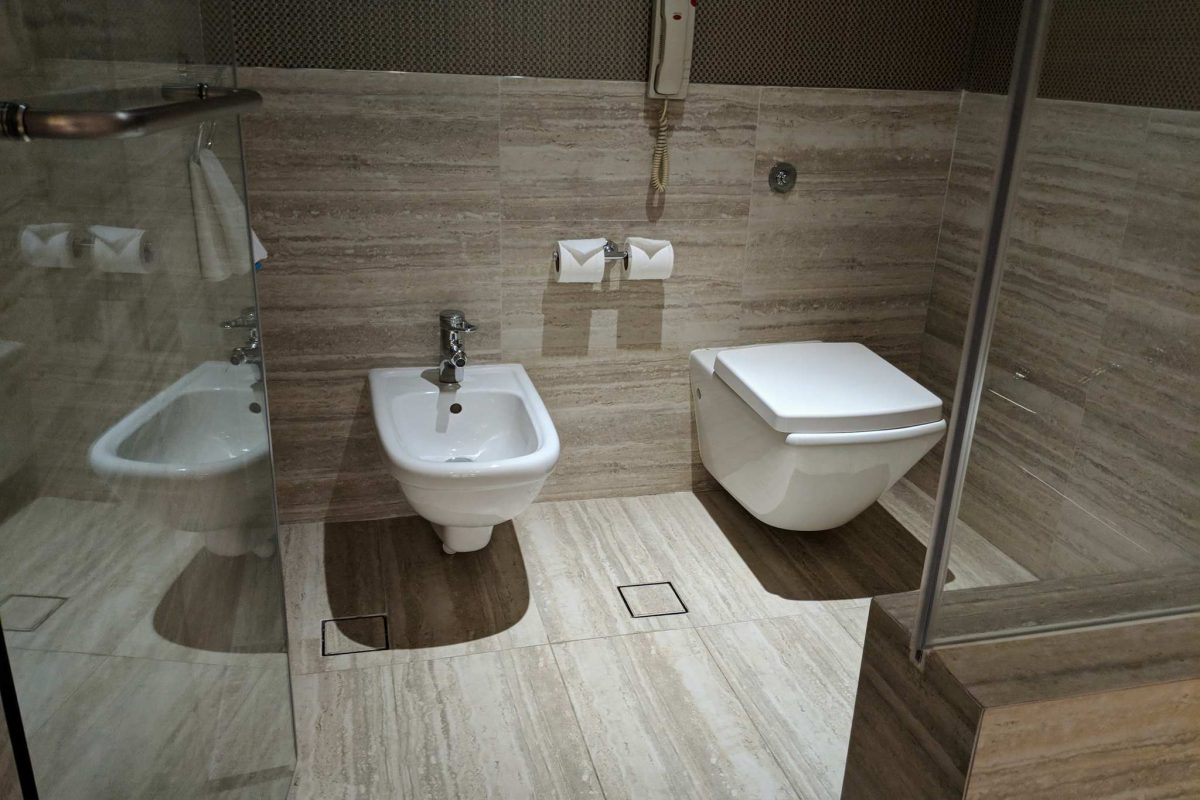 Seeing photos posted in other Pacific Club Studio reviews, I believe the room I have is a bit larger than others. The main difference seems to be that I have a larger living area (particularly around the work desk), as well as a more spacious bathroom.
Pacific Club guests have their own dining at the Pacific Club Lounge which serves breakfast, evening cocktails and hors d'oeuvres, among other delightful treats all-day long.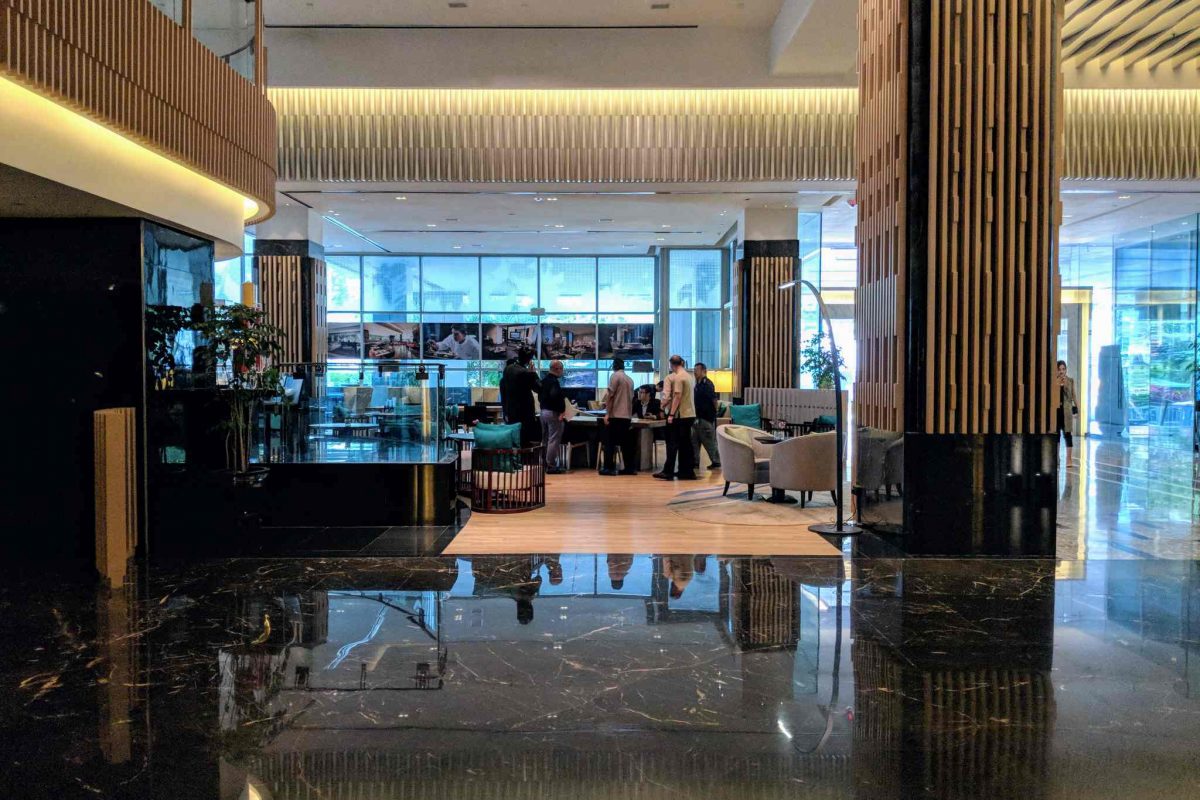 We had breakfast at their regular restaurant, 10 at Claymore, which is a highly-regarded award-winning modern bistro grill. The breakfast buffet spread was good and scrumptious.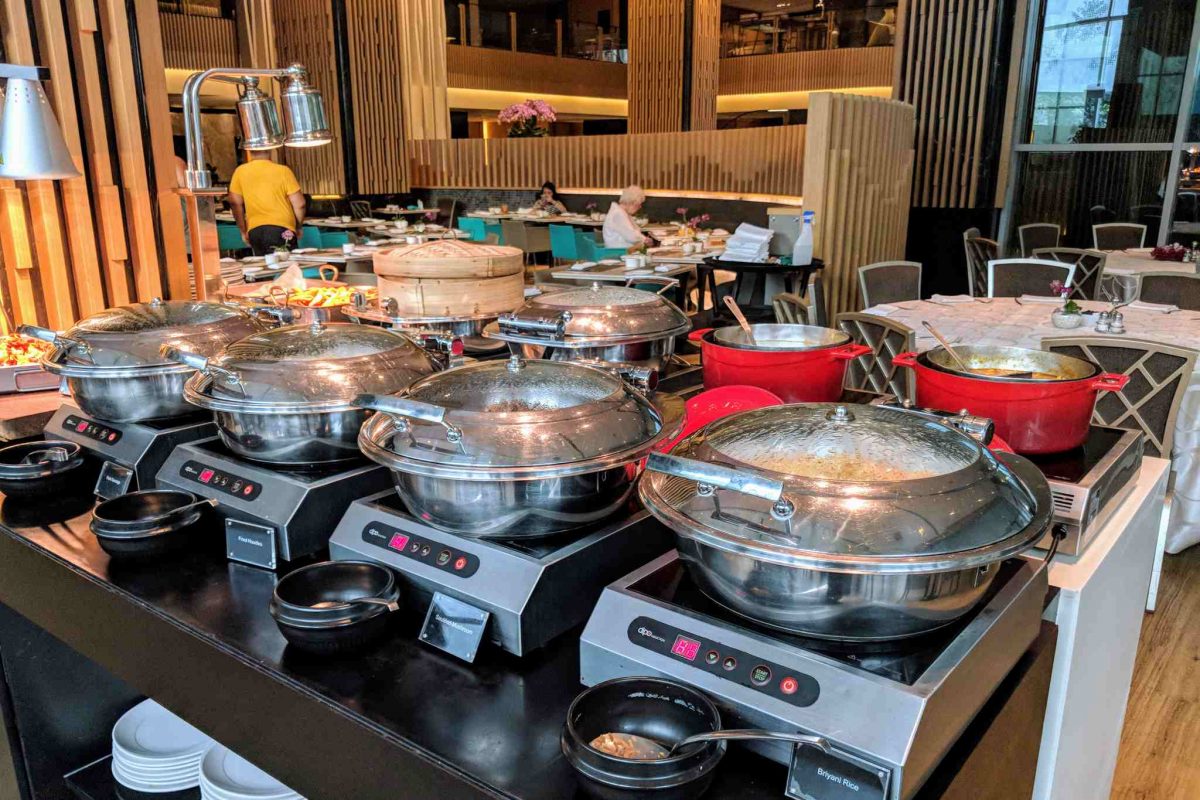 They have a few cooking stations to prepare items such as eggs and pancakes customised to your preference.
Overall, our stay at the Pan Pacific Orchard was great, not withstanding its proximity to the notorious Orchard Towers. I expect when they're back three years later, they'll have an even better experience to offer.