Thunderbolt 3 has become quite common in the last 2 years. It's power and versatility makes it very useful as a communication interface to desktop docks like the Belkin Thunderbolt 3 Express Dock HD. With just one cable connecting to your notebook, you have access to a jumble of peripherals instantly.
Apple's MacBook Pro notebooks from 2016 came with Thunderbolt 3 ports exclusively. They did not even have their previous MagSafe 2 power port. Most people were resigned to living a dongle-life, but it also presented an opportunity for Belkin to sell a docking solution.
Some of us may be familiar with proprietary docking stations, which still exists today (yes, like on the Surface Pro). The very high speed communication interface provided by Thunderbolt 3, at up to 40 Gbps, makes it possible for the single cable to carry everything that a docking device will need, including supplying power to the notebook.
This is a pretty neat universal docking solution. It's not just a desktop dock for the MacBook Pro. It works with any notebook that has a Thunderbolt 3 port. For this review, I made sure the Belkin Thunderbolt 3 dock really works properly with my PC notebooks as well as it does with my MacBook Pro.
With one single cable, the Belkin Thunderbolt 3 dock gives you:
Power for the notebook
Gigabit Ethernet
2x Audio out (one with audio in)
3x USB 3.0 Type-A
2x USB Type-C with Thunderbolt 3
Full-sized DisplayPort
In terms of design, the Belkin Thunderbolt 3 dock looks like something that Apple might have designed. The body is primarily made out of machined aluminium. It's stylish and sits well next to a MacBook Pro.
Measuring 20.74 x 8.80 x 3.03 cm (W x D x H), the Belkin Thunderbolt 3 won't take up too much desk space, but sizeable enough to accommodate and provide easy access to all the cables.
Most of the ports are on the back, leaving just one USB 3.0 Type-A port and an audio in/out jack on the front. This way, the dock looks clean and tidy from the front, while still providing convenient access to some basic ports.
On the back, there's Gigabit Ethernet, another audio out, two more USB 3.0 Type-A ports, two USB Type-C with Thunderbolt 3, a full-sized DisplayPort, and DC input jack to power the dock and the notebook connected to it. One of those Thunderbolt 3 ports is for connecting to the notebook, which means there's only one other Thunderbolt 3 port available for peripherals.
The Belkin Thunderbolt 3 dock comes with an 85 Watt power brick. This is large enough to power both the 13-inch and 15-inch MacBook Pro notebooks, as well as pretty much any other PC notebook which receives power via a Thunderbolt 3 port.
Most people will want to connect a monitor to the dock. For this purpose, you can either use DisplayPort or Thunderbolt 3. The DisplayPort connection supports up to 5K resolution video with audio. You can also connect two monitors at up to 4K resolution each, one with DisplayPort and the other with Thunderbolt 3. If the Thunderbolt 3 connection proves to be inconvenient, like if you don't have a Thunderbolt 3 monitor, you can use a Thunderbolt 3 to DisplayPort dongle.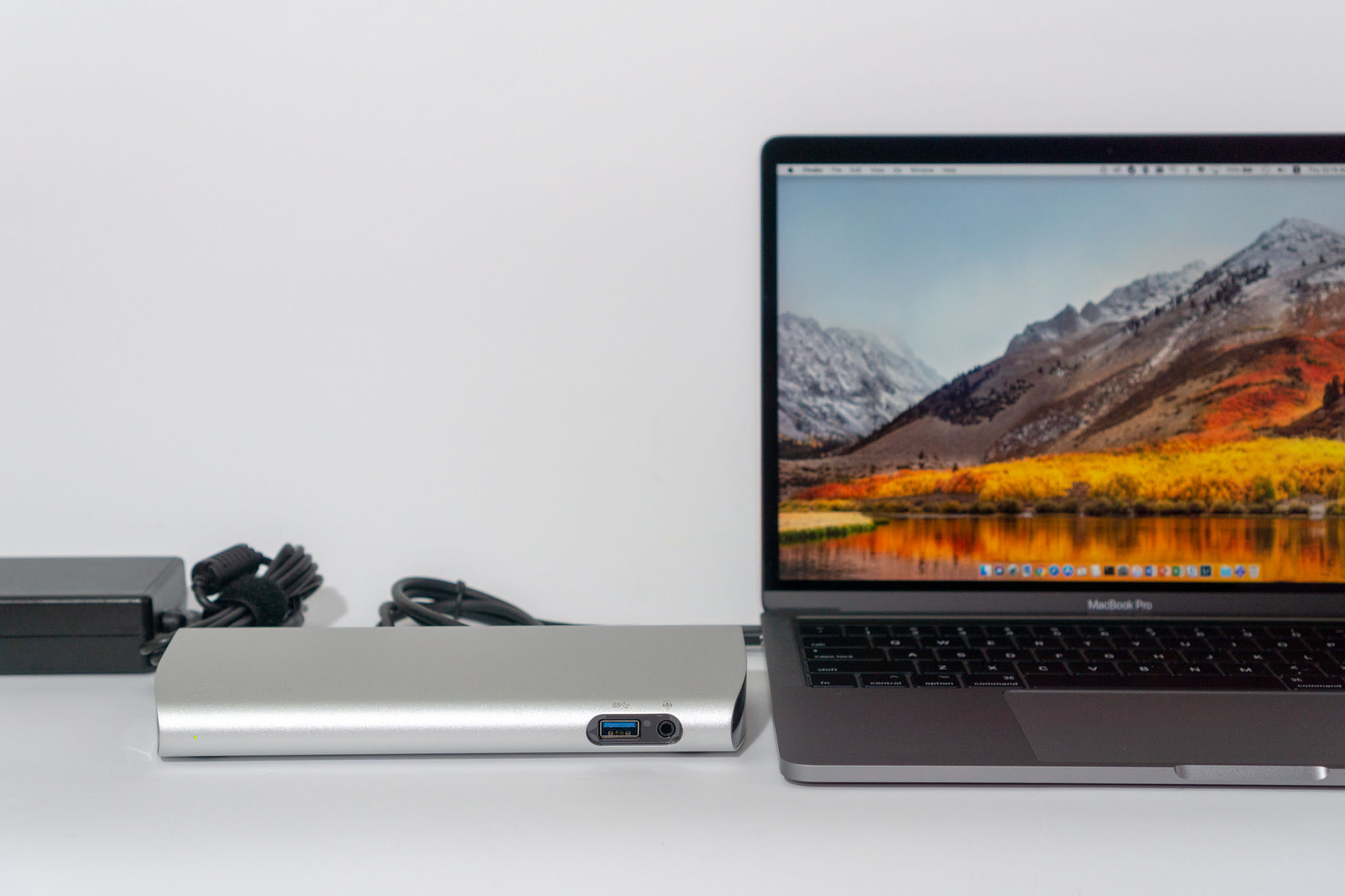 Sadly, this dock does not provide legacy VGA connection, or even HDMI. You can't even use a Thunderbolt 3 to HDMI dongle. I'm not sure if this is a technical limitation as some others have said. I find it unlikely since I've chanced upon another Thunderbolt 3 dock that provides 2x DisplayPort, HDMI, and VGA, while still having an additional Thunderbolt 3 peripheral connection.
While I appreciate that DisplayPort is the way to go, and VGA is really too old, many of us still use HDMI. Unless your current monitor has DisplayPort or Thunderbolt 3 inputs, you'd have to run out to buy a new monitor to use with this dock. 
Apart from a Thunderbolt 3 monitor, that other Thunderbolt 3 peripheral connection on the Belkin Thunderbolt 3 dock can be used to daisy chain up to five Thunderbolt 3 devices. With up to 40 Gbps bandwidth available on Thunderbolt 3, which is 8 times faster than USB 3.0, this connection will not easily become a bottleneck. Do note that your notebook will also need to support four PCIe lanes on the port.
I imagine one day in future everything will be Thunderbolt 3 (or perhaps we would have moved on to something else), and one might just need a simple Thunderbolt 3 hub. For now, however, as long as we still need to connect a bunch of USB Type-A, DisplayPort, and audio, Belkin's Thunderbolt 3 Express Dock HD is really convenient. Using a standard Thunderbolt 3 interface, this dock can also connect to other notebooks, as long as they have a Thunderbolt 3 port.
In the box, the Belkin Thunderbolt 3 Experss Dock HD ships with a big 85 Watt power adapter, a variety of power cords, and a 1 metre USB Type-C/Thunderbolt 3 cable.
The Belkin Thunderbolt 3 Express Dock HD retails at S$599, and it is available from major re-sellers like Challenger, Gain City, lazada.sg, Amazon, Newstead, Best Denki, Courts, EpiCentre, Harvey Norman, iStudio, and nubox, among others.
Conclusion
For both MacBook Pro and Windows notebooks, as long as there is a Thunderbolt 3 port, the Belkin Thunderbolt 3 Express Dock HD offers great convenience for accessing a variety of ports with just one cable connection.
Pros:
Stylish and beautifully designed
Conveniently arranged ports
Daisy chain other Thunderbolt 3 peripherals
Supports 5K video or 2x 4K video
Cons: