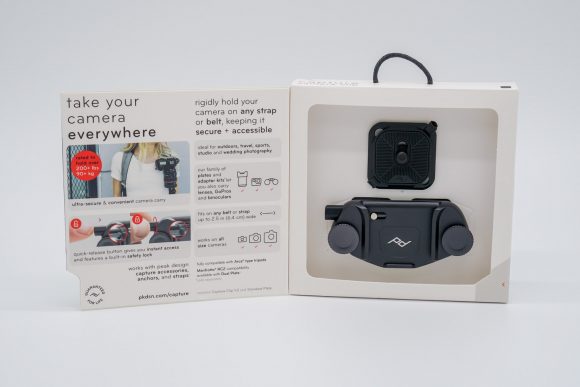 Photographers often want an easy way to carry their camera, being able to keep both hands free but easily pick up their camera to shoot at any time. A camera strap works, but Peak Design's new Capture Camera Clip keeps your camera secure and rigidly attached, yet conveniently accessible to use any time.
The problem with straps is that when not in use, the camera simply hangs loosely, swinging around as you walk, brisk walk, or engage in other active body movements. This isn't very safe for your camera as it may constantly hit yourself, other people around you, or worse, hard objects around you.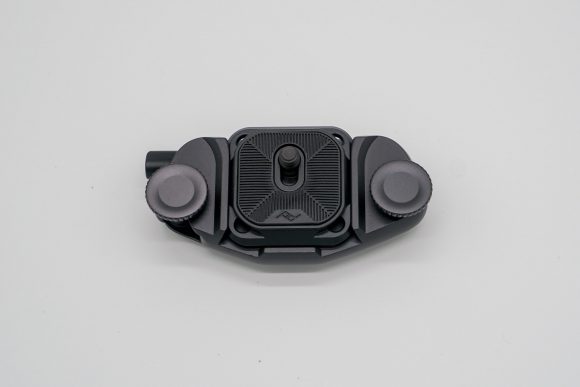 Peak Design's Capture Camera Clip, on the other hand, locks your camera rigidly to your belt, backpack strap, or other attachment on your body. Even with brisk body movements, including abrupt turns, the camera stays close up to your body.
There are two parts to the Capture Camera Clip. The base clip attaches to something on your body, such as your waist belt. It's well made from smooth anodised aluminium. This base clip itself has two parts. You can either loosen one screw to swing it open on one side, or remove both screws so the two parts separate altogether.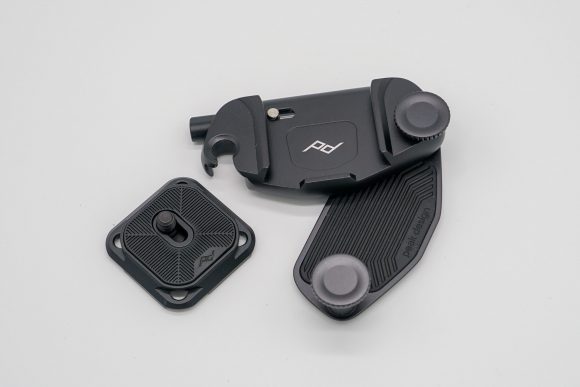 Either way, the base clip attaches onto your waist belt, or of you prefer, your backpack strap. An embedded grip in clip ensures maximum slip resistance wherever you attach it to.
The plate attaches to the bottom of your camera. This is an Arca-Swiss compatible plate, so it can be used with other Arca-Swiss clamps you may have, such as on tripods or other mounts.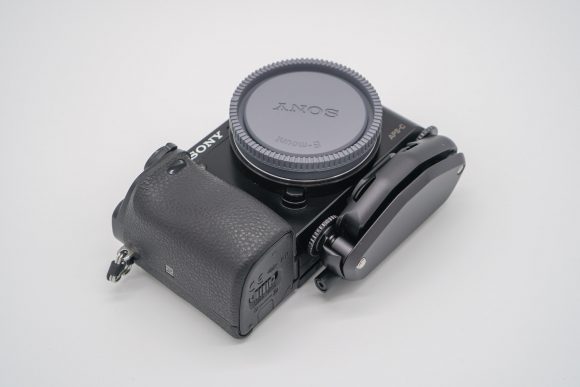 There is some flexibility to move the screw on the plate so you can adjust the plate position on your camera. I needed to move mine forward of the camera in order to not obstruct the opening of the camera's back LCD screen.
Mounting the camera onto the clip is extremely easy. The plate can slide into the base clip on any of its four sides. Once fully in, the plate will lock in-place with a clearly audible mechanical click.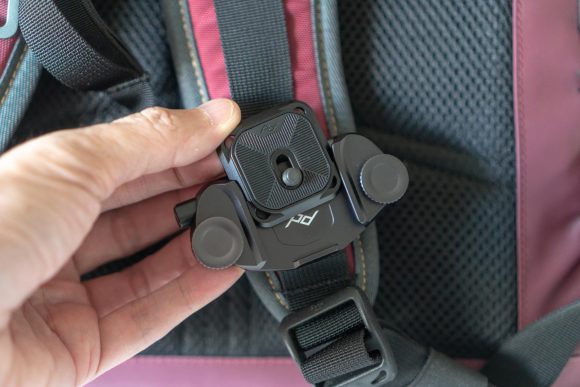 At this point, the camera is securely locked into the clip. The plate will not slide out of the clip. In order to release the plate, you will need to press the quick-release button on the side.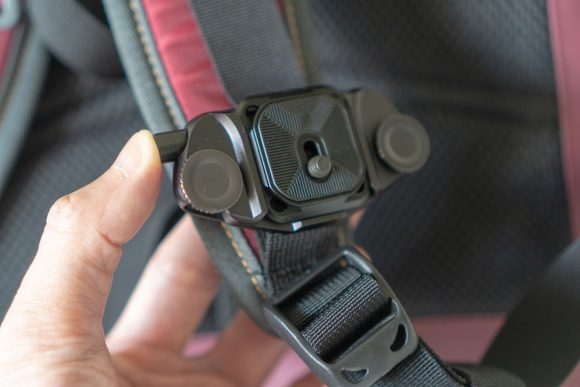 It's not easy to accidentally press that quick-release button. Remember that the button is behind the camera which is not pictured in the above photo. If, however, for any reason you feel that you need to mitigate against that unlikely scenario of accidentally pressing the quick-release button, the button itself can be locked by twisting to the side.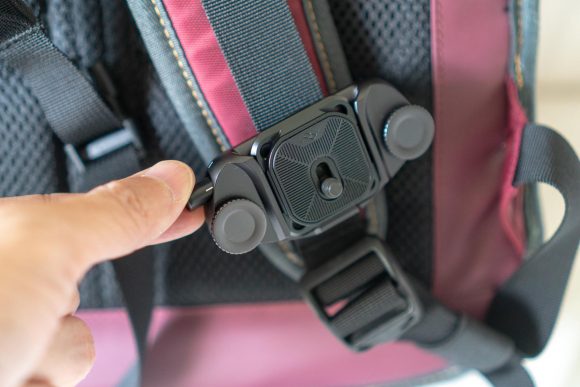 The quick-release button cannot be pressed when it is locked. The plate cannot be released unless you press the quick-release button. Your camera, thus, is quite securely locked to the clip. Now, just make sure your clip is securely attached.
The large thumbscrews you see in the above photos are for quick easy attachment and removal of the clip. If you think your clip can be somewhat permanently attached, you can replace those thumbscrews with another included set of hex screws. You will need to use an Allen key, which is also included. These screws cannot be loosened by hand, hence you cannot make easy on-the-go adjustments of the clip.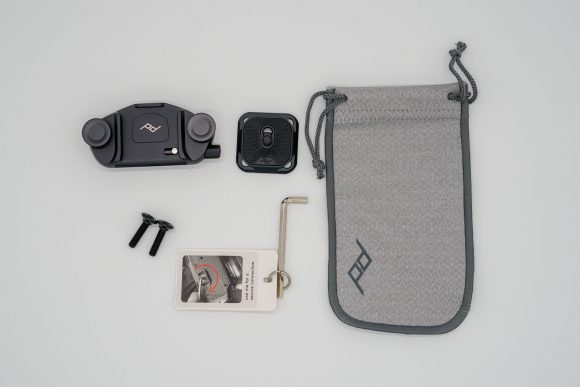 Apart form the clip, plate, two sets of screws and the Allen key, the Peak Design Capture Camera Clip comes with a pouch.
This is "version 3" of the Capture Camera Clip, just released in retail a few months ago. There are earlier versions of this clip, and it was originally a Kickstarter project back in 2011. Version 3 was also initially launched as a Kickstarter project too.
The primary improvement in version 3 is its smaller, lighter and lower profile. Its total weight is just 84 grams, but it holds up to 90 kg of equipment. I don't think you're going to carry even a quarter of that weight. The clip will accommodate straps up to 64 cm wide, and 1.5 cm thickness (with thumbscrews) or 2.2 cm (with hex screws).
Peak design sells other related camera-carring accessories too, including a pad designed to go with this Capture Camera Clip for wearing on a belt for greater comfort and stability when using heavy cameras with long lenses.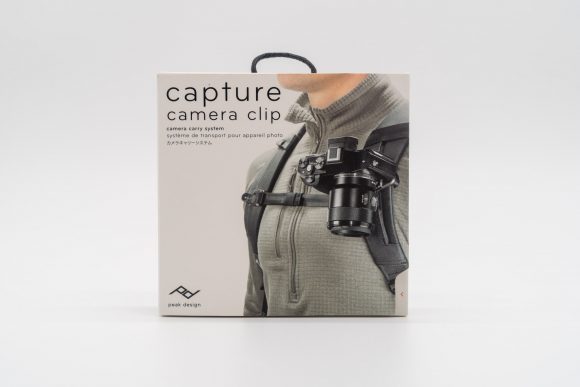 The Peak Design Capture Camera Clip is available from Amazon at US$69.95 (affiliate link), and ships directly to Singapore. You can choose between black (as reviewed here) and silver colours.
While there are similar clips that cost less, I recommend you consider the quality and reputation of the manufacturer, especially when you're depending on the clip to secure your expensive photography gear.