This isn't all exactly festive shopping, but I just have a number of little items I've come across (and bought) which I thought are worth mentioning. Instead of trying to write individual reviews when there's really not much to say about them, I've consolidated them into this shopping update.
Before getting started, I just wanted to make mention of a notable change in my shopping behaviour in the last year. In the past, I would have some items bought in the United States and shipped to Singapore via a freight-forwarder like Comgateway or Borderlinx.
For the whole of this past 12 months, however, I've had zero items shipped through any freight-forwarder. There are two main reasons for this:
Thanks to much improved global shopping and shipping provisions, numerous overseas merchants will ship to Singapore directly. Amazon US, for example, even though they dropped free shipping, has since supported shipping of many more items for a nominal fee.
Also quite importantly, the variety of items available from local merchants have expanded tremendously. First, Amazon has local presence, and even though they don't have as great a variety as their US store, it has still given us a lot more choices. Other shopping platforms like Lazada is also giving us a lot of variety, including overseas sellers that operate on their platform.
The freight-forwarders must really be feeling the pinch.
So let's get on with a look at some of the loot that I've gotten.
LDNIO Power Bar
NOTE: Hong Kong's EMSD has posted an advisory about the dangers of this power bar. Refer to:
https://www.info.gov.hk/gia/general/201904/10/P2019041000831.htm
I know a power bar doesn't sound terribly exciting, but I like this one a lot for a few reasons.
First, it has a universal 3-pin socket that accepts the UK 3-pin plugs, the Europe 2-pin plugs, 2-pin US plugs, and 2-pin Australia plugs. Pretty much everything fits, so this is very convenient. Sometimes even brand-name products sold by their official Singapore store still comes with 2-pin US plugs.
As much as the Singapore authorities want to approve only the use of UK 3-pin plugs, it is unavoidable that we need to embrace these other foreign plug types.
The other nice thing, also, is the USB Type-A charging ports on this power bar. There are 6 of them. I don't think I need all that many, at least not all in one place. There is another variant of this power bar with just 3 USB ports. The USB charging ports are really convenient, much better than have to deal with clumpsy charging bricks. The only downside, though, is that these are just ordinary ports with a combined total of 3.4 A output, and no fancy quick-charging magic in them.
Finally, this power bar looks decent on a work table or dining table. It would be nicer if the power bar had been thinner (height-wise). Maybe there'll be a future version that is even more aesthetically pleasing. For now, this works for me.
I bought this LDNIO power bar from Lazada.
I/O Crest 4-Port SATA III Expansion Card
For those who build their own PCs, and in particular, PCs that are designed to function as a NAS and hence need to support many hard disk drives, you'll likely find yourself running out of SATA ports. Most motherboard max out at 6 SATA III ports, so if your NAS needs more drive than that, you'll need a SATA port expansion card.
I've been eyeing this card from I/O Crest for some time, but most of the sellers on Amazon won't ship this item to Singapore. The ones that do are priced way too high.
I finally found a reasonable deal for this I/O CREST 4 Port SATA III PCI-e 2.0 x2 Non RAID Hard Drive Controller Card Marvell 9235 Chipset on Amazon (affiliate link). It's currently just US$28, with US$5.88 shipping to Singapore.
This is a 2x lane PCIe 2.0 card with four SATA III ports. This card does not support RAID. Not supporting RAID is actually a desirable feature for some use cases. I plan to use this with FreeNAS, where it is better for FreeNAS to directly see and manage the individual hard disk drives, without a RAID layer sitting in-between. Drive errors can be directly seen by FreeNAS so that it can deal with it appropriately, including reporting to user.
Although there are four SATA III ports on this card, I/O Crest only includes two SATA cables. A low-profile bracket is provided, so you can use this card on a low profile PC chassis.
Sabrent 4-Port USB 3.0 Hub with Power Switches
This is the second time I've bought this Sabrent 4-port USB 3.0 hub. The special highlight of this hub is the individual power switches on each port.
The individual switches allow me to disconnect a port without having to physically remove the USB cable from the hub. The USB peripherals can still be plugged into the hub, but the computer won't see those devices on the ports which have been switched off.
The power switches also have LED indicators to show if the ports are switched on or off.
This Sabrent 4-Port USB 3.0 Hub with Individual LED Power Switches is available on Amazon (affiliate link) for US$9.49, with US$4.84 shipping to Singapore.
AmazonBasics DisplayPort Cable
I was recently ranting about how Courts was grossly overcharging for HDMI cables. This is also generally true, to varying extent, of many other types of display cables from retail here.
I needed a DisplayPort to DisplayPort cable a few weeks ago. Do you know how much this cable should cost?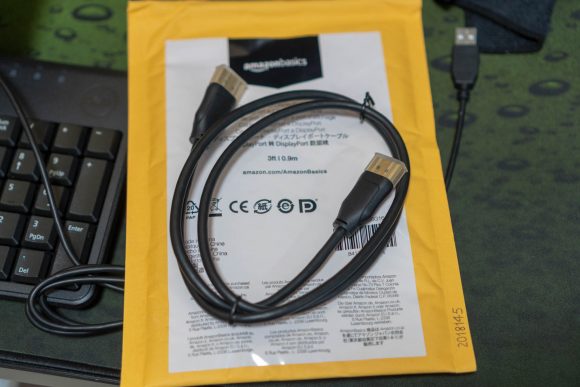 Amazon Prime had this 3-feet AmazonBasics DisplayPort to DisplayPort cable selling for just S$4.62. That's right. Not even S$5. You even get free shipping within 2 – 4 hours if your total order is at least S$40.
---
I've no doubt online shopping in the coming year will get even better, with more convenience, more variety, and improved satisfaction. As is always the case, you should always do your own research, because prices can vary greatly across online stores.
Happy shopping. From ZitSeng.com, warmest greetings and best wishes for this festive season and the coming year!