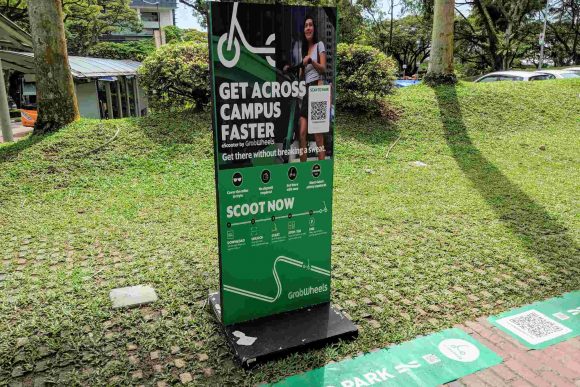 GrabWheels, the e-scooter rental service on NUS' Kent Ridge campus, returns to service after a one-week safety timeout. It's not the same as before, however, as there are now new rules in place for GrabWheel users.
The GrabWheels service was suspended 8th March following reports of accidents involving injuries, including one that involved "a more serious injury". A one-week timeout was enforced so that safety measures, which included safety roadshow and safety education programmes, as well as installation of new rumble strips on slopes.
The e-scooter rental service operated by grab as a pilot on the NUS campus has been popular with users. It's a convenient means for getting around campus, provided, of course, there's a parking station at both the start point and destination of your journey.
Not surprisingly, though, there has been a lot of errant riders. There are riders who ride on the road, and others who ride at reckless speeds on walkways with moderate to heavy pedestrian traffic. Being in pilot, there aren't all that many e-scooters from GrabWheels, but the problems they are causing are already quite bad.
I am, personally, not convinced about the sustainability of this e-scooter rental concept. The new measures which NUS has introduced to improve e-scooter riding safety is likely to put a damper to the service. GrabWheel users will know have to:
undergo mandatory training conducted by vendors approved by the Land Transport Authority,
don helmets while riding on the e-scooters.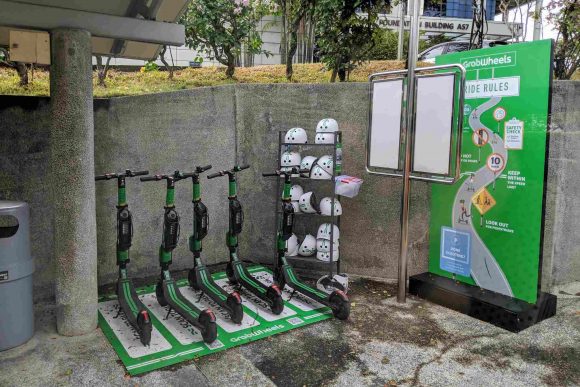 Shared helmets are now provided at each GrabWheel parking station, along with cleaning supplies for hygiene purposes. The idea of having to share helmets is sure to put off some users. They can, of course, bring along their own helmets, but that could be rather inconvenient.
For now, Grab is providing on-campus training daily from 11am to 4pm until 21st March. Each training session takes about 30 minutes, and users have to pass a proficiency test. After 21st March, it sounds like users will have to get their training elsewhere, which may greatly add to the inconvenience of signing up for the service.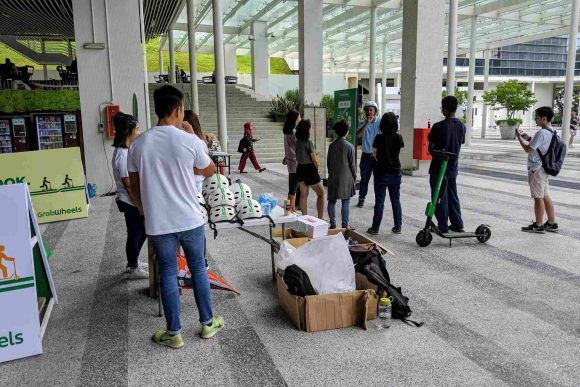 There will also be increased surveillance via CCTV to catch errant riders, who may then be banned from using e-scooters on campus. I do hope they will be serious about enforcement.
In principle, all these steps are good and go towards ensuring safety for both riders as well as pedestrians. Time will tell if any of these measures will produce results, and ultimately, if an e-scooter rental service is viable at all. Seeing how Grab presently has to round up all the e-scooters for charging daily (or more frequently), I wonder if the business is even sustainable.