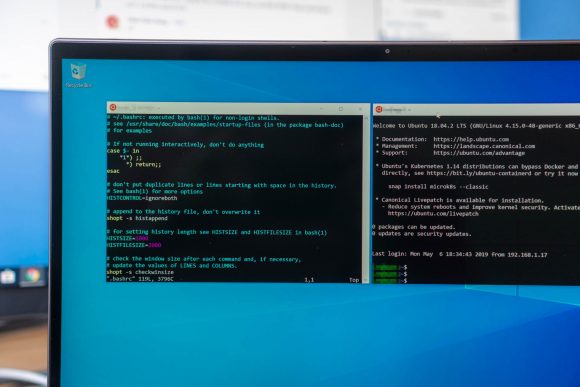 Microsoft's Build 2019 conference is happening right now in Seattle. While we're only just past day one of the annual developers' event, Microsoft already has a couple of exciting announcements, at least for developers.
Ever since Steve Ballmer's "developers" chant at a developers' conference a long time ago, Microsoft has been making progress, especially picking up pace in recent years, to woo developers to the Windows ecosystem. Windows 10 has been getting many developer-friendly features over the years.
We get to hear more of their developments at this Build 2019 conference. These aren't things that excite typical casual users. For developers, however, they make the Windows 10 platform more exciting than ever.
The first is that Windows 10 will soon get a full Linux kernel, and it will arrive in a Windows Insider build by the end of June 2019. Windows 10 will still run on a Windows kernel, that part of it won't change. Windows 10 isn't about to become like how macOS is architected. Microsoft will add another kernel, initially based on version 4.19 of the Linux kernel, that runs alongside the Windows kernel.
This new Linux kernel will be the fundamental change in the next version of Windows Subsystem for Linux, or WSL 2. It will feature significant file system performance improvements and support for Docker, thanks to WSL finally getting a real Linux kernel. I have previously complained about how things don't work properly in WSL; hopefully WSL 2 will work much better.
The second significant news is for people who work on the Linux command line extensively. Microsoft will have a new Windows Terminal. Yes, finally. It will be used for various command line environments like WSL itself, as well as CMD and PowerShell.
Windows Terminal will add support for tabbed windows, GPU-based text rendering, and emojs. It will be available through the Microsoft Store in June, though you can get the source code from GitHub if you can't wait. Check out the Windows Terminal preview on Yhttps://www.youtube.com/watch?v=8gw0rXPMMPEouTube.
There are also other news that came up before the Build conference, like the Edge browser getting a rebuild using the Chromium rendering engine. This is nice, because from a developer's and web designer's perspective, Edge will just behave like Chrome. Whether I will be happy to switch from Chrome to Edge, however, will be another matter altogether. Regardless, I must applaud Microsoft for their bold move to embrace Chromium.
Still on Edge, Microsoft will add Internet Explorer mode. This means that you can seamlessly access a website in IE mode in a new tab within the same browser. No need to mess with a different browser. If you work in a organisation that still has corporate intranet websites that work only in IE, you'll probably appreciate this feature, provided, of course, that you use Edge as your regular web browser.
A few other interesting things have been also announced, like better Cortana and Azure natural language transcriptions.
The thing with these conferences is that you get to hear about exciting new developments, but those things might not be here right now. You've got to wait. From what has been heard so far, it seems like there's going to be quite a few things to look forward to with Windows 10 in the coming months.