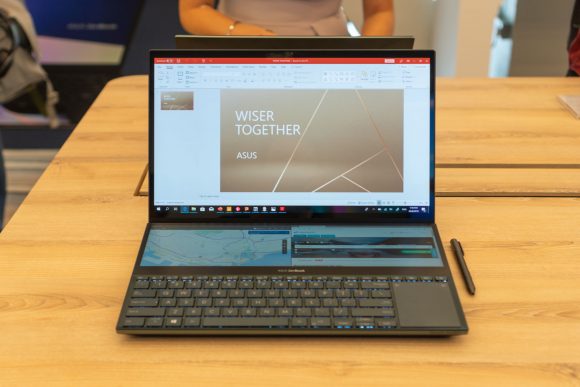 We first got a glimpse of the ZenBook Duo and Pro Duo at Computex a few months ago. If you've forgotten, this is a dual-screen notebook. The secondary screen is above the keyboard, but it isn't anything like the MacBook's Touch Bar. This is a huge, expansive, touchscreen.
This is a dual-screen notebook, or if you want to be picky about it, 1.5 screens. Technically, this isn't even ASUS' first dual-screen notebook, if anyone remembers their Taichi notebook many years back, but I digress. The new ZenBook Duo and Pro Duo have a full regular screen like on any other notebook. But in addition to that, you also have a huge screen that takes up fully half of the keyboard deck, and stretches from side to side, as wide as the regular screen does.
Again, I've got to say the MacBook's Touch Bar is really a kid's toy compared with what ASUS has put into the ZenBook Duo and Pro Duo. It is amazing. This secondary display is full-width, touch-enabled, and it basically works as an extra screen. For pro users with heavy multitasking needs, this extra screen on a notebook is truly a godsend.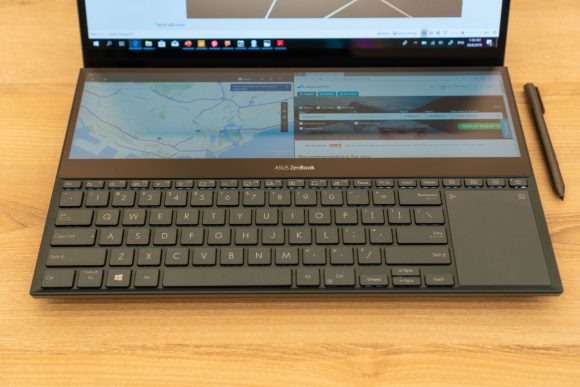 Given that the secondary display now takes up the entire upper half of the keyboard deck, the keyboard and trackpad has to share space on the lower half. This means there's lesser space for the both of them. However, ASUS has no lost space on the keyboard deck. The keyboard itself, the trackpad, and the secondar screen are all place edge to edge, not just with the edges of the notebook, but also to each other.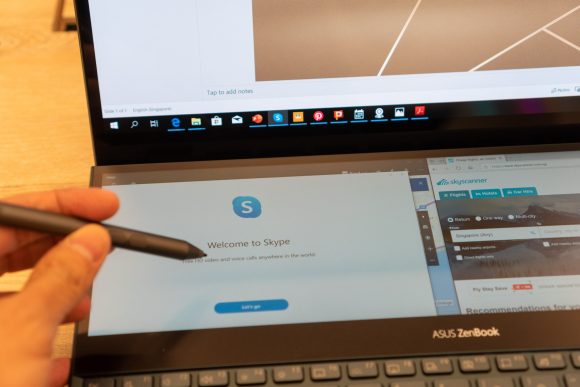 The ZenBook Duo (UX481) and Pro Duo (UX581) may have obvious difference due to the screen size, but it's also under the hood that they are very different.. The latter, of course, being the more pro version has souped up specifications. The basic ZenBook Duo has the following specifications:
Intel Core i7-10510U Processor
14-inch Full HD primary screen (non-touch), 12.6″ Full HD secondary screen (touch)
NVIDIA GeForce MX250 with 2 GB VRAM
16 GB LPDDR3 RAM
1 TB M.2 NVMe Storage
Wi-Fi 5
1x USB Type-C (not Thunderbolt), 1x USB 3.1 Gen 2, 1x USB 3.1 Gen 1, HDMI, audio, MicroSD card slot
Array microphone
70 Wh LiPo battery
323 x 223 x 19 mm, 1.5 kg
The heftier ZenBook Pro Duo has:
Intel Core i9-9980HK Processor
15.6-inch OLED 4K display (touch), 14″ 4L UHD secondary screen (touch)
NVIDIA GeForce RTX 2060 with 6 GB VRAM
32 GB DDR4 RAM
1 TB M.2 NVMe Storage
Wi-Fi 6
1x USB Type-C with Thunderbolt 3, 2x USB 3.1 Gen 2, HDMI, audio
71 Wh LiPo battery
359 x 246 x 24 mm, 2.5 kg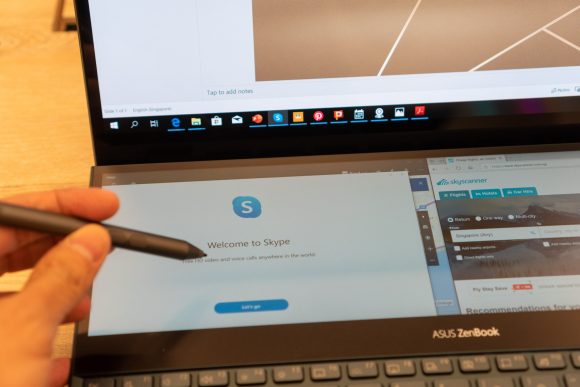 As you can see, the ZenBook Pro Duo is a performance beast. The processor, the huge OLED display, the 32 GB RAM, RTX 2060 graphics, etc, this is definitely a powerhouse. I'm just a little worried that the battery might not power this long enough for people who are often on the road.
The listed price for the ZenBook Duo is S$2,198, while the ZenBook Pro Duo has a price tag of S$4,998. Availability is expected in September.