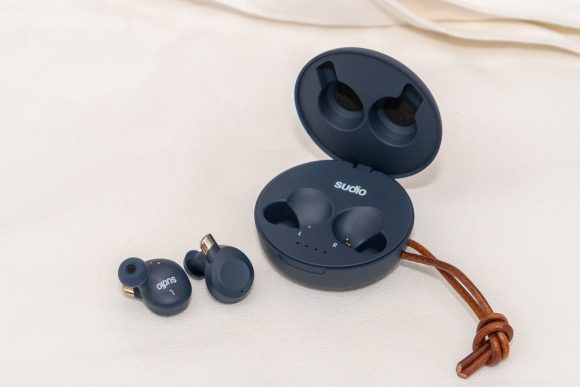 Swedish earphones manufacturer, Sudio, which already has several truly wire-free earbuds in their product line-up, is back with another: the Fem. In many ways, the Fem is a remake of the earlier Nivå earphones that promises to sound good, look good, and work well.
As evidenced in other Sudio products, the company tries to marry Scandinavian's minimalist and elegant design with great technology that sounds good and which works well. The Fem is a great example.
The Fem's charging case, as well as the earpieces themselves, are covered in a very nice soft rubberised silicon material. Although mostly constructed out of plastic, the Fem doesn't feel cheap at all. In fact, that soft-touch finish gives it a more premium and exquisite look and feel.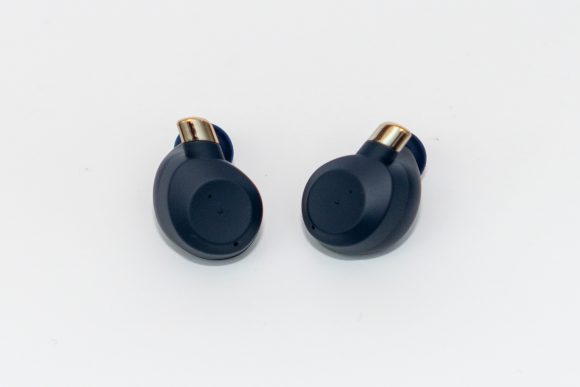 Sudio supplies a generous number of silicon tips with the Fem. There are a total of five sizes, including the ones already on the earpieces. You should be able to find something that fits your ear perfectly. There are no foam tips included, unfortunately.
Each earpiece weighs just 5.5 grams, so you won't feel much of them in your ears. You should be able to wear the Fem for hours without feeling fatigued.
The Fem earpieces are mostly minimalist, although a metallic downward extension adds a touch of elegance. A microphone is incorporated into the metal extension. There's a second microphone at the top of the earpiece.
The flat surface on each earpiece also serves as a capacitive touch input. This is the only input control on the Fem. As a result, you need to tap, double-tap, triple-tap, hold for 1 second or 6 seconds, and other such manoeuvres to activate various controls.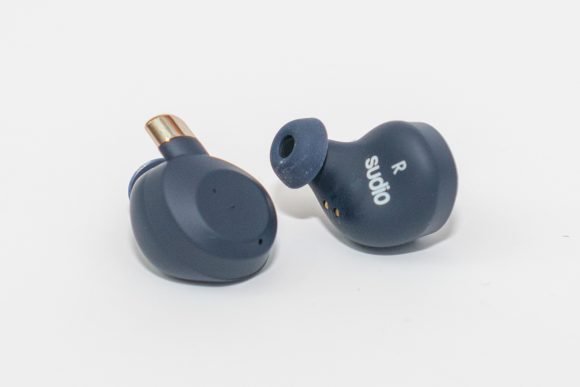 It's not hard to remember those taps and holds, at least not after a couple of hours of use. The challenge, however, is that it isn't always easy to precisely activate them. I found it hard, for example, to trigger a one-second hold to activate my Google Assistant. You might also find yourself accidentally activating them, such as when trying to remove or adjust the earpieces. Worse, you sometimes don't get audio feedback to confirm the action, such as the triple tap on left/right side to decrease/increase volume.
The charging case is a smallish circular box which flips open and has two recesses for the Fem earpieces. A leather-like brown string attached to the case allows you to hook it onto something.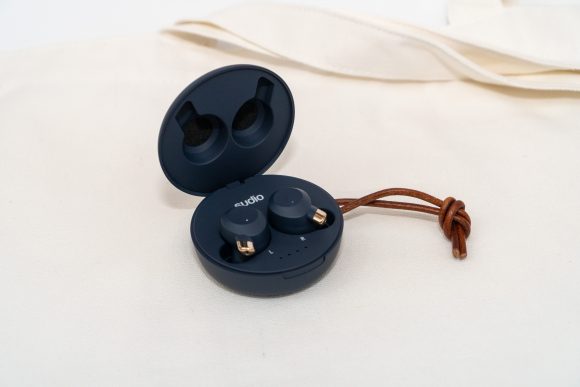 The charging connector on the case is USB Type-C. Yay! The earpieces itself holds 6 hours of charge, and together with a fully charged case, you'll get a total of 20 hours of use.
Sound quality is good. The Fem's graphene driver delivers a strong bass presence that extends decently into the sub-bass. The trebles are clear and bright. I did find the mids a little too fore-front for my liking, and I think that coloured the overall sound profile. This may work for some listeners, but I personally prefer more neutral tuning. Overall, the sound is detailed, clear, and sound stage is good. You'll find music from the Fem very engaging.
You can take calls on the Fem, as well as talk to your Google Assistant or Siri, depending on which phone you use. Call quality is actually quite good, and you should be able to carry out a good conversation without either party having much difficulty hearing the other.
The Sudio Fem has all the modern specs you'd expect to get in 2020. It supports Bluetooth 5.0, with AAC HD audio support. It's also IPX5 rated, which means it is resistant to splashing, rain, and sweat, allowing you to go about your daily grind without worrying about keeping the Fem dry.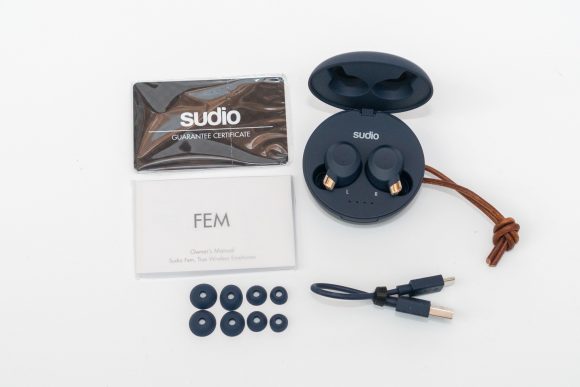 Sudio ships the Fem with a short USB charging cable, as well as a total of the aforementioned five silicon tips.
At its price point, the Fem delivers great sound in a pair of premium looking true wireless earphones. Call quality is good, a nice bonus if you need to make lots of calls.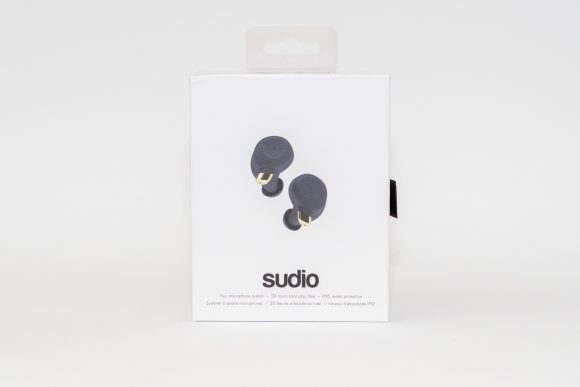 Sudio sells the Fem online at S$219. Four colour choices are available: black, white, pink, and blue.
If you are interested to snag one, you can get a discount using ZITSENG coupon code during checkout. This will get you a 15% discount. This offer runs from now until 14 Feb 2020. You also get free shipping, CNY gift wrapping, and a free crossbody pouch (pictured in first photo in post).
Conclusion
The Sudio Fem true wireless earphones delivers excellent sound in a premium looking package.
Pros:
Premium look and feel
Great sound quality
IPX5 rated
USB Type-C charging
Cons:
Controls are not easy to use