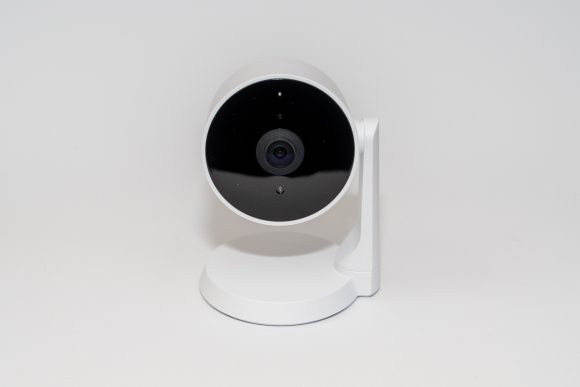 Do you worry about what goes on at home while you're away? If you're loooking for a cloud-connected, feature-rich, yet fairly affordable IP camera that integrates with your smart home, D-Link may just have what you need with their DCS-8330LH Smart AI camera.
IP cameras are not uncommon. They're often not hard to install and use too. D-Link tries to stand out from the crowd with better features, like cleverer motion detection, interoperability with other gadgets, and integration with a smart home ecosystem. D-Link's new AI-based Intelligent Video Analytics in the DCS-8330LH is quite remarkable, and I think many people will find great use of this feature.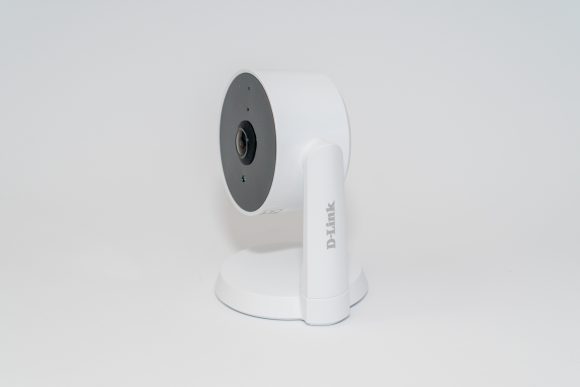 The DCS-8330LH looks like a pan-tilt design, but unfortunately, it isn't quite so. There are no motors, but you can move the head manually to achieve the perfect recording angle. With 151° viewing angle, you probably don't really need the camera to do much panning.
The camera is quite compact, with dimensions measuring 83.9 x 74.4 x 108.8 mm, and weighing 140 grams, so it is easy to mount it anywhere or tuck it away in some unobtrusive corner.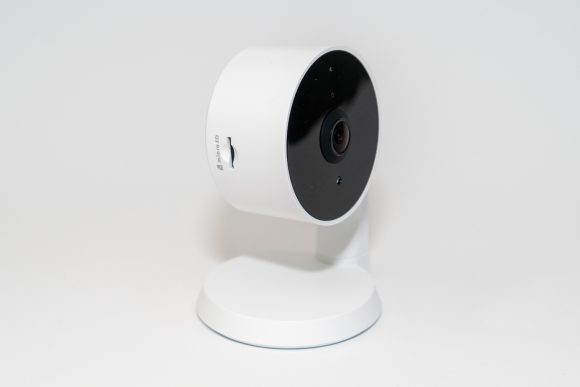 There's a microSD card slot on the side for local recording, or you can save recording in the cloud. Either way, you can still view recordings from anywhere.
There's a built-in microphone, so you can record audio alongside video, or stream both for live monitoring. A speaker built into the back turns the DCS-8330LH into a convenient two-way intercom system, allowing you to converse with someone at the camera.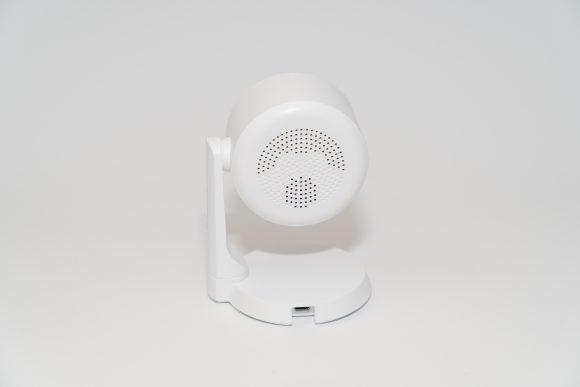 The camera is powered using a Micro-USB connector. I'm always happy to see manufacturers doing away with DC barrel jacks and adopting more convenient connectors. Using Micro-USB means you can use your own power supply, or replace the cable whenever necessary.
Built-in IR LEDs provide night time illumination up to 5 metres, so the DCS-8330LH works great both in the day as well as at night in complete darkness. The camera sensor has 2MP resolution, and records video at Full HD 1920×1080 at 30 fps. The very wide 151° diagonal viewing angle (129° horizontal and 69° vertical) very generously covers a lot of area.
Setup and configuration is via the mydlink mobile app. I'm quite familiar with this software, as well as the setup process, and I'm really happy that setup has become a far smoother process than it had been with their earliest camera. The DCS-8330LH supports only 2.4 GHz Wi-Fi band, but interestingly, comes with WPA3 support, the latest in Wi-Fi encryption standards.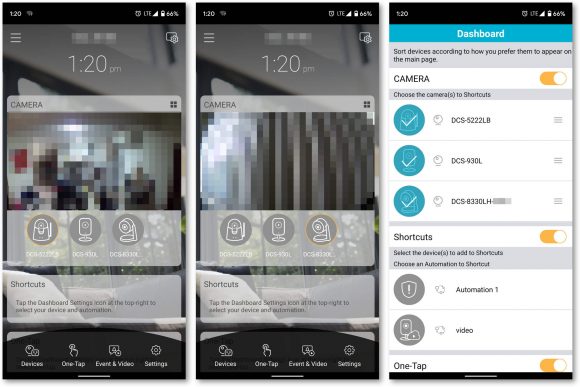 There are a lot of things with smart home integration you can configure through the mydlink app, including routines, automation rules, and notifications. The app is also used to live view the camera video, use the intercom, or access recordings.
The DCS-8330LH supports the usual mode of motion detection, such as basic zone-based motion detection. You define up to four zones for basic motion detection. There is also priority zone detection, which detects objects moving into or out of a zone. Boundary-crossing detection defines a virtual perimeter line, and someone crossing the line will trigger detection.
The standout feature of the DCS-8330LH, however, is the person detection. With person detection, the DCS-8330LH makes sure it is a person in the camera view, as opposed to a vehicle, or bird. This helps to reduce the number of false alarms.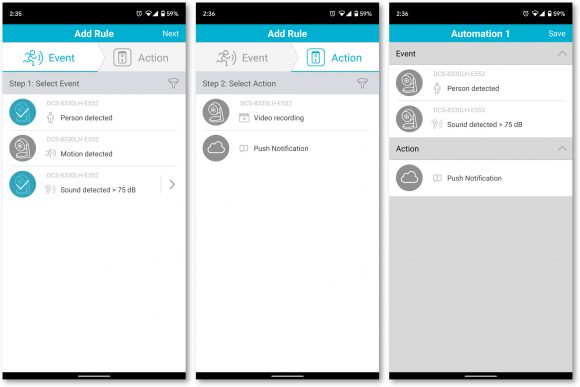 Person detection is configured in the automation rules in the mydlink app. You can also use sound detection, so the sound of breaking glass, or a baby crying, can also be used to trigger an automation rule.
These are mighty useful features. Often times simple motion detection just doesn't quite work well enough. If you're interested in detecting people for triggering recording or sending notifications, you will like this DCS-8330LH feature. Video analytics like this is often reserved for enterprise camera security systems, so it's nice to see it available in a consumer product, and at such an affordable price at that.
The integration with Google Assistant, Alexa, and IFTTT is a cool bonus. With Google Assistant, for example, you can use your voice to ask the DCS-8330LH to stream its video to a Chromecast.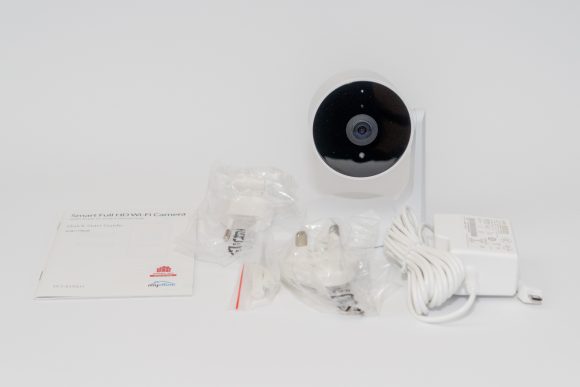 The DCS-8330LH comes with a MicroUSB power adapter with different plug heads, and wall mount kit.
The D-Link DCS-8330LH retails at S$149.
Summary
The D-Link DCS-8330LH Smart AI Full HD Camera standout feature is its clever person detection that works very well to reduce false alarms from other moving objects.
Highlights:
Day/Night recording with built-in IR LED
Multiple motion detection modes, including new person detection
Useful intercom mode
Integration with Google Assistant, Alexa, and IFTTT