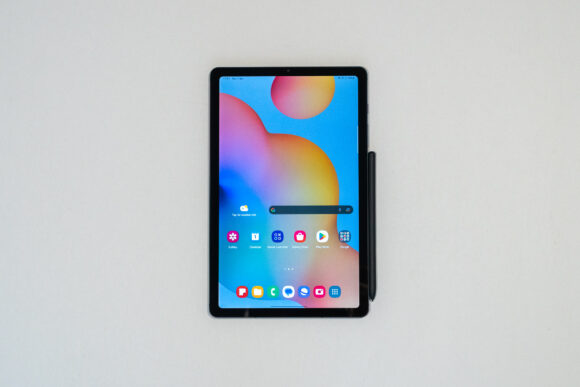 Sometimes, a product is so good, the company that makes it launches a renewed version with exactly the same name. This is what Samsung has done with their Galaxy Tab S6 Lite. It originally launched in 2020, with a refreshed version released in 2022. Is the Galaxy Tab S6 Lite still a great tablet in 2023? We'll see.
From the outside, the new Galaxy Tab S6 Lite is virtually identical to its older version. Samsung's marketing and other documentation will often refer to the newer version with the "2022 edition" suffix. For further confirmation, the newer 2022 models have the product code SM-613 (Wi-Fi-only model) and SM-619 (LTE model). In this review, you can assume I'm always referring to the newer 2022 edition, unless I specifically say otherwise.
The Galaxy Tab S6 Lite can best be described as a mid-range 10.4-inch Samsung tablet that comes with the S Pen included. It comes with 4 GB of RAM, and either 64 GB or 128 GB of storage. You can also choose from a Wi-Fi-only model, as well as one with both Wi-Fi and LTE support. It is powered by a decent Qualcomm Snapdragon 720G (or 732G in some cases) processor.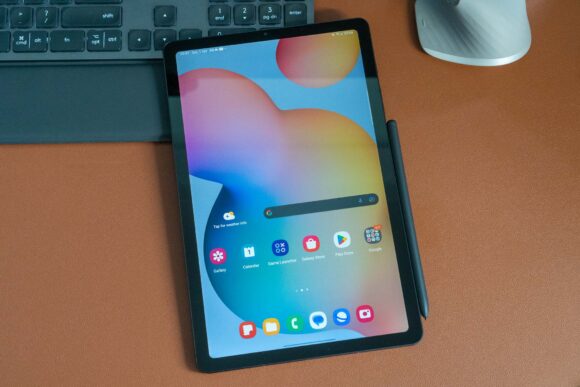 You may be familiar with differentiation between S-series and A-series Samsung phones and tablets. The former is "premium", while the latter is "budget". The Galaxy Tab S6 Lite kind of sits in-between, it being a "lite" version of an S-series model.
This makes the Galaxy Tab S6 Lite quite an interesting product. Many of us carry a premium smartphone. A tablet, on the other hand, is often an add-on gadget that we use much less often. Yet, we still want or need one, because its larger size has some important use cases. We probably don't want to spend so much on a tablet, yet still expect the tablet to have decent spec. I think the Galaxy Tab S6 Lite sits in this not-premium yet not-budget middle ground perfectly. It will appeal to those who need a tablet occasionally for their work and other more casual use.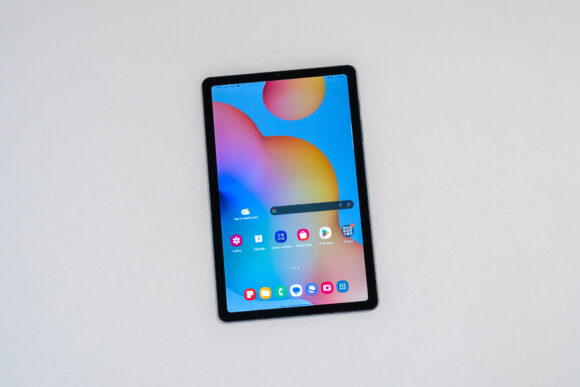 One of the things I love about the Galaxy Tab S6 Lite is its S Pen. I know, you could settle for touch input, but a pen allows you to do so much more. Even if you are not an artist, a pen can still come in useful in a variety of work and study scenarios. For example, I find a pen very useful for writing notes; it certainly bets using an on-screen keyboard. The pen is also absolutely essential whenever I need to draw diagrams or annotate documents.
The S Pen supports tilt and 4096 levels of pressure and tilt. It's a good comfortable size, larger than the kind that comes with Galaxy S smartphones, and just slightly smaller than actual pens. I find this S Pen very comfortable to hold, and using it feels very natural. The pen's input latency is fairly low, as good as it gets given the limitations of a 60 Hz refresh display on the tablet.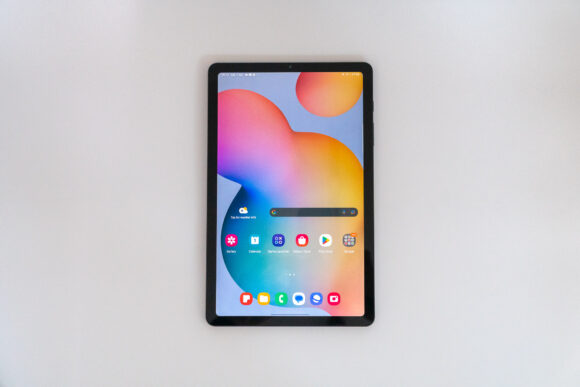 The screen is one area where Samsung cut some corners to put the Galaxy Tab S6 Lite in the mid-range tier. The 10.4-inch TFT LCD display with 2000 x 1200 resolution gives an acceptable 224 ppi pixel density, and the 81.6% screen to body ratio is respectable. Nice to see that bezels are equal all around the screen. While I did not expect an AMOLED panel in this tablet, I had hoped Samsung could have at least gone with a IPS display.
I found the Galaxy Tab S6 Lite's display decently sharp and clear. The colour reproduction is average at best, though understandable given the use of a TFT LCD display. The contrasts, and deep blacks, are where this display clearly cannot keep up with the (arguably more premium) competition.
Worth nothing is that the Galaxy Tab S6 Lite has a laminated display. This means that the displayed image is much closer to the top surface of the glass, and when you write on it with the S Pen, it appears as if the tip of the stylus touches the "ink" that is drawn on the display. This makes the pen input feel very natural to use.
The Galaxy Tab S6 Lite has a single 8MP canera on the back, and a single 5 MP one on the front. Both are "wide", and support 1080p video at 30 fps.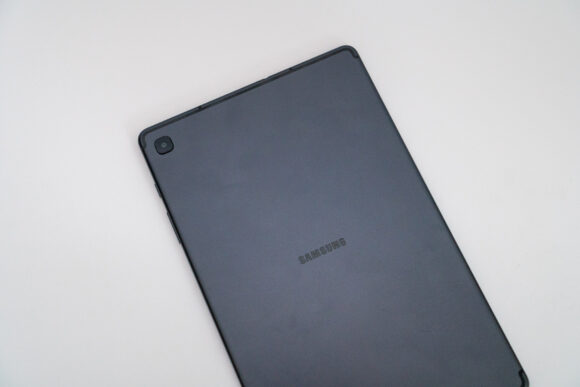 Most people don't expect much photography or videography prowess from a tablet, so the Galaxy Tab S6 Lite's offering is just fine. They are certainly good enough for Zoom calls and scanning barcodes.
Note that the Galaxy Tab S6 Lite uses the selfie camera for face unlock. There is no fingerprint scanner on this tablet. Facial unlock may be less reliable, and unlocking may be a tad slow compared with what you might be familiar with on premium smartphones.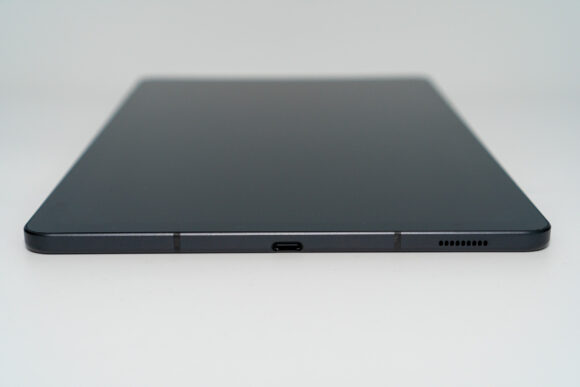 The Galaxy Tab S6 Lite comes with a USB Type-C port. It is USB 2.0 standard, and it does not support display output.
Power and volume rockers are on the right size of the tablet, and the slot for microSD card tray is further down on the same side. SDXC memory cards up to 1 TB is supported. For LTE models, the tray also accepts a nano-SIM card.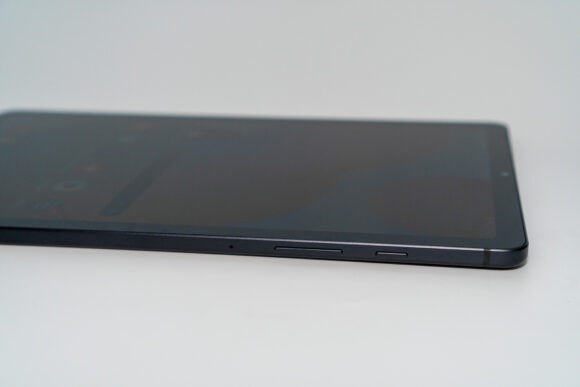 Worth noting, you'll get a 3.5 mm audio jack at the top of the tablet.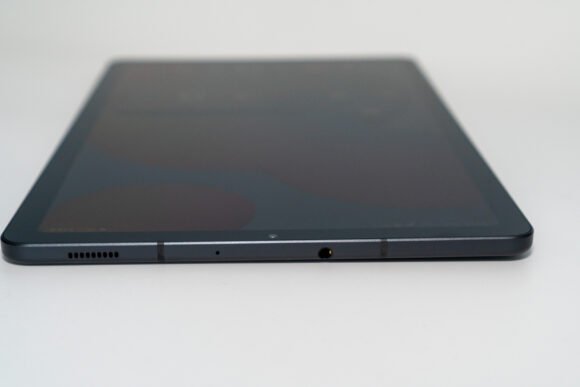 There's a pair of stereo speakers, one each on the left and right side when held in landscape mode, i.e., the orientation the tablet should be when you're watching videos. Tuned by AKG, and with support for Dolby Atmos 3D surround sound, the speakers do sound pretty good. The speakers don't get plenty loud, but they are certainly good enough for personal enjoyment.
The Galaxy Tab S6 Lite's connectivity options are quite good. It supports dual-band Wi-Fi 802.11 a/b/g/n/ac, and Bluetooth 5.0 with A2DP and LE. For positioning, there is GPS, GLONASS, BDS, GALILEO, and QZSS. For the keen-eyed, you might pick out that it's basically just missing 802.11 ax and NFC support, when compared with flagship-type devices, which I think is quite alright.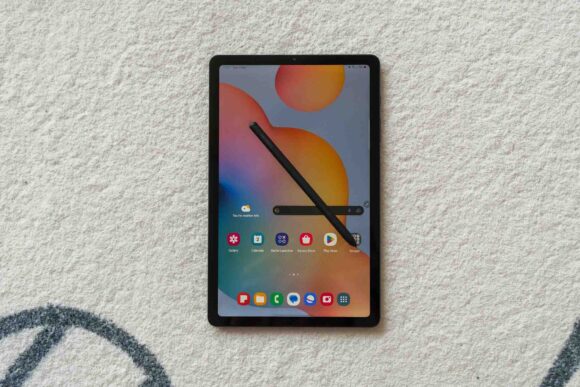 The Galaxy Tab S6 Lite is very well-built and sturdy. The tablet's seamless metal unibody design looks modern and sleek, lending a premium feel to it. With a form factor of 244.5 x 154.3 mm, just 7.0 mm thin, and weighing 465 grams, the Galaxy Tab S6 Lite is light and compact. You won't tire easily holding up the tablet to work on it.
The S Pen attaches magnetically to the side of the tablet, so won't go missing easily.
The built-in 7040 mAh battery is rated for 14 hours of Wi-Fi usage, and up to 15 hours of video playback.
The Galaxy Tab S6 Lite was released with Android 12 with Samsung's One UI software. At this time, it has already been updated to Android 13 with One UI 5.1. We are expecting Samsung to provide updates to Android 14 too, and possibly even Android 15.
Samsung's One UI make a number of customisations to the stock Android look and feel. I don't find One UI unfamiliar to work with. There are a number of features that One UI has to introduce that makes the Galaxy Tab S6 Lite much easier to use in a tablet form. This includes split-screen and multi-window management capabilities. Samsung's Dex mode further transforms the tablet's UI into one that looks and feels like a desktop or laptop Windows operating system. You don't have to use it, though, if you feel that Dex is taking things too far.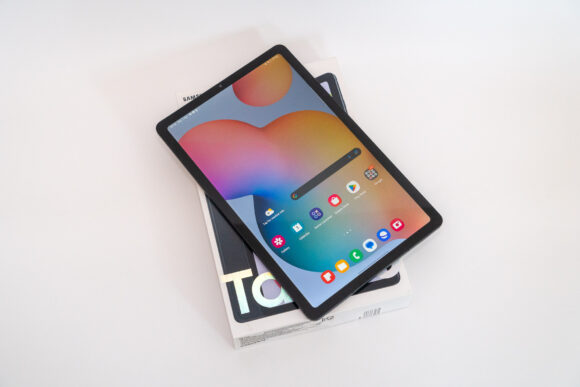 In the box, Samsung ships a charger, USB Type-C cable, and SIM-eject tool alongside the Galaxy Tab S6 Lite tablet.
Street prices for the Samsung Galaxy Tab S6 Lite LTE model with 64 GB RAM comes in at under S$400 at this time. This is quite a bargain from its original launch price in May 2022.
Overall, the present street price is an awesome value for an S-series Samsung tablet, even if this may be a "lite version". This is particularly so since it comes with the S Pen included.
Samsung has managed to take a great 2020 tablet, only needed to do a minor touch-up, and produced a better 2022 tablet that is still a great choice in 2023. If you don't want to shell out for a premium tablet, but need something decent for work or study, on top of other casual uses all-around, I think the Galaxy Tab S6 Lite makes for a compelling consideration.
Conclusion
The Galaxy Tab S6 Lite is an easy recommend for anyone who needs a mid-range tablet for work or study, on top of other casual uses.
Pros:
Premium build quality
Modern and sleek design
S Pen included
Sharp display
Good sound quality
Good battery life
Cons:
No fingerprint scanner
TFT LCD display has so-so colours