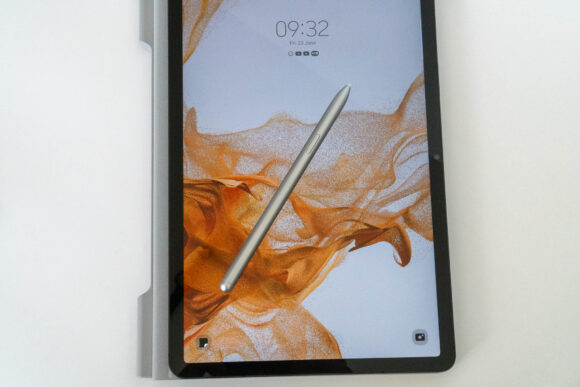 It's just a stylus. Steve Jobs once said "Yuck" about needing a stylus. I never much appreciated styluses until I tried the Samsung S Pen for the Galaxy Tab tablets. Now, I can't do without the S Pen. Here's what I like about the S Pen that ships with the Galaxy Tab S8.
Samsung first introduced their S Pen stylus with the Galaxy Note back in 2011. In the last 12 years, there have been many variants of S Pen styluses. They have different sizes, different forms, and also some that are passive while others that are active.
Different styluses were chosen to suit the devices they were meant to be used with. The Galaxy S23 Ultra smartphone would have a much skinnier S Pen that would slot into the device itself, whereas a larger S Pen is used with the Galaxy Tab S8 as the stylus is meant to be magnetically attached to the back (or side) of the tablet.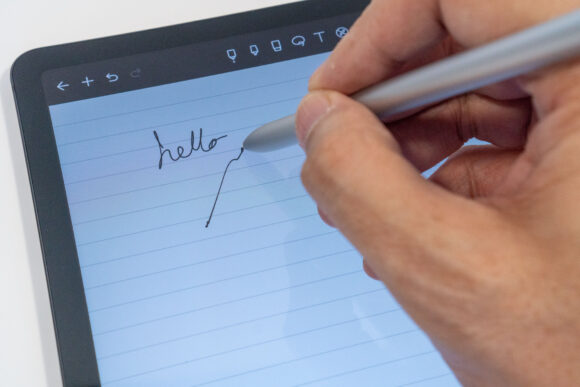 The main benefit of a stylus is about being able to write and annotate on-screen as if you had a pen and paper. Writing with the S Pen feels so natural, especially with the larger kinds like what the Galaxy Tab S8 uses. It feels like you're holding an actual pencil. Furthermore, having the ink drawn onto the screen at such low 6.2 ms latency and the fully laminated 120 Hz display making the ink appear directly below the stylus nib, it's as if the S Pen actually penned that ink.
A really nice touch is also how the S Pen uses a rubberised nib that has some friction as it travels across the glass screen. That friction feels just right, no need for paper-like matt screen protector required on some other tablets because their hard plastic nibs would otherwise slide around too unnaturally.
There is more to a great stylus than the stylus itself. Part of the great S Pen experience has got to do with great software on the tablet that has excellent palm rejection. The Galaxy Tab S8 is might not be ultra-large, but it is large enough that you would rest your palm on it, so superb palm rejection is important.
The S Pen designed for the Galaxy Tab S8 is an active one that has Bluetooth functionality. This enables the S Pen to support off-screen gestures. For example, you can control a PowerPoint presentation by gesturing with the S Pen, perhaps not unlike wireless presenters. You can also control volume and media playback. Gestures are app specific.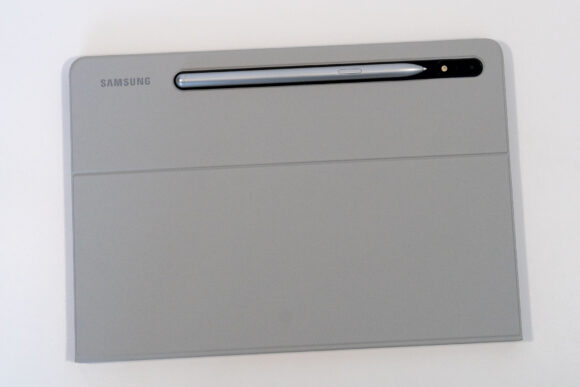 Bluetooth functionality requires power, and this comes from a built-in battery. Actually, it is more like a capacitor. It doesn't hold that much of a charge, but it does charge very quickly, and it does so wirelessly from the magnetic attachment point on the back of the tablet. Yay, on need for cables or ports. Just put the S Pen on the back of the Galaxy Tab S8 to juice it up. This is also how the Galaxy Tab S8 pairs with the S Pen automatically, without needing to manually go through the typical Bluetooth pairing process.
Power is only needed for active Bluetooth functionalities. If you run out of power, the S Pen still works passively for on-screen and hover-off-the-screen interactions. These are pretty much all the important functions of a stylus, so rest assured that even a powerless S Pen is still useful. At any rate, even a brief few-minutes charge of the S Pen will bring back active Bluetooth functionalities, if you need them.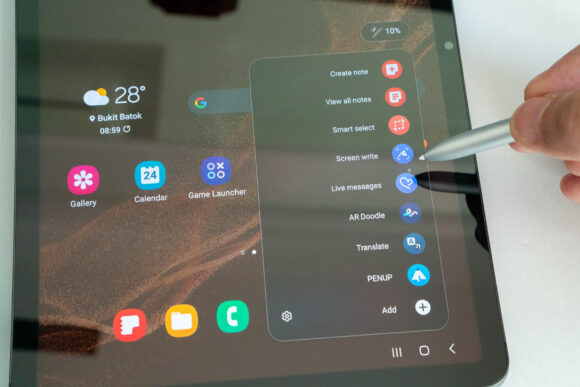 Hovering the S Pen off the screen is a feature Samsung calls Air commands. This offers a bunch of features such as note creation, smart select, screen write, and translate, among others.
Other technical specs of the S Pen that might be interesting to note: it has 4096 levels of pressure sensitivity, and it also has tilt support. These are particularly nice for artists who want to use the S Pen for sketching or drawing, but in general, these are also nice for other casual users even for simpler tasks like writing notes.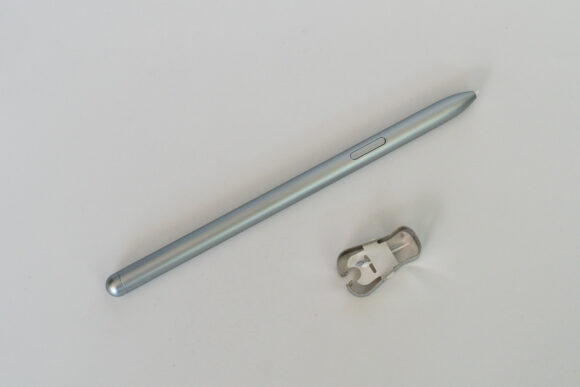 The Galaxy Tab S8 ships the S Pen without extra nibs. But if you buy the S Pen separately, it will come with two extra nibs as well as a nib remover tool. Good thing to note, and I think good to have a spare stylus around if you have the tendency to lose things.
The S Pen has been very enjoyable to use. The writing experience, in combination with the low latency response and laminated screen, feels real. But more than that, the S Pen is a joy to use even for general interaction with the tablet when it is not absolutely needed. I find myself often using the S Pen when my finger tapping and swiping would have sufficed.