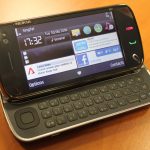 Finally, the much awaited, possibly the most anticipated in all history of Nokia phone software update, v20 firmware for the Nokia N97 has started to roll out. First heard on the Nokia Discussion Forum posting by jauhis, a Nokia employee who started appearing on the forums recently with hints about the v20 release, the news and upgrading reports are now making its way around the Internet.
What's so exciting about v20 for many people is that it promises to fix many things that were broken. Although the N97 has by and large been working fine for me, I still think it could do with lots of improvements in terms of performance and responsiveness.
The short and sweet "changelog" posted by jauhis says:
Improved touch screen scolling
Ovi Maps 3.1 with 3-D maps
Nokia e-mail, Ovi Contacts and Ovi Store (who cares?)
Improved memory and battery performance
Improved image and video stability
But other sources like this one from AAS provides more details. It seems, also, that the problems with getting the N97 to work with iSync on the Mac has turned for the better. There are reports of success with 3rd party iSync plugins. I'd imagine we could reasonably expect Nokia to release their own official iSync plugin for the N97 in time to come.
I waited 6 weeks for v12. I hope v20 wouldn't take so long.