This is a really old network camera, but hey, it was just on sale for S$29. Yes, just S$29. It's not the best spec network camera, but if you just need to keep an eye on what's happening at home, or wherever you have setup the camera to watch, DCS-930L may still be a great camera to get.
The DCS-930L is a fairly basic camera. It doesn't, however, miss out on any major feature. The biggest limitation of the DCS-930L is its camera resolution. It won't do HD recording. The camera delivers just VGA quality 640×480 resolution. That's awfully basic, but well, I've said the DCS-930L is a basic network camera after all.
Apart from the camera resolution, the DCS-930L is fairly impressive. It has a RJ45 Ethernet port for wired network connection. It also supports wireless 802.11n connectivity, with Wi-Fi Protected Setup (WPS) push button support for easy network setup. UPnP is supported for easy setup and configuration.
The DCS-930L includes a built-in microphone, so you can monitor and record audio. The camera is sensitive up to 1.0 lux for reasonably workable performance in low-light conditions. No, there are no IR-LEDs. The camera supports 4x digital zoom, though that's not something particularly useful, in my opinion. Video is encoded in MJPEG format.
You can configure the DCS-930L to trigger recording on motion-detection. Motion-detection sensitivity and detection area can be customised. Recordings can be emailed or uploaded to a FTP server.
Setting up the DCS-930L is fairly straight-forward. If you have any experience setting up network cameras, this one will be a piece of cake. D-Link now has an OS X installation wizard which you can download from their website. It isn't on the included CDROM.
The Mac support, however, is incomplete. The web-based interface lets you setup and configure the camera. You can also see a live image. However, live video doesn't work. The web interface complains about the lack of 64-bit Java in Chrome because Chrome isn't 64-bit. But I did try running with a 64-bit Chrome build without luck. I downgraded Java to 32-bit, no luck. I used 64-bit Firefox, also no go.
A key selling point of many of D-Link's network products is their cloud integration. The DCS-930L network camera can be added into D-Link's cloud service, mydlink.com, and from there, you can easily access and monitor all your cameras from a mobile app. Both Android and iOS is supported. This is very useful for novice users, and definitely very convenient if you have a bunch of such cameras or other D-Link cloud integrated product. The D-Link cloud integration can only be setup from the installation wizard, not from the web-based setup.
VGA camera resolution, as I said at the start, is really basic. It's only sufficiently useful to get just a general idea of what's going on in the area under surveillance. For example, you may be able to see that your kids are at home, and get a sense of what they're doing. But you can't get enough details of a burglar who's broken into your home. Yes, you can probably see that someone has broken in, but there's not enough details to identify the person. At least, not unless the intruder's face happens to be well lit and occupies almost the full frame of the image. This is unlikely to be the case, unfortunately.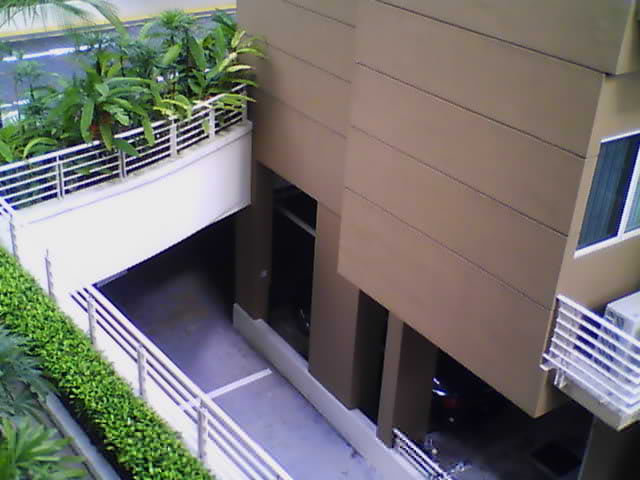 The above image is an example of the 640×480 VGA capture from the DCS-930L. This is in really good daylight. You should get at least a HD 720p recording capability if you expect to have sufficient clarity and details. It's easy to recognise a person who you know, but a totally different matter to identify and differentiate between strangers.
The DCS-930L box includes the camera itself, power adapter, Ethernet cable, quick installation guide, and software on CDROM.
Conclusion
The DCS-930L may be very affordable, but you need to understand its limitations. It'll make a good network camera for general home surveillance, and D-Link's mydlink.com cloud integration is useful for remote surveillance through multiple cameras.
Pros:
Very affordable
Built-in microphone
D-Link's mydlink.com cloud integration
Cons:
Only VGA resolution
Live view doesn't work in Mac