X-mini, a brand of Singapore-based Xmi Pte Ltd, has made a name for themselves with their line of small portable self-powered speakers. At CES in January 2014, they announced two new tiny thumb sized speakers, the X-mini ME and X-mini WE. The WE is reviewed here.
The X-mini WE is so small, I honestly did not have much expectations from it. However, once I opened up the package and started using it, I was pleasantly surprised. This small little bugger, which even looks like a toy, actually does deliver quite a punch, at least for something of its size.
In a nutshell, the X-mini WE is a tiny NFC-enabled Bluetooth speaker. It is only slightly larger than it's X-mini ME sibling, at 48mm (height) x 40mm (diameter) vs 44mm x 38mm. The latter is, however, a wired speaker.
The first thing I did with the X-mini WE was to pair it with my MacBook Pro. It's easy and painless. It should be, of course, and in no time I had audio channeled to the X-mini WE. That's where I was pleasantly impressed. The X-mini WE does deliver respectable audio power. Yes, despite its minuscule size, don't look down on its power.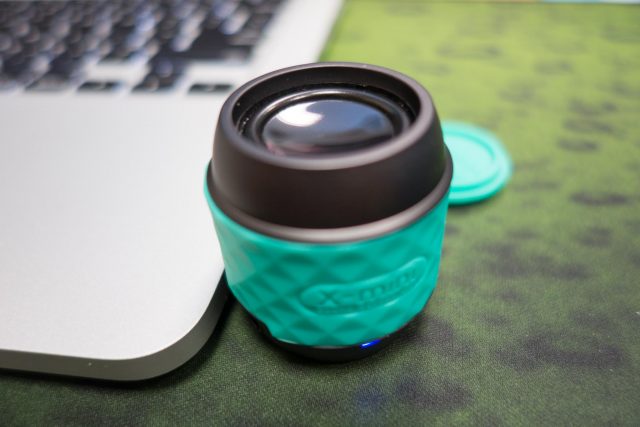 Of course, this isn't quite the thing to blast music for your office party. It's a personal speaker. For personal listening, the X-mini WE is seriously more than adequate. In fact, it is more than sufficient for a group of people sitting around a table. The X-mini WE is small, and although it may be powerful, don't expect it to work for large spaces.
The audio quality is surprisingly good. Good, as in, it was pretty much on par with my MacBook Pro, which I started out testing the X-mini WE with. But if it's not going to be much better than my notebook, then why do I want the X-mini WE? Then I remembered, of course, that the X-mini WE's target music source is probably from a smartphone.
The X-mini WE does compare favourably with a smartphone. It is larger, and hence affords a better driver. It features a 31mm 1.5W driver, with a specified frequency response range of 200Hz to 20kHz. I think they were being modest with the 200Hz bottom end. The bass coming from the X-mini WE is quite alright, considering its size. There's no sense in comparing this thumb sized speaker with a 5″ studio monitor, so I'm not going to get started there. The X-mini WE's audio is good for what the speaker is.
The X-mini WE is self-powered, with an internal battery rated to last 4 hours on a Bluetooth connection, and 6 hours using a wired audio source.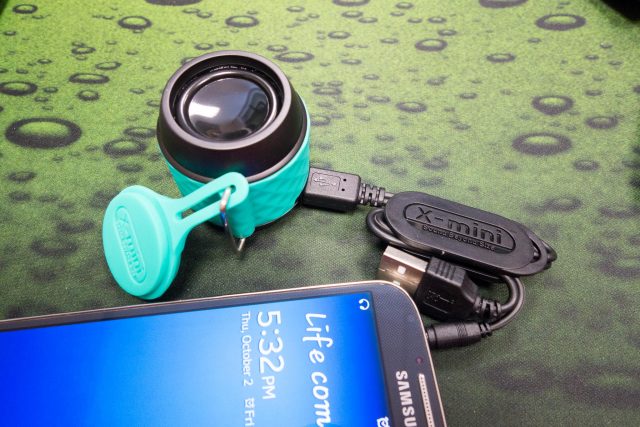 The battery is charged via a microUSB port, which is really convenient. However, what's not so convenient is that the audio input also goes into that microUSB port, so you need to use that combo USB and 3.5mm audio jack provided.
There is a 3.5mm audio port on the X-mini WE, but that's only used for audio output. Yes, you can connect the X-mini WE like a Bluetooth dongle to a wired speaker. This is a nice feature, but I'd personally prefer a standard 3.5mm audio input port. The 3.5mm port on the X-mini WE is not labeled, so, hopefully you don't fry anything by connecting the wrong kind of gadgets.
The X-mini WE's 3.5mm audio port is also used for a Buddy Jack connection, which means you connect one X-mini speaker to another compatible X-mini speaker, and they both play music at the same time. Now, the X-mini on its own is a mono-speaker, and connecting a second X-mini speaker just gives you two mono-speakers. You don't get stereo music, but you do get a whole lot more body to the music volume. You can daisy-chain more than just two X-mini speakers too. Yeah, minuscule speaker suddenly just became a massive speaker array.
Without Buddy Jacking, like when you connect to a regular wired speaker, the X-mini's own speaker is disabled.
The X-mini WE comes with a lanyard, and a combo USB and 3.5mm audio jack with cable organiser. It retails at S$59.90.
Conclusions
The X-mini WE is tiny thumb sized NFC enabled speaker that delivers good music power give its diminutive size.
Pros:
Very portable, good build
Surprisingly good music volume
Cons:
Requires custom cable for wired audio input