Singapore company Xmi Pte Ltd launched their X-mini KAI2 capsule speaker in June 2014. It joins the company's extensive line of portable self-powered mini speakers that boast awesome sound quality in a tiny form factor. I recently reviewed the X-mini WE and was pleasantly surprised by its audio capabilities, so I approached the KAI2 with much expectations.
The KAI2 is a 2nd generation iteration of their last KAI speaker. It plays audio via a Bluetooth wireless connection or a 3.5mm audio input. Unlike the WE, the KAI2 comes with a 3.5mm audio input cable, which can be wound around the bottom-side of its base when not in use.
At 62mm x 50mm, the KAI2 is somewhat larger than the WE, but it's certainly still quite portable. When in use, the KAI2 opens up its accordion-like expandable body to allow sound to resonate better. There's also a rubber cap covering the top, over its 40mm ceramic driver which produces 2.5W of output.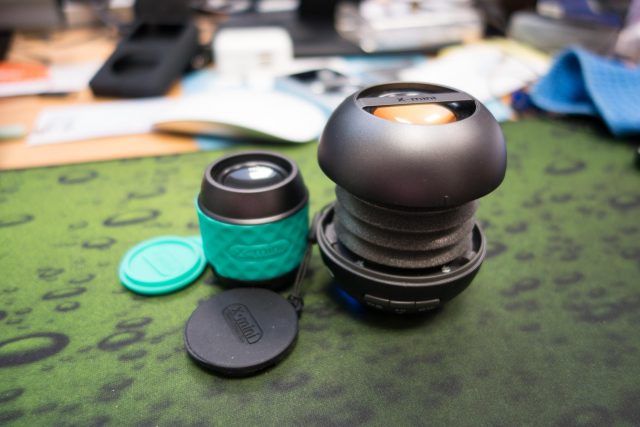 The KAI2 also features a noise cancelling microphone, so you can use it as a speakerphone for conference calls when paired with your mobile phone.
The sound quality of the X-mini KAI2 is pretty good for mini speakers of this type. It delivers robust bass with good overall tonal balance and clarity.
However, I'm surprised that the volume is rather weak. I tested it side-by-side with the X-mini WE, but I didn't need to, because the KAI2 was clearly far weaker than the WE. It doesn't make sense since the KAI2's 2.5W 40mm speaker has to be more powerful than the WE's 1.5W 31mm speaker. I'm not sure if I could perhaps have chanced upon a defect.
Like other X-mini speakers, the KAI2 has a Buddy Jack connection, which means you connect one X-mini speaker to another compatible X-mini speaker, and they both play music at the same time. Now, the X-mini on its own is a mono-speaker, and connecting a second X-mini speaker just gives you two mono-speakers.
The built-in 550mAh battery is rated to last 8 hours. You can charge the KAI2 via a standard microUSB connection.
The X-mini KAI2 has no NFC capabilities like that on the WE. It shouldn't matter, since Bluetooth wireless pairing is trivial to setup anyway. It's just curious to me since the smaller WE does include NFC.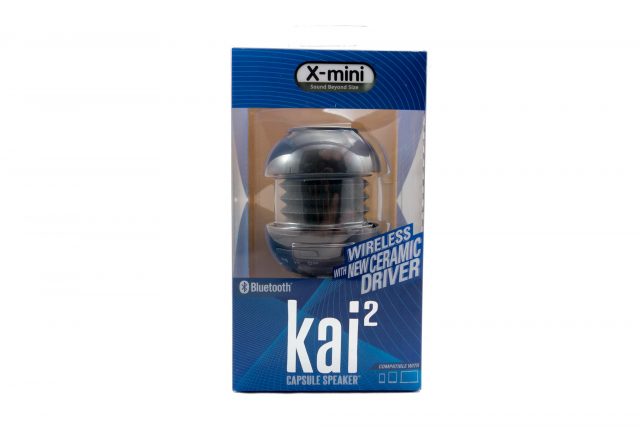 The X-mini KAI2 comes with a travel pouch and microUSB charging cable. It retails at S$79.90.
Conclusion
The X-mini KAI2 is a portable Bluetooth speaker with integrated microphone good for music and conference calls.
Pros:
Collapsible into a small compact size
Integrated noise-cancelling microphone for conference calls
Cons:
As mentioned, I'm surprised by the small sound volume on the X-mini KAI2. The X-mini WE which I also reviewed was far louder.