We booked a staycation at Village Hotel Changi recently, and when we weren't in the hotel, we were out and around Changi Village. I remember this area to be more crowded in the past. Perhaps other local holiday destinations like Resorts World Sentosa have pulled the crowd away. We have plenty of staycation choices nowadays.
Has Changi Village changed very much? The approach to Changi Village certainly has. I've not travelled down Loyang Avenue in a long time. Fortunately Changi Villave itself remains quite recognisable. It hasn't changed all that much. Except maybe that Civil Service Club standing in front of Village Hotel Changi is new.
Village Hotel Changi, of course, was previously known as Le Meridien Changi a long time ago. Apart from the name change and new owners, they have also undergone some major refurbishments. The brightly coloured balconies sticking out of the facade supposedly makes it look a little more trendy.
The wife was on the look out for this durian crepe place. We had seen the shop when we drove past to get to the hotel. This will be our first stop. It's called Crepes & Puffs, located at 4 Changi Village #01-2080. We would find ourselves returning to this shop several more times over the course of two days.
The star item on their menu is durian. They make durian crepes, and they make durian puffs. If you love eating durians, I think this is something you must try. Their durian puff is pictured below.
I don't have a photo of the durian crepe, but it looks similar to the chocolate banana crepe pictured below, except of course the filling is different. The durian crepe is filled with durian pulp and a durian sponge cake at the bottom. The crepes wraps around the filling like spring rolls. They serve the crepe cut in half. (If you take away, they leave the spring roll crepe intact.)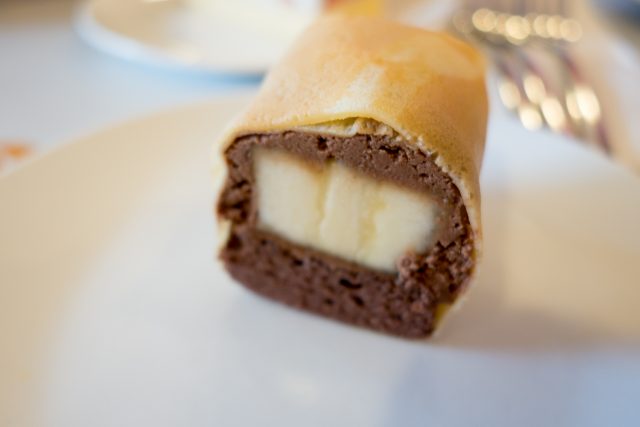 The chocolate banana crepe is filled with chocolate mousse and chocolate sponge cake, and a piece of banana in the centre. I'm not fond of bananas at all, but the kids who ate it said it was good. (Good enough for them to be asking for more, and more again on subsequent visits.)
Crepes & Puffs has a few other items on their menu. Cakes, coffee, and the like. Good place for afternoon tea or morning coffee.
We didn't stop at the famed Changi Village Hawker Centre. At least not at this time. We just had cakes, puffs, crepes and coffee. We were full. Just know that there's plenty to eat here.
Our kids had spotted a playground in the distance, and their minds were set on it. It's a pretty lonely playground in the middle of large grass field. A little sign on the lamp post tells us the playground is an interim use of state land. I wondered why we needed to know about that interim arrangements. perhaps if the playground should disappear one day, don't go around demanding for one to be put back?
The kids no doubt had lots of fun. They don't have complicated needs. I think we were stuck in the playground for an hour. Alright, maybe not that long, but it was long enough. There are so many more things to go see, we didn't want to be at the same playground the whole afternoon!
Changi Beach is just a little farther down. We'll have to cross a bridge to avoid making a long detour to get to the beach.
This is Changi Jetty. Singaporeans like me who served National Service, and had to go to Pulau Tekong, will remember this jetty. This is were we take the bum boats to Pulau Tekong whenever we had to get to or from the island at non-standard times. That would be for things like guard duty, serving confinement, extras, etc. Seeing the jetty brings back memories of BMT at Pulau Tekong.
On the brighter side, we also use Changi Jetty to get to Pulau Ubin. It's been a long time since I've been to Pulau Ubin too! Some day we should go back there, before it becomes a super high-end residential neighbourhood like Sentosa Cove.
Changi Beach seems relatively uncrowded for a Sunday. This was during the long year-end school holidays, I'd have expected a bigger crowd. Maybe most people have gone to Resorts World Sentosa.
Standing on the beach, one can see the two largest off-share islands of Singapore, Pulau Tekong and Pulau Ubin, on the right and left respectively. I can still vague picture myself standing in the corner of Camp 1 at Pulau Tekong looking back toward mainland Singapore.
There's also a playground at Changi Beach. Not unexpectedly, we also got stuck there for a while. There were a couple of wasps having a field day too at one part of the playground, so in some way, the entire playground wasn't available to us.
The problem with the beaches in Singapore is that they aren't very beautiful. The original sand on our natural beaches are coarse. The beaches are generally dirty. I'd pretty much consider Changi Beach unsuitable for swimming, although I didn't see any "no swimming" signs around. The sand at the playground looks so much more appealing.
Lunch on one of the days was at this coffee shop next to Village Hotel Changi. We were there quite late, so there was practically no other diners there. They have a branch of the famed Fei Fei Wanton Noodle, as well as Lao Ban Soya Beancurd.
Fei Fei Wanton Noodle's fried chicken wings were really good. A bit spicy for my kids, but surely not an issue with anyone who can take a little chilli. The chicken meat was juicy and succulent, and skin nice and crisp.
Their wanton noodles and dumping noodles were a little dry, and the soup a little too salty, but otherwise good.
We stayed at Changi Village for two nights. Dinner on the first night was at the hotel itself. On the second night, we strolled around the neighbourhood before settling on this halal coffeeshop restaurant a little farther down the stretch from where Fei Fei Wanton Noodle was located.
I was longing for this Indian-style bee hoon goreng. It was really good.
There are also a couple of restaurants (indoor air-conditioned or outdoor) and small pubs.
There's a long list of other things you can do at Changi Village. We didn't quite get around to most of them. My kids are just content with beach, playground, and swimming pool.
One of the easy and convenient activities is to just walk… down the Changi Point Coastal Walk. It's also known as the Changi Broadwalk. It runs 2.2 km long, starting at Changi Village itself.
Other popular tours, a little further away from Changi Village, but certainly counts as still being in the neighbourhood, include a visit to Changi Chapel & Museum. This will take you back to wartime memories of the Japanese occupation in Singapore during World War II.
If you've got the time, you can also take a boat ride from Changi Jetty to visit Pulau Ubin, a place you can be close to nature, see the Chek Jawa wetlands, rent a bicycle to go mounting biking, go bird watching, or whatever there is to do in an island that is pretty much the last place in Singapore that is not overrun by excessive urban development. (It is already being modernised though.)
For kids, I think just the beach, playground, and swimming pool is all the entertainment they need. Plus food, to keep them going.