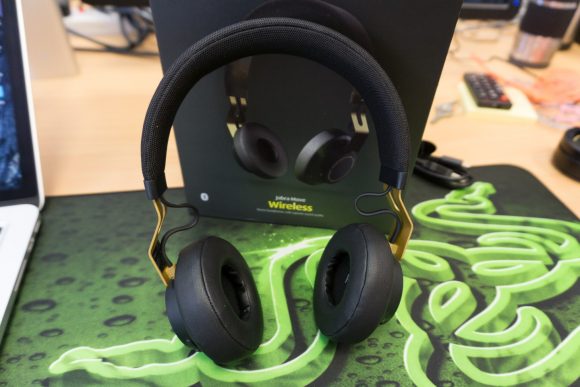 The Jabra Move Wireless is an on-ear Bluetooth headset with a hint of stylish sportiness in its design. Previously available in red, blue and black, Jabra this month announced a new gold colour which I have here for this review. The new colour will give Jabra fans yet another choice in finding something to suit their style and personality.
To be clear, this is a headset, which means the Jabra Move Wireless includes an omni-directional microphone so that you can use them with a smartphone to take phone calls.
Sporting quite a simple and understated design, the Jabra Move Wireless does have some subtle style statements, like the zig-zag arm that extends from the headband to the ear cups. These extensible arms allow you to adjust the ear cup positions to suit your comfort, and they retract into the headband itself, giving the Jabra Move Wireless a clean look. The headband is made with stainless steel, giving it both strength and plenty of flexibility.
The ear pads are generously cushioned, so you can probably enjoy long hours of listening without getting uncomfortable, though they don't provide as much noise isolation as I'd like. The underside of the headband is also padded with cushioning. The entire headset weighs just 150 g.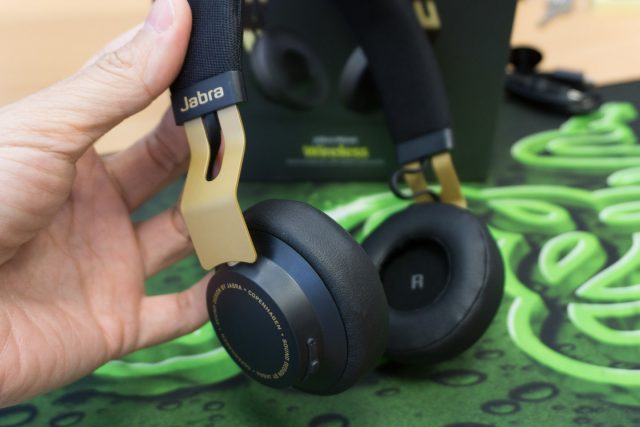 The left and right side indicators are printed on the inside of the ear pads itself. The left ear cup has a Micro-USB charging port, and a power switch. A 4 mm omni-directional microphone is hidden in this ear cup. The Jabra Move Wireless supports HD Voice,
The volume controls and a multi-function button are on the right ear cup. The volume controls, as you'd expect, also double to skip track forward or backward with a long press. The multi-function button can be used to pause and play music, or answer and end calls.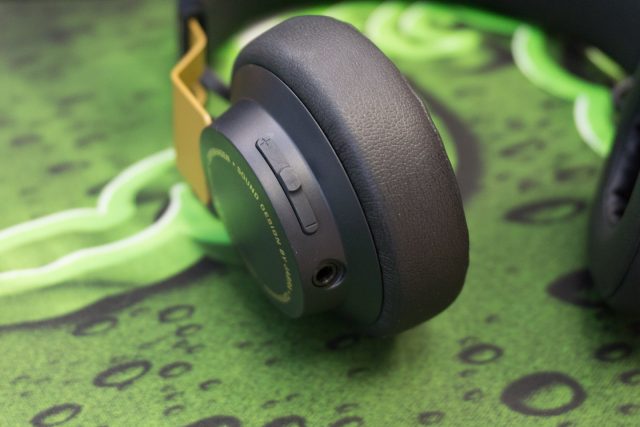 Although it's primarily meant to be used as a wireless Bluetooth headset, the Jabra Move Wireless includes a 3.5 mm audio jack on the right ear cup which offers a tethered connection to your audio source. A 3.5 mm audio cable is provided in the box for your wired listening convenience. I suppose the wired option might be useful if, for example, the battery runs out. Hopefully, in that situation, you have that audio cable handy around you.
The battery lasts 8 hours, with up to 288 hours of standby. Full charge time is about 1 to 2 hours.
The Jabra Move Wireless is easy to setup and use, in part because it's Bluetooth is always in pairing mode. Furthermore, the headset can support two simultaneous active connection at the same time. This means that, for example, the Jabra Move Wireless can receive and play audio from both your notebook computer and your smartphone at the same time. This can be useful when you want to play music from your notebook computer, but still be able to hear alarms and notification tones from your smartphone.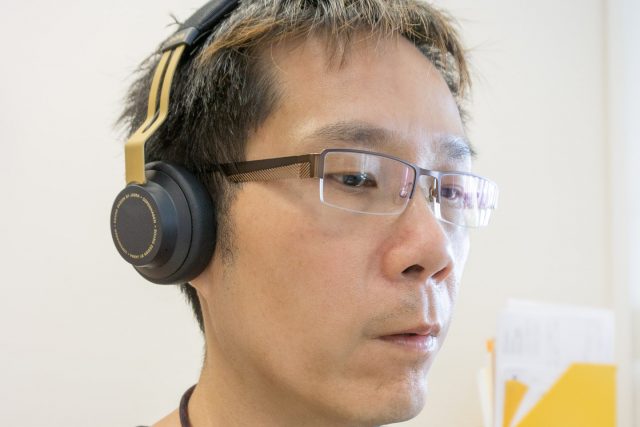 Sound is produced by a pair of 40 mm drivers. Jabra speaks of its signature DSP producing unrivalled digital sound. For what it's worth, the Jabra Move Wireless delivers decent audio quality. I found bass to be satisfactorily punchy, and both the mids and highs come through quite pleasant sounding. I try not to get overly excited describing its sound quality because, honestly, this headset is clearly not audiophile grade. If sound quality truly matters a big deal, you'd not be looking in this price category.
The Jabra Move Wireless is available at Apple premium resellers, Challenger, Digital Style, Harvey Norman stores and authorised Jabra resellers, and at Jabra's GoWireless online store www.gowireless.com.sg at S$148.
Conclusion
The Jabra Move Wireless looks nice, sounds good, does pretty much anything you'd expect from a Bluetooth headset, and is affordable.
Pros:
Simple but nice design
Lightweight and durable
Takes calls, includes call and music controls
Cons: