We browsed through Expedia for our holiday options to Phuket recently, and chanced upon a decently attractive accommodation at the Swissotel Resort Phuket. The Swissotel brand was itself an attraction, and what more we could get a nice two-bedroom suite for a very modest price. The hotel and visitor photos, from what we could tell, seemed pretty pleasant.
The short summary is that the Swissotel Resort Phuket is a nice, pleasant hotel, suitable for family vacations, and located in a quieter area away from big crowds. The suites are spacious and comfortable, and the resort has plenty of activities for younger kids as well as older ones.
The Swissotel Resort Phuket is located at Kamala Beach, which is the next beach north of Patong Beach. The beach itself, which is about a 10 minute stroll from the hotel, is significantly quieter than at Patong. At this off-peak season, there's hardly any activity happening at the beach.
After check-in, the counter staff who served us personally showed us to our suite, and along the way, she pointed out various hotel facilities such as the spa and dining facilities. I thought it was nice to have this mini-tour. At most hotels, guests are usually simply told verbally where things are, briefly, or left to figure out on their own.
Entrance to the suite is via the balcony, at least for those suites above the ground floor.
The balcony entrance is a pretty good idea. Imagine the sand you might bring back in your footwear from the beach. You can leave all the sandy stuff outside, but still in the security of your suite.
The hotel suites are really nice. They are large, nicely furnished, and well maintained.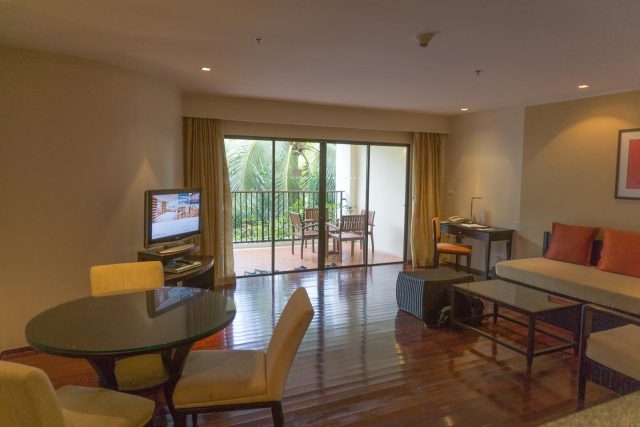 We have a pretty spacious living and dining area, as you can see in the photo above. We've provided with a LCD TV, which has a decent selection of cable channels. There's also a DVD player, with rental titles available from the hotel.
A small writing desk sits in the corner. There's free Wi-Fi provided throughout the hotel, but if for some reason you need a wired Internet connection, one is provided at the desk.
The entire suite, apart from the balcony and toilet, of course, is covered in hard wood floors, lending a nice rustic ambience to the suite.
The kitchenette features a good-sized fridge, tea and coffee making facilities, and a microwave oven. There's a proper kitchen sink, but there are otherwise no cooking facilities provided. They do provide a full set of utensils and crockery.
This is a two-bedroom suite. One bedroom has a king-sized bed, while the other has twin double beds. Each bedroom has a wardrobe, phone and LCD TV. The "master" bedroom, presumably the one with the kind-sized bed, also has an alarm clock, in-room safe, and ironing facilities.
There are ample power sockets around too, and not just in the bedrooms. It's nice in Thailand that they often use universal sockets, so likely your own native home country plugs will just work without the need for any adapters.
There are independent air-conditioning controls for each bedroom, as well as for the living space outside.
Both bedrooms come with a smallish balcony, though honestly there isn't much of a view. Our view is supposed to be toward the sea, but unfortunately we can't see any of it. We are on the third level, so I don't think the topmost floor, which is the fourth level, will see a much different view than ours.
I did find the toilets a little small, given the general spaciousness of the suite. There's a shower booth, but no bathtub.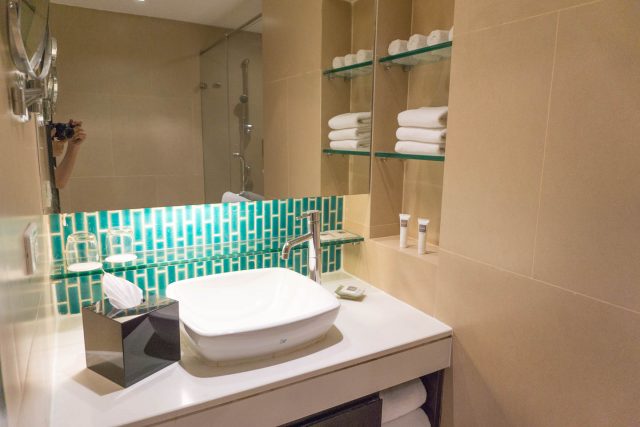 One of the highlights of the Swissotel Resort Phuket is their Kids Club. Yes, it's for younger kids, so that makes this resort plenty good for family vacations particularly if you have little ones.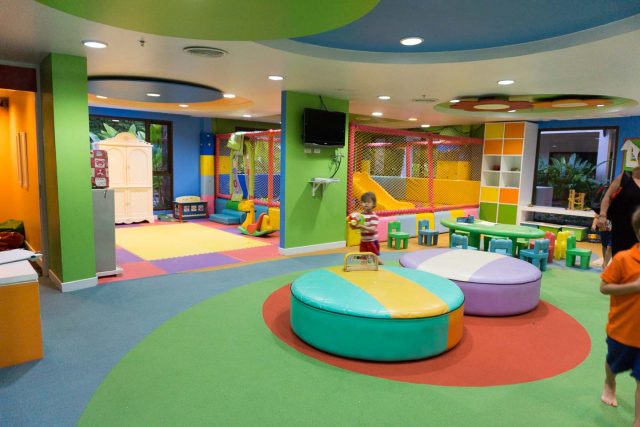 There's a ball pit, console games, and a movie room. On top of that, there's an activity area for a bunch of organised activities. See the next photo for a sampling of those activities. Although it looks like a timetable and hence fixed timing for the activities, during this off-peak season, it's pretty much you tell them what you want to do and they'll try to accommodate you.
These are paid activities. There are material costs, of course, but I think they are reasonably priced considering that this is a Swissotel resort. My kids, for example, did the Bartik T-shirt painting for 400THB each.
The Bartik T-shirt will take time to dry, so you collect your finished work one day after you paint them. They look really nice, and especially so when it's your own handiwork!
There are other activities for the family too, so the older kids and adults will not be left out. For example, there are a couple of bicycle tours, pool games, racket games like badminton and table tennis, and there's even Thai cooking lessons.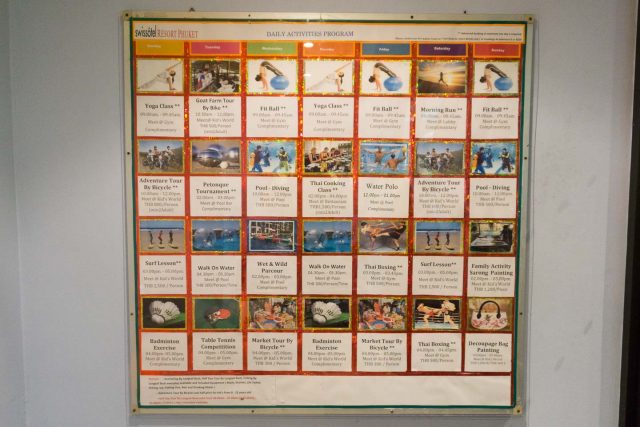 Mountain bicycles are also available for rent if you decide to roam around the area on your own. They have attachable strollers too, so your little ones can ride along with you.
If you feel like you must workout during a vacation, well, there seems to be a reasonably well-equipped gym. I've not seen a single person in the gym though. It's just adjacent to the Kid's Club, so I peeked in whenever the kids popped in to their play world.
Apart from the pool bar, the cafe is the only F&B outlet in this resort. It's where the breakfast buffet is served. The naturally ventilated cafe is very comfortable despite the hot weather in Phuket.
Food quality and variety was pretty much average. I would have expected something more given Swissotel's branding, but perhaps I had set my expectations too high. The bacon strips, for example, weren't crisp enough, and were pretty tough to chew on.
In terms of service, the staff were pleasant, but perhaps not sufficiently attentive. For example, they don't clear plates quickly enough despite there cafe having few patrons every time we were there. In fact, even some of the dishes on the buffet tablet was slow to be refilled. However, perhaps again this could be me having expected too high a standard.
Overall, though, the dining experience at the cafe is just fine. We only had breakfast, so we couldn't comment on other meals.
One issue, unfortunately, is that the cafe seems to attract flies and birds, with the latter occasionally making their way to the buffet table to peck at food bits on serving spoons and ladles. The natural ventilation is great, but somehow they need find a way to keep away the flies and birds.
The hotel site is relatively small. Two main four-storey blocks of suites with a fancy pool between them. They have a water slide at one end, which should prove to be fun for kids. Most of the pool is too deep for young children if they can't swim, except for a circular pool that I had thought was a jacuzzi, but turned out not to be.
There's not much outside the hotel. Perhaps two small eateries, some massage places, a general store, tailor, and bike rentals. A little further down there's a nice restaurant, Baan Mai, where we dined once for dinner, and returned two more nights to pack takeaway back to our suite.
Oh yes, the approach to the hotel isn't very flattering. But the hotel itself is pretty pleasant.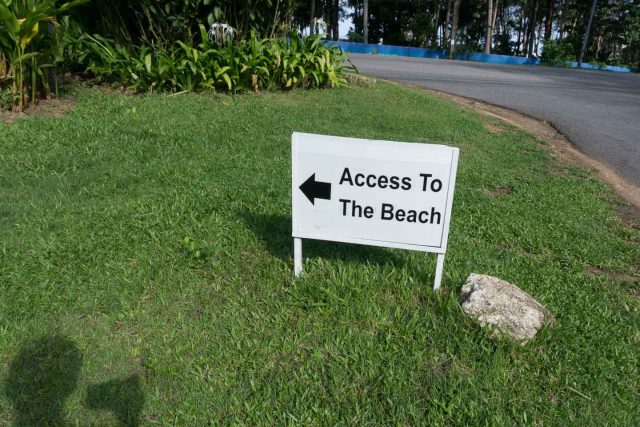 The beach is farther out, but you'll get to it in under 10 minutes of leisurely walking. You'll have to cross a road, but there's an underpass you can use. The hotel reception offers beach towels you can bring along to the beach.
The best thing about Kamala beach?

It is so unbelievably quiet. I understand during the peak seasons there are the usual activities like jet ski rentals available here. But during off-peak, like when I was there, there's just peace and quiet. The hotel does offer picnic baskets you can bring out for nice morning at the beach.
Incidentally, if you do want to go to busier areas like Patong, the hotel provides free two-way shuttle twice a day. It's a 20-minute ride each way.
Conclusion
How's the Swissotel Resort Phuket overall? I think it'll make a nice place for a family vacation, particularly if you want to avoid the overcrowded Pataong area. There are enough activities to do within the resort so you don't even need to get out.