The RSAF will put up a big performance for Singapore's 50th National Day with 50 aircrafts, no less, at the parade on 9th August. If you're thinking of catching the aerial display, you don't have to wait for the actual parade. With previews and full combined rehearsals, you have plenty of opportunities to catch the aerial display. What are the dates and times?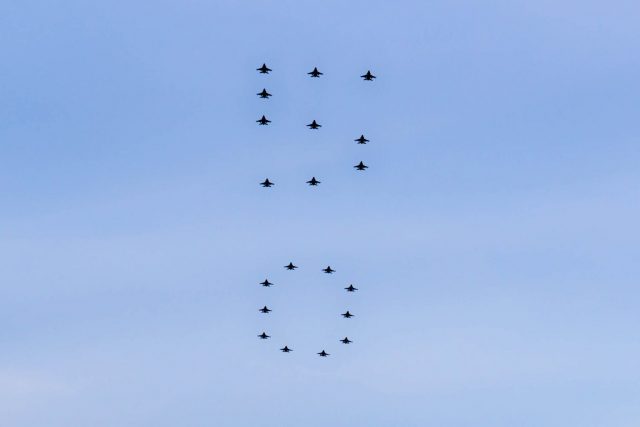 There are now only two more Saturday rehearsals, on 25th July and 1st August, before the actual National Day Parade (NDP) on Sunday, 9th August 2015. You can check my previous post on the rehearsal calendar, which has details of backup dates in case of inclement weather.
If you're looking for a concise timeline of the various aircraft appearances, you can find the details listed in a table at the end of this post. Read on if you want to know more about the aircrafts and aerial performances.
There are three distinct phases of the aerial display:
6:10 pm: Five Stars tribute
6:45 – 6:50 pm: State Flag flypast, salute to nation
7:00 – 7:04 pm: Aerial flypast and other performance
If you want to catch the Red Lions, they appear at around 5:40 pm in the pre-parade programme.
We had a family outing the last weekend to watch the RSAF aerial performance. The weather wasn't great. It wasn't raining, but the skies were overcast. I suppose it's better than rain.
First up, the "Five Star" Tribute Aerial Flypast by the RSAF Black Knights happens at around 6:10 pm, in remembrance of the late Lee Kuan Yew. Oh yes, my angle isn't quite right on this one. I suppose it looks a whole lot better from the Marina Bay floating platform.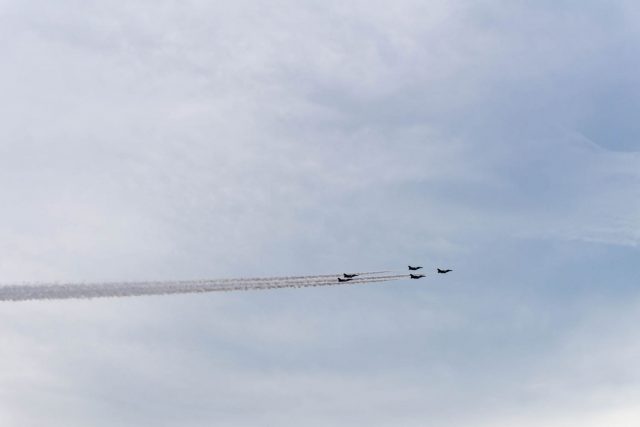 The Black Knights, RSAF's official aerobatics team, is a perennial crowd pleaser at past parades and airshows. Their F-16C aircrafts are painted in bright red and white, but unfortunately it's quite difficult to see those colours whey they're high up in the sky.
At about 6:45 pm, a Chinook helicopter carrying the Singapore state flag flies in from the south-east, flanked by two AH-64D Apache helicopters. Chinooks are easily recognised by their dual tandem rotors.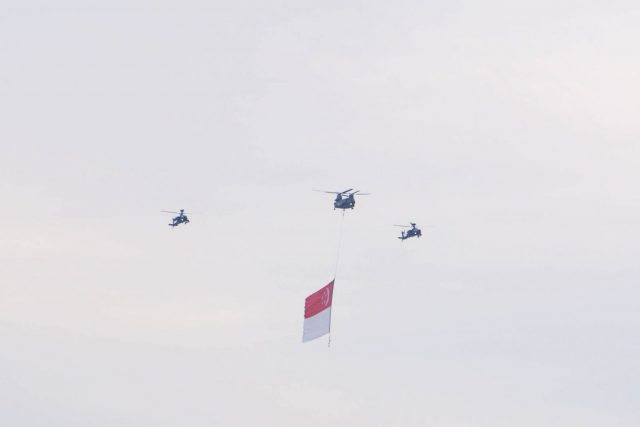 The helicopters make a clockwise turn around the west side of Marina Bay Sands, so that viewers at the Marina Bay floating platform will see the flag in the correct orientation, before heading back out toward the sea. Helicopters are slow, so you'll have plenty of photo opportunities. By the time they are done and headed out beyond the coast line it would be 6:50 pm.
The big "50" highlight happens at the same time. 20 of the RSAF's F-16 finger jets will fly in a never-before-seen formation which forms the number "50". The jets are really close to each other!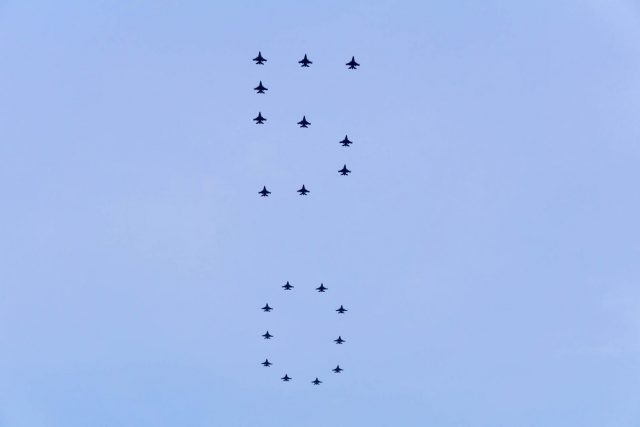 I was fortunate to have just a very thin cloud cover over the "50", so you see a more bluish sky, unlike most of the other photos I took.
The "50" flypast happens at about 6:49 pm. At about the same time, six F-16Cs of the RSAF Black Knights will fly by with an aerial bomb-burst display, fanning out over the Padang and beyond.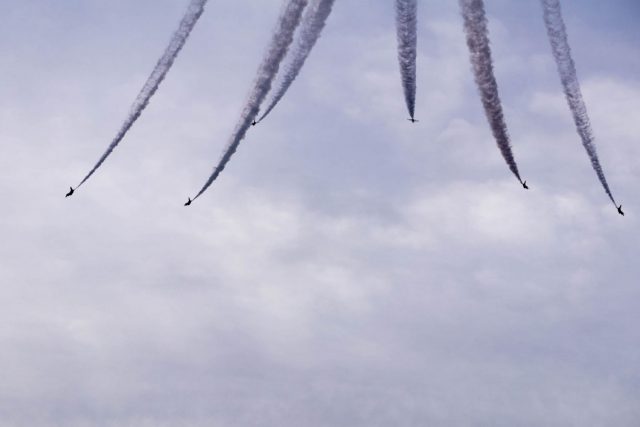 The next segment starts off at about 7 pm with a helicopter display. Officially, there are supposed to be just 8 helicopters in the display. I don't know what the extra four are doing behind, as you can see in the photo below. The extra four did break off from the formation before passing over the vicinity of Gardens By The Bay.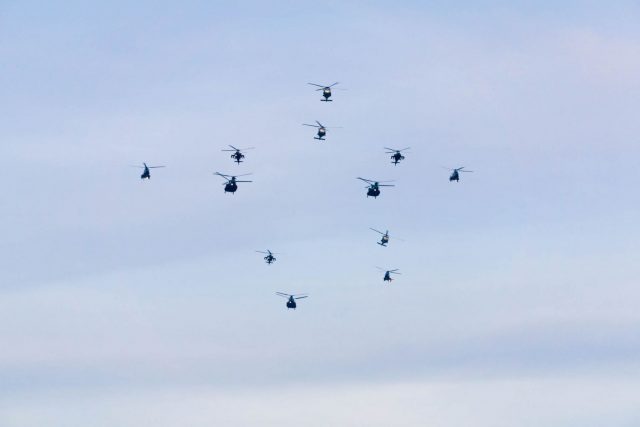 This "Arrowhead" helicopter formation is led by two S-70B naval helicopters, followed by two AS-332 Super Pumas, two AH-64D Apaches and finally two Chinooks bringing up the rear.
The helicopters are followed by transport aircrafts arriving at 7:01 pm flying in a "Vic" arrowhead formation. A C-130 transport aircraft leads ahead flanked by two Fokker FK-50 maritime patrol aircraft.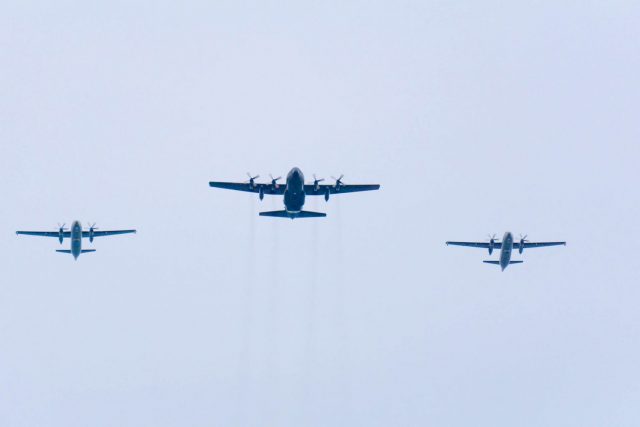 A minute later, a KC-135 tanker aircraft flies in, flanked by four F-5 fighter jets, and a Gulfstream G550 that's been retrofitted into an Airborne Early Warning aircraft brings up the rear.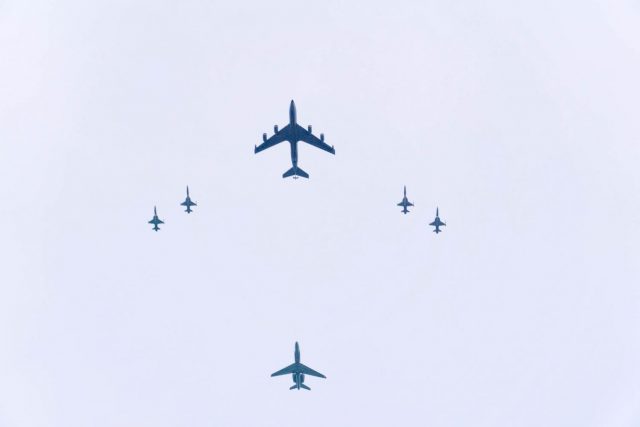 The Gulfstream G550 was originally designed to be a business jet, but this version used by the RSAF is heavily modified by Gulfstream's partner Israel Aerospace Industries to take on an Airborne Early Warning role.
A series of exciting manoeuvres come up next. At 7:03 pm, the RSAF Black Knights arrive with four F-16Cs executing a Criss Cross manoeuvre.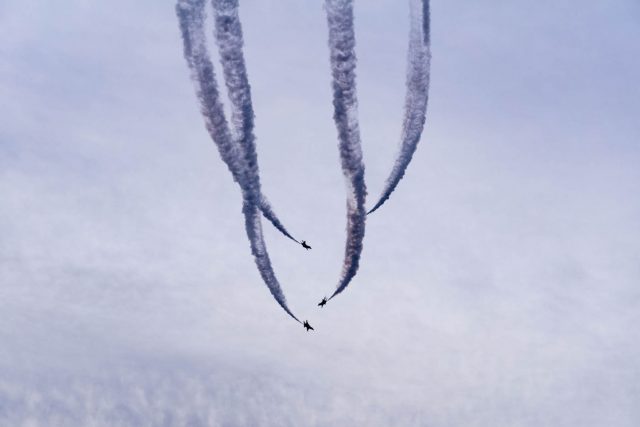 Another two Black Knights F-16C fighter jets following closely behind execute a near vertical climb. The skies are getting pretty smokey by this time.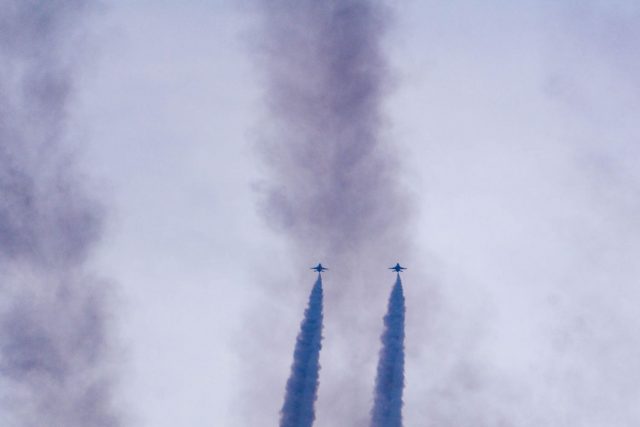 The RSAF's newest fighter jet acquisition, the F-15SG, are featured in the finale. The F-15SG fighter jet is a variant of the original F-15E Strike Eagle made for Singapore.
First, a lone F-15SG executes tight combat turns to demonstrate its capabilities, in particular the aircraft's agility and precision. It will also execute a near vertical climb with afterburners. Notice the lighted tail-end of its two jet engines in the photo below.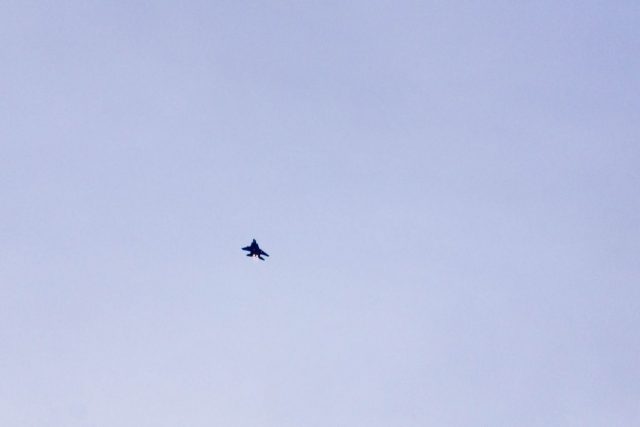 Finally, three F-15SG perform a finale with a Flat Burst manoeuvre as they exit into the sunset, concluding the aerial display segment of the NDP.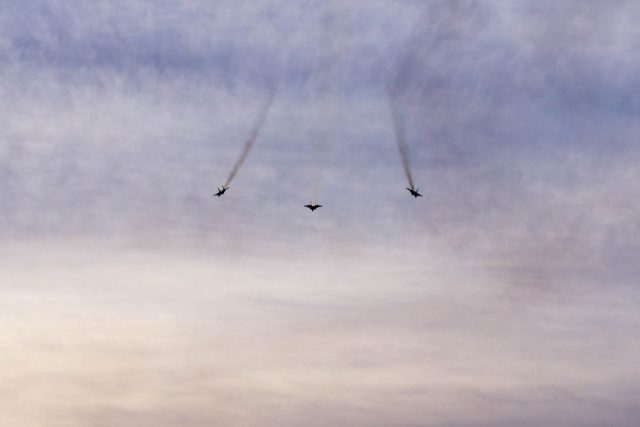 For your photo-taking planning, note that just about all the aircrafts fly in from the south-east, heading north-west as they cross in front of the Marina Bay floating platform.
In summary, here's a timeline of the various events:
| Time | Event | Aircrafts |
| --- | --- | --- |
| 6:10 pm | Five Stars | 5x F-16 |
| 6:45 pm | State Flag | 1x Chinook, 2x Apache |
| 6:49 pm | "50" Formation | 20x F-16 |
| 6:49 pm | Bomb Burst | 6x F-16 |
| 7:00 pm | Arrowhead | 2x S-70B, 2x Super Pumas, 2x  Apaches and 2x Chinooks |
| 7:01 pm | Vic | 1x C-130, 2x FK-50 |
| 7:02 pm | Close | 1x KC-135, 4x F-5, and 1x Gulfstream G550 |
| 7:03 pm | Criss Cross | 4x F-16 |
| 7:03 pm | Vertical Climb | 2x F-16 |
| 7:03 pm | Combat Turn | 1x F-15SG |
| 7:04 pm | Flat Burst | 3x F-15SG |
Adding up the numbers above, you'd find that there are a total of 61 aircrafts. But there are supposed to be 50 only. I believe the Black Knights are fielding just 6 numbers of F-16 fighter jets for their Five Stars, Bomb Burst, and Criss Cross/Vertical Climb performances. Instead of 17 F-16 fighter jets, there are just 6 of them. That'll bring the total aircrafts in attendance to 50.
You can use the above schedule as an approximate programme guide, but always be prepared for timing variations. If you plan to shoot photos, make sure you're ready at all times. Fighter jets fly really fast, it's literally just seconds before you loose the opportunity of a good shot. I hope you have better luck with a more beautiful sky.
Update (2015-08-04): If you're interested, I've also got the timing for Singapore Airlines A380 flypast.
Update (2015-08-07): The RSAF Black Knights, just them, the six F-16 fighter jets, will put on an aerial display show daily at 12 noon on 7th, 8th, and 9th August. This is different from their performance for the NDP itself.