One of the favourite holiday destinations, for my kids, is Changi Airport. We don't actually have to fly anywhere, but just spend time at Terminal 3 of Changi Airport, and sometimes the other terminals too. One of the days in the school holidays last week, we did just that. I wanted to see something new this time, and that would be the Changi Aviation Gallery.
I like planes, the kids like planes. I thought this would be an interesting and educational experience for the kids. The gallery is described quite attractively on Changi Airport's website:
Open to the public at Terminal 3, the Changi Aviation Gallery is a playground for aviation enthusiasts. From here, observe aircraft and Changi's ground operations on our tarmac. Gain insights through our exhibit of 50 fun facts about how we operate Changi Airport safely, securely and efficiently, to serve at least 148,000 travellers and visitors daily. Check out the airplanes that have flown through Changi Airport upclose at the two model airplane display showcases flanking the ends of the gallery. (source)
It's located on Level 4 of Terminal 3. It's basically a part of the viewing gallery where you look out of the terminal and watch the planes below. It's a small part of that space. Really small. I was, erm, quite disappointed. I had thought this was like a largish kind of gallery. They did call it a gallery after all, and that there were 50 fun facts to gain insights into. It turns out that the gallery was simply a static display, mostly on poster boards.
We'll make the best of the learning anyway, since we were already there. You can follow along too. Click on the photos to view a larger version so that you can read the text.
First up, we learn a little history. Changi Airport was officially opened in July 1981. That's a good 34 years ago.
Back in 2009, the airport apparently organised a plane vs car race, the first ever in Asia. The car won by a split second. Planes may go faster at the point of takeoff, but speedy cars certainly have much quicker acceleration. I imagine the car won mainly because it accelerated faster.
Changi Airport is a busy air hub. It handled some 54.1 million passengers in 2014, quite a bit more than the 30 million passengers per year planned for 40 years ago. There are over 6600 scheduled flights a week, which means every 90 seconds a plane will take off or land.
The busiest day at Changi Airport was on 20 December 2014. Over 186K passengers passed through, or about 2 passengers every second.
The next panel is about airside operations. Grass, I learned, has an optimal height to discourage birds from landing on it. Spikes are also commonly found on railings and lights to deter birds from coming into the area. FOD, or Foreign Object Debris, refers to any substances of debris found on the active areas of the airport, such as runways.
Changi Airport is presently about 1300 hectares in area, the equivalent of 1800 football fields!
Fact 18 is about PAPI, the Precision Approach Path Indicator, one of the devices that pilots use to guide their planes onto the runway. Budding pilots can learn how to read these lights. An Advanced Visual Docking Guidance System (A-VDGS) guides pilots in parking their aircrafts.
I'm surprised that there will be some 40 km of runways and taxiways to connect the future 3rd runway to the existing airport. Sounds like a bit much? The runway itself is only like 4 km long. 40 km is about the length of the Pan-Island Expressway from the airport to Jurong.
Next up, we learn about fire-fighting in the airport, in particular about putting out aircraft fires. Aviation fuel burns at upwards of 1000°C, so these fires are really hot. The primary fire fighting agent is foam. Time is of the essence, and the Airport Emergency Services targets to reach any incident scene within 2 minutes! Considering the size of the airport, that's pretty quick.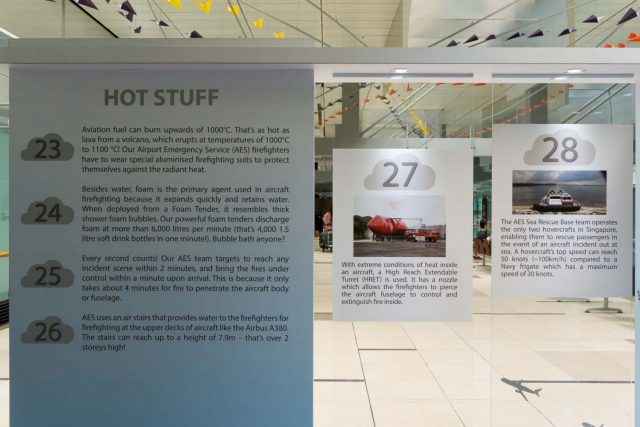 There's also a Sea Rescue Base. The airport being next to the sea probably certainly makes this facility absolutely necessary. They apparently have the only two hovercrafts in Singapore. A hovercraft can reach a top speed of 100 km/h.
Next, we look at what passengers and visitors to the airport can do. Changi Airport is named best airport in 2015 by the World Airport Awards. This is among the many accolades the airport has received. Many of the reasons have got to do with passenger-friendly services and facilities. It's not just a great place for passengers arriving, departing or transiting through, but interestingly enough even for locals to visit. Just like how my kids love going there!
The huge Social Tree interactive installation at Terminal 1 lets you capture and share selfies before your flight. There's a butterfly garden at Terminal 3. Kinetic Rain in Terminal 1 is a beautiful display made up of 1216 bronze rain droplets which can transform into a variety of shapes and patterns. It's really mesmerising.
I did not know this, but it seems Changi Airport is the largest shopping mall in Singapore, in terms of sales I think. The area's big for sure, but there can't be that many outlets. By sales, I'm still quite surprised it could do so well. 4.6 million boxes of chocolates a year, 700 boxes of pandan cakes a day.
The new DFS at Terminal 3 has a double height atrium with 998 bottles on display. The most expensive item retailed at the airport is a pricey bottle of whiskey, the Dalmore Constellation which goes for S$350K.
Just like Singapore is a garden city, Changi Airport is filled with plenty of greenery. All plants in the airport are real. Terminal 3 is designed to let in natural daylight through 919 skylights, which are regulated through 215K movable sun-shading panels to create a comfortable ambience while conserving energy.
Changi Airport is huge in staff numbers too. They have 230 Changi Experience Agents speaking over 20 languages and dialects walking the ground to assist customers in need. There are a total of some 40K airport staff, from over 200 companies, working together to deliver one great Changi experience.
One critical feature of an airport is its runway. Changi Airport has two 4km long runways. These need to be maintained regularly to ensure safe takeoffs and landings. Since the airport operates almost on a 24×7 basis, it is a little tricky to schedule maintenance windows to allow work crews to repair or service the runways.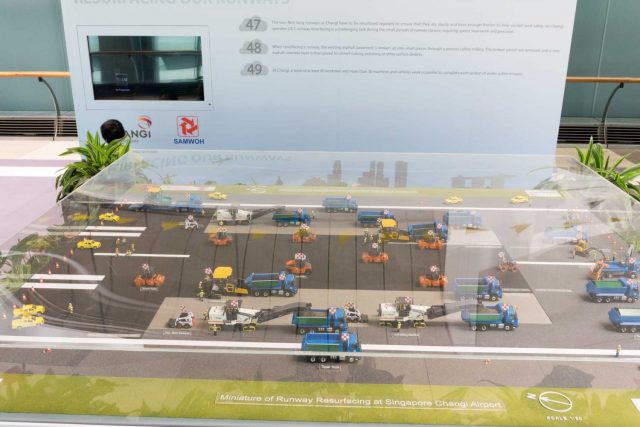 A miniature model here shows how resurfacing works are performed on the runway. There's also some road samples to show the difference between normal vehicular roads and those for runways. You can touch and feel the materials.
Last, but not least, there are the model airplanes. You know, I was quite disappointed. I mean, I read "upclose at the two model airplane display showcases" from the synopsis and somehow understood that to mean that they were life-sized. No, they aren't. That's the model of the concord below.
I felt cheated. It's just a tiny model. The concorde is an interesting aircraft that my kids have not seen or heard about before, so that is something educational that I can share with them, particularly about why there aren't anymore concordes in service.
If you're wondering about observing aircraft and ground operations, you basically just look out of the window at the tarmac down below.
That's all of the Changi Aviation Gallery. Worth one visit for the kids. In fact, while I was there, two or three groups of children from a kindergarten or some sort of child care centre were there. The next time you come to Terminal 3, you can plan to swing by Level 4 to check out this gallery.