There're many non-Singaporeans in my work place, and being Singaporean, I'm often asked about many Singapore things. This Singaporean, however, isn't very up-to-date with the touristy things in Singapore, so sometimes I have to do a bit of research myself. There are many attractions where I only finally visit years after they're open, if I do get around to them.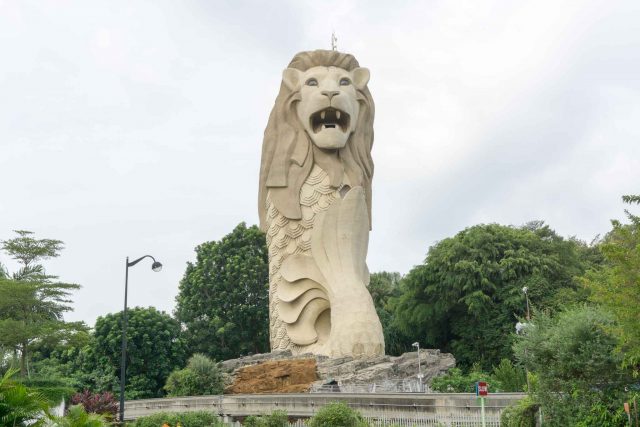 Recently I was asked about this national icon, the Merlion. This half-lion half-fish creature must attract a fair bit of curiosity. You see, we were at Sentosa, and this big statue stood just outside the hotel where we were having a retreat. Is this the original Merlion? No, it isn't, that I know. What's the story behind the Merlion? Oh, that I don't know. It's like a national icon, but how in the world did it come about?
I was thinking about how maybe it had something to do with Sang Nila Utama. He's the prince, you know, who founded Singapura many centuries ago, before the time of Sir Stamford Raffles. But, wait a minute, Sang Nila Utama was supposed to have seen a lion on our island, not this half-lion half-fish creature. So, where exactly did the idea of the merlion come about?
It turns out, according to Wikipedia, the Merlion is a modern day creation of Alec Fraser-Brunner, who created it as a logo for the Singapore Tourism Board (STB), which was used from 1964 to 1997. It was made into an 8.6-metre tall statue installed at the mouth of the Singapore River in 1972. I suppose whenever we talk about the Merlion, the history of it isn't all that old. But it's old enough to have been around before many of us existed in this world, so it may well have been like forever that the Merlion has been around for us.
That original statue, incidentally, was moved further downstream because of the new Esplanade Bridge which was constructed in 1997.
The Merlion you see in the photo above, on Sentosa island, was completed in 1995. It's 37-metres tall, with a viewing gallery in its mouth and another one on its head. (Its eyes also shoots out laser beams at night…)
So while the Merlion is very much a national icon, its really a tourist symbol that began about fifty years ago.