You've probably heard about GP rechargeable batteries. Did you know they make power banks too? The battery experts for over 50 years, GP Batteries had last month launched their F-Series FP05M 5000 mAh PowerBank, as well as other new additions to their PowerBank and Smart On-The-Go product lineup. Here's a quick review of the FP05M PowerBank.
Key highlights across the new F-series PowerBanks are that they are Safer, Faster, and Smarter.
They are safer with protection from extreme low and high temperature, over-charging & discharging, device overloading and short circuits. There's also automatic cut-off protection when the same cable is plugged into input and output ports simultaneously. The PowerBanks are incopliance with SPRING Singapore safety regulation and UN38.3 air transport safety standard.
They are faster, with ultra-fast 2.1A charging speed (3.1A on some the FP10M model), and 2A recharging speed.
The smartness comes from smart LED indicators and smart design, the latter referring to the plano-concave dual front design that will fit against curved and flat back devices.
The FP05M has a 5000 mAh capacity using LiPolymer battery cells. The similar FP10M has 10000 mAh capacity. Dimensions and weight are 120 x 66 x 13 mm, 165 g, and 148 x 75.5 x 15 mm, 285 g, for the FP05M and FP10M respectively. They are both available in black and silver colours.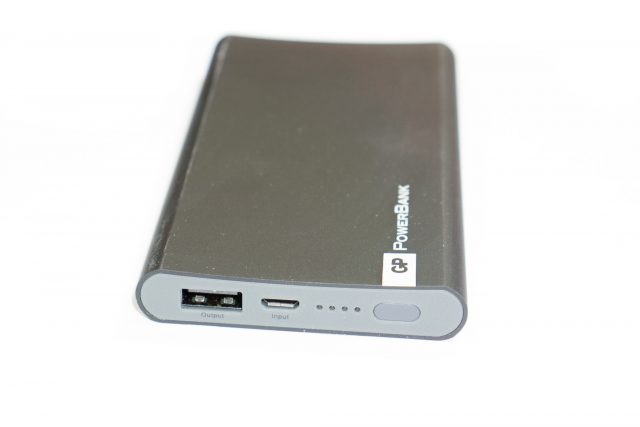 The concave design on one side is pretty unique with the F-series PowerBanks. The subtle curve may have a better fit in wherever you may want to carry them. The matt anodised aluminium are very hardy. They are so hardy that I'm afraid it would scratch gadgets next to it.
The FP05M and FP10M are available at S$39 and S$59 respectively, at Challenger, Best Denki, Caltex, Courts, Harvey Norman and Popular. A short Micro-USB flat cable is included in the packaging.
Aside from these two F-series models, there's also the FN05M, with 5200 mAh battery capacity. The shape is somewhat different, with dimensions of 99 x 42 x 23 mm, and 155 g weight. It is retailing at S$29 from the same channels as above.
Finally, GP Batteries has a rather unique GP x Smiley® Special Edition PowerBank. These 352PB 5200 mAh power banks are regular shaped, lik a portable hard disk, with 112 x 63 x 13.5 mm dimensions and 132 g weight. The interesting part is that they have a smiley face design on the casing. There are six designs altogether: Smiley Face (Black), Smiley Face (Gray), Illusion, Sunglasses, Heart Eye and Yummy Face.
The 352PB power banks charge at 2.1 A, but recharge (i.e. the input) at 1 A only. Expect recharging this power bank to take some time. They retail at S$49 through the same channels as above.