Danish consumer electronics company Bang & Olufsen has a new, compact, good-looking Bluetooth speaker, the BeoPlay A1. The new speaker, launched under Bang & Olufsen's consumer-oriented brand, B&O Play, is the smallest in their Bluetooth speaker line-up. Sporting a clean industrial design and all-day battery life, the BeoPlay A1 presents an attractive option for fans of Bang & Olufsen's signature sound quality.
The BeoPlay A1 is designed by award-winning desinger Cecille Manz. The elegant, yet simple looking, circular-shaped speaker is covered on top with an aluminium metal grill, and finished around the bottom with a refined rubber polymer. Then, there's this quirky leather strap attached to it with which you can hang the speaker from a wall hook or something.
This isn't anywhere near the tiniest or lightest Bluetooth speaker, but the BeoPlay A1 is certainly the most compact and most portable that Bang & Olufsen or B&O Play has to offer. It measures 13.3 cm in diameter, 4.8 cm high, and weighs 0.6 kg.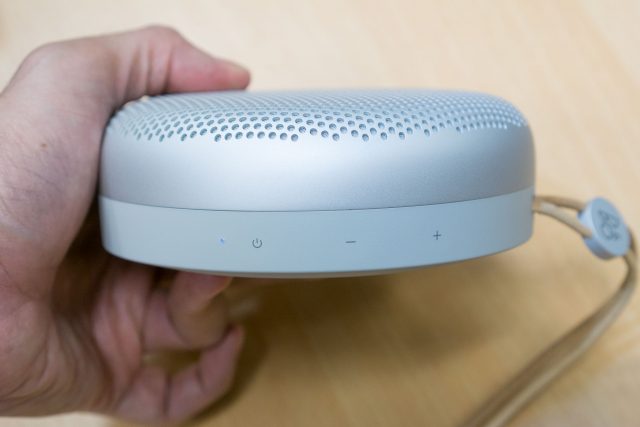 Around the sides of the BeoPlay A1, on the bottom rubber portion, you'll find controls for power, volume up/down, Connect, Bluetooth, and a multifunction call/hangup/mute button. The buttons are flush with the surface, which I think looks good from a design perspective. However, I've a problem with its usability. You can't feel the buttons, so you'll have to look at the speaker to find the buttons. Then, when you do look at them, you'll realise the icons are also pretty small.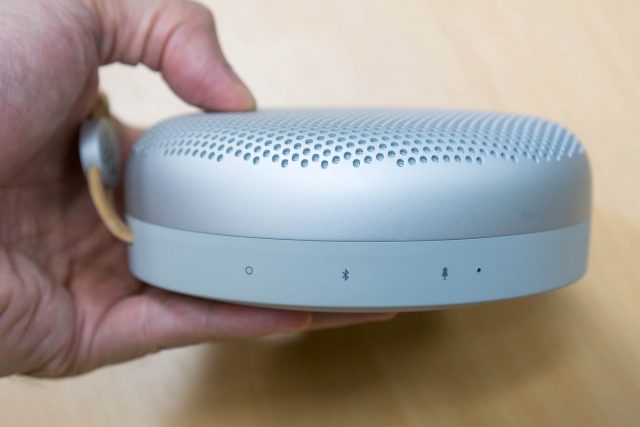 The Connect button needs a bit of explanation. It's the one with a circle icon. Pressing it tells the BeoPlay A1 to play music from the last Bluetooth source device it was connected to.
Interestingly, the BeoPlay A1 comes with a USB Type-C connector for charging. I know USB Type-C is forward-looking, but perhaps this is a little unexpected, at least for me, to find in a speaker. The BeoPlay A1 does support USB Type-C's maximum charge current of 3A, so you can expect to recharge its built-in battery fairly quickly.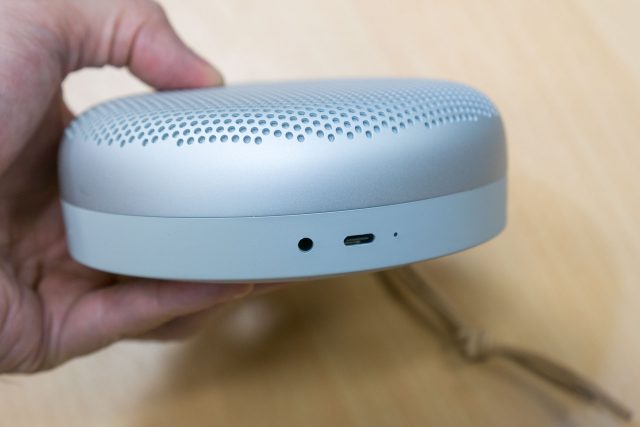 There's also a 3.5 mm audio jack in case you want to play music from a wired source.
The BeoPlay A1 supports Bluetooth 4.2. It can pair and connect to more than one Bluetooth source simultaneously, though just playing music from just one at any one time. This makes it possible to, say, play music from your computer, while allowing your phone to interrupt the BeoPlay A1 for an incoming call.
Sound quality on the BeoPlay A1 is really, very, good. In fact, it was so unexpected to me for a speaker as small as it is to produce such good sound quality that, the first time I played music to it, I had a fleeting moment of doubt about where the music had come out from. Perhaps, you know, the music was coming out from some other speaker in the room. But no, it was from the BeoPlay A1 right in front of me. Right off the bat, I'd say the BeoPlay A1 beats many other larger Bluetooth speakers in terms of sound quality.
The BeoPlay A1's music is so clear. The bass is powerful, deep, tight, and clean. The mids are detailed and clear. The highs could do with a little more sparkle, in my opinion, but they are really not at all bad. Overall, I'm very impressed with the fullness and richness of music coming from the BeoPlay A1. Even at moderate volumes, the BeoPlay A1 is quite capable of filling a large room with music. At elevated volume levels, even open spaces can be sufficiently covered by this Bluetooth speaker.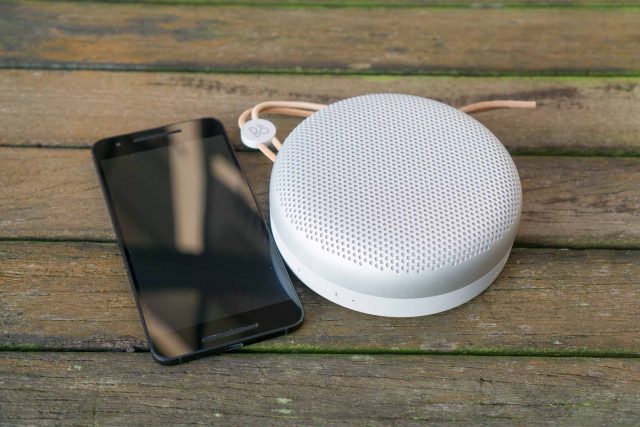 If you had to take a phone call with the BeoPlay A1, you'd find its speakerphone and microphone quite capable. In fact, I can see the BeoPlay A1 serving well placed in the centre of a meeting table for taking conference calls. The microphone has uniform speech sensitivity 360° around the speaker, so anyone around it can be equally well heard. I don't imagine you'd buy the BeoPlay A1 to use as a conference speakerphone, but it will work very well as one if you have it around.
The rated battery life of the BeoPlay A1, with its 2200 mAh Li-Ion battery, is 24 hours. The battery indicator on the side of the unit turns red when battery level hits 15%, and blinks red when there's less than 10% remaining. A full recharge takes 3 hours.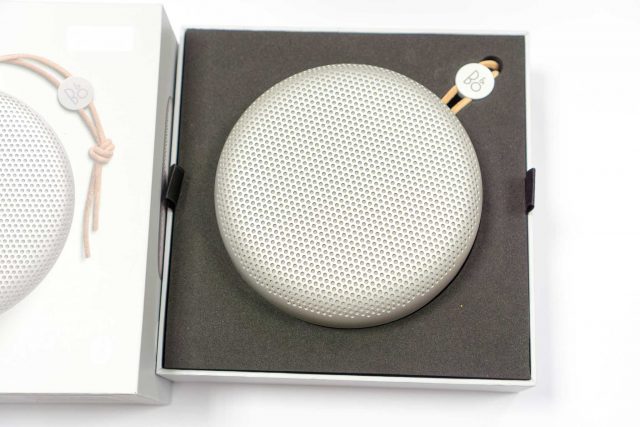 The Beoplay A1 is available in Moss Green and Natural (seen in this review) at the suggested retail price of S$399. Both colours are available at Airport Duty Free, Apple Premium Resellers, Bang & Olufsen store in Hyatt, Challenger, Newstead and leading independent retailers.
Conclusion
The BeoPlay A1 is the most compact Bluetooth speaker from Bang & Olufsen/B&O Play.
Pros:
Excellent sound quality
Clean industrial design
Speakerphone functionality works very well
Cons: