I've been looking at cars lately. My existing Honda Stream is coming to eight years old, and it seems like time to consider a replacement. Keyword here being replacement, not necessarily an upgrade. The Honda Stream has been discontinued, but if it hadn't, I think it could have been a worthy consideration. It was a great car for our needs.
Honda's replacement for the Stream is the Jade RS. It was only recently brought in by the local authorised dealer Kah Motor, and prior to that, one would either have to downgrade to the Mobilio, or upgrade to the Odyssey.
Eight years ago, I had only two serious contenders to consider. It was either the Honda Stream or the Toyota Wish. It was tough to choose between them. This time around, the options are more plentiful, in part because parallel importers are also in consideration.
Parallel importers have already been around for a long time. What's changed is that I think the industry has matured somewhat. You hear less horror stories about unscrupulous operations nowadays, and instead, start to hear more about them being a dependable and reliable alternative to authorised dealers.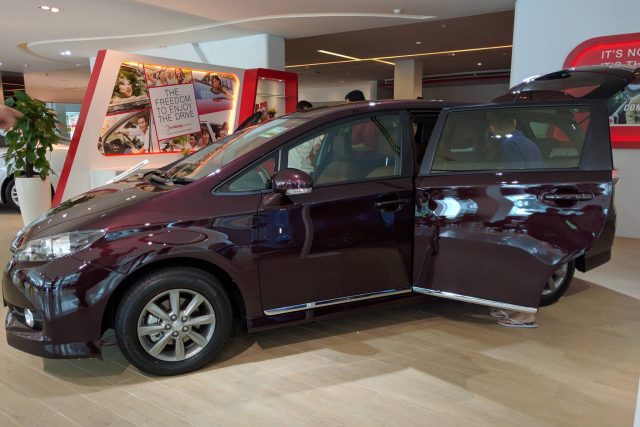 The Toyota Wish I was looking at previously is still up for consideration. The Wish is, not surprisingly, upgraded from what was available eight years ago, and most of its disadvantages, as compared with the Honda Stream back then, had since been corrected. I had also briefly considered the Volkswagen Touran.
With parallel importers in the picture, there are quite a few more choices to think about. From Honda, there's the Stepwagon, and from Toyota, there's Sienta. This is the first time I would be exploring cars from parallel importers, and I'm impressed. While the cars themselves may be great, some of us may worry about the parallel importer companies. A significant problem is that you typically cannot test drive cars from parallel importers. Not being able to test drive a car, before you buy it, seems like a hurdle.
Parallel importers sometimes also bring in the same make/models that the authorised distributors sell. The Honda Jade RS, for example, can be gotten over $10K cheaper than from Kah Motor. Other times, parallel importers may sell a Japan-made version of what the authorised dealer brings in from Indonesia, Thailand or China.
In terms of use case, my requirements have not changed from eight years ago. It was more of an anticipated use case eight years ago, but today, that use case is a real, hard, requirement. I need to carry 4 to 5 passengers regularly, including three children. That basically limits my choices to MPVs, or MPV-type vehicles.
I had wished to consider hybrid vehicles, or even all-electric vehicles. I had thought that Singapore might be ready for all-electric vehicles in a year or two, but that seems unlikely. Even today, hybrids are still not sufficiently cost-competitive. Sure, it would be nice to save the earth and all that, but ultimately, money talks bigger.
Speaking of costs, the total cost of ownership is becoming a more significant concern, and a bigger priority, for me. The price of a brand new car now is very high, compared with what I paid for my current car. In fact, in the same price category, a new car now costs more than what I've ever paid for any of my previous cars. Owning a car is a big expense, so more than ever, it is important to keep total costs as low as possible.
I'll like to dream about Teslas, even though they don't have a MPV, but it'll still be a conventionally powered petrol-engine vehicle this time around. Hopefully the next time an all-electric vehicle would be a realistic, cost-effective, option.