I've been looking at cars of late, and one of those that I've been considering is the Toyota Sienta compact MPV. The Sienta has been in Singapore for some time, available only through parallel importers. This includes to recent 2015 refresh model, which looks a lot more modern than the prior Sienta designs.
It's been speculated for some time that Borneo Motors, Toyota's authorised dealer in Singapore, will bring in the Sienta. It turns out that it will indeed happen. Some car forum members reported seeing new Toyota Sientas with Borneo Motors in the last week, and yesterday, there was confirmation in a Straits Times report.
The look of Toyota Sientas, admittedly, takes some getting used to. My first impression was that, oh dear, it's so ugly. The front has the look of a bull dog. But Toyota says the design is supposed to resemble a trekking shoe, or at least inspired by a trekking shoe. Perhaps it is. After you stare at it for a few hours, the design might begin to look a bit more appealing. The Sienta's most recognisable and distinct Air Yellow colour might look too loud and boisterous initially, but you might eventually appreciate its boldness.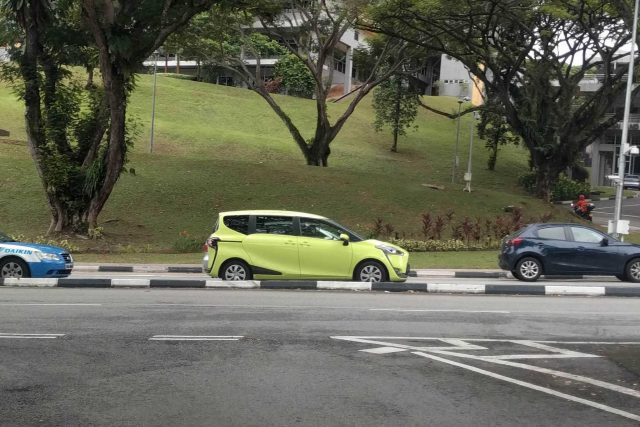 The Toyota Wish is at the end of its road. It seems the Borneo Motors will replace the Wish with the Sienta. Even though many people who consider the Wish might also consider the Sienta, the two cars aren't quite the same. The Sienta has a slightly smaller body and a smaller 1.5-litre engine with noticeably lesser power. (Borneo Motors also sells the Toyota Avanza, another compact MPV with a 1.5-litre engine, but it's positioned as more entry-level than the Wish, and the Sienta that will replace it.)
Borneo Motor's Sienta will reportedly come from Indonesia. This is different from Sientas sold by parallel importers, which come from Japan. Some people might mind the difference, as Japanese made and assembled cars are usually reputed to be of better quality. The Indonesian assembled Sientas use a slightly different engine from the Japanese Sientas. A bonus with the Indonesian Sientas is that they have rear-seat air-conditioner blowers.
Today, Sientas are selling well with parallel importers, but you might not notice many of them around. Once the Toyota authorised dealer puts Sientas on the roads, we can expect the car to be a much more common sight in Singapore.
I'll have a review of the Toyota Sienta coming up soon. Watch my blog if you're interested!