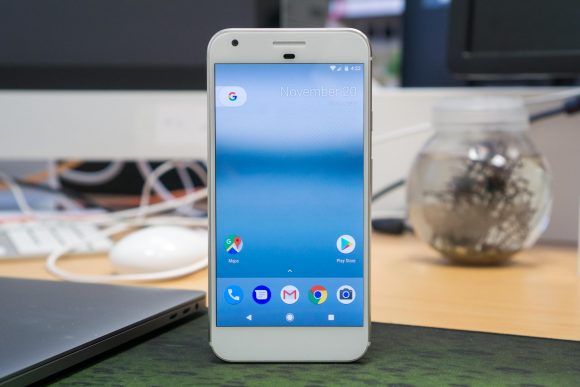 Google's Nexus line of smartphones have a loyal following of fans. These are users who love the pure Android experience. After partnering with hardware manufacturers to build Nexus devices for years, Google has ended the program. But fans have reason to rejoice. This year, Google has stepped up to unveil their own smartphones, the Pixel and Pixel XL.
When Google announced the Pixel smartphones on October 4, they were clear that these devices are different. They are all made by Google, both software and hardware. The smartphones are actually built by HTC, but there's no mention of it at any time during Google's Pixel launch event, nor do you find it anywhere on their website, and not even anywhere on the phone or packaging.
In fact, HTC's role in the Pixel smartphones is just that of a contract manufacturer, not different from how Foxconn actually makes Apple's iPhones. For the first time, this is truly a phone that is all Google's.
This may be Google's first smartphone, but years of experience with the Nexus program means they're no stranger to the business. The Pixel smartphones won't significantly impact the market currently dominated by Apple and Samsung, but it is an opportunity for Google to show the world where they want to go with Android.
For their first smartphones, Google has apparently chosen to be rather conservative with their design. Some people have described it as looking very much like an iPhone, except that it's missing a home button. (Some will quip that the home button has been simply moved to the back.) I'm all good with understated elegance, since a phone is to be used and not just to be looked at. The Pixel smartphones, however, are really just conventional looking, bordering on boring.
This review is about the Pixel XL, which is the larger version with a 5.5-inch display. The good thing with the Pixel smartphones is that both the Pixel sans-XL and Pixel XL are identical in every way, spec-wise, except for the display size and resolution, and the battery capacity. So if you're one to prefer a smaller phone, you don't have to live with downgraded specs.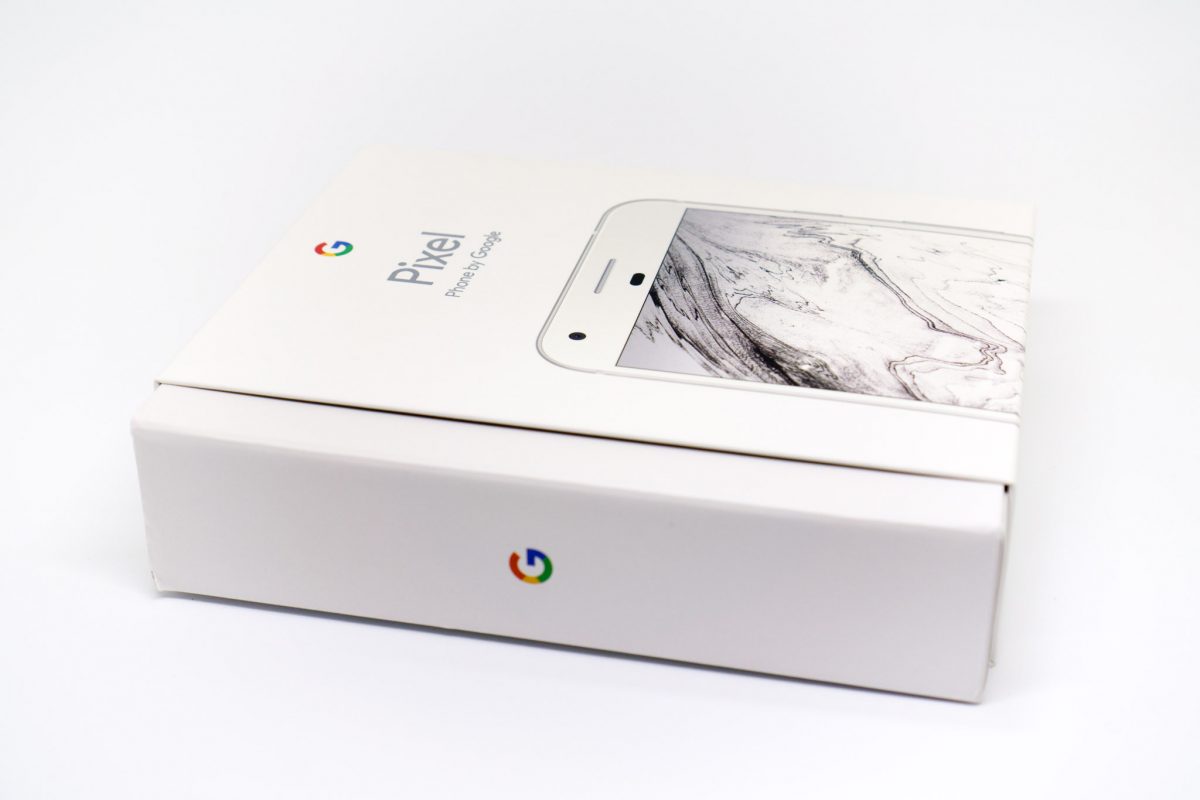 So similar the two smartphones are that the packaging doesn't quite make a distinction between the two sizes. It just says "Pixel", even if a Pixel XL is contained within. Oh, of course, the labelling will show the details.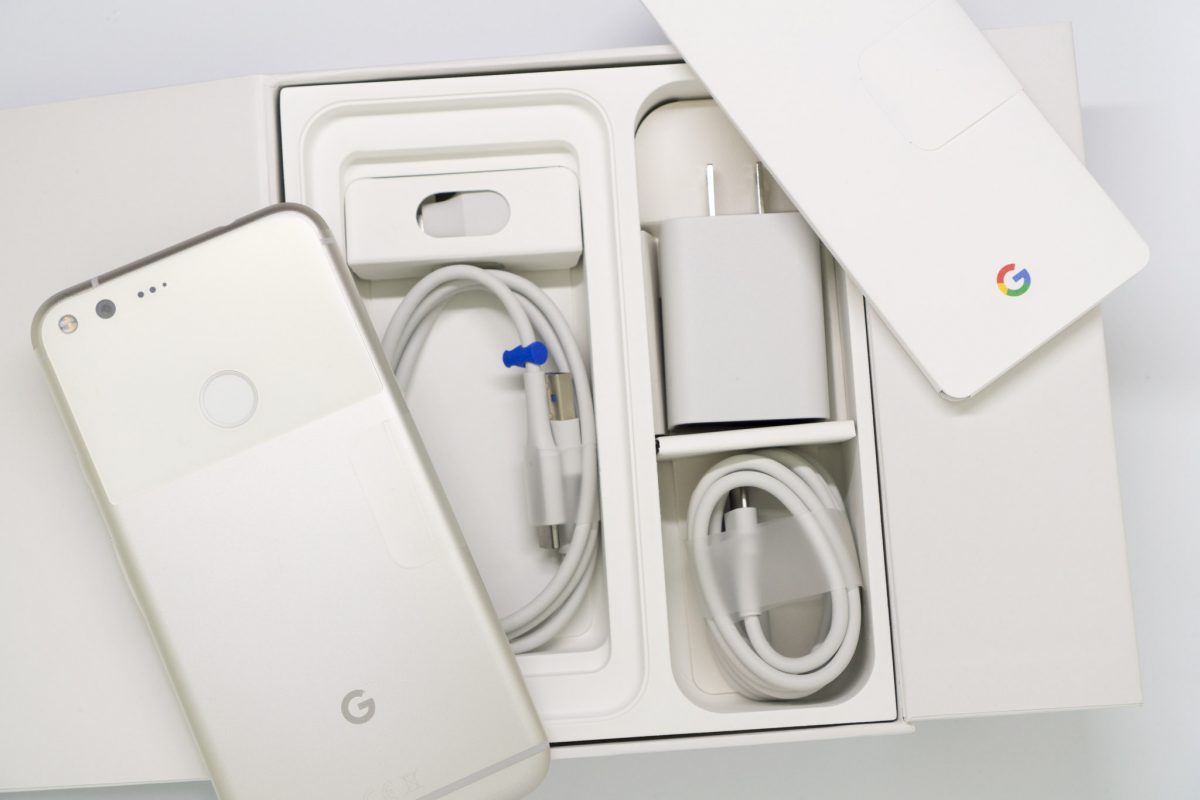 Opening up the box reveals a neat arrangement of all its contents. Nothing fancy. Except, I noted, that the packaging wasn't perfect. First, the exterior surface of the box appears to have some friction marks. Perhaps they had been very roughly handed during packing in the factory.
Then, if I may fuss, there was some remnants of fibres, likelyya from cardboard material, trapped under the plastic wrap that protected the Pixel XL.
This is the Very Silver coloured Pixel XL. Other colour options are Quite Black and Very Blue, though the latter is only available from Verizon in the U.S., at least for now.
Inside the box, the Google Pixel XL comes included with a 18W USB-C charger, a USB-C to USB-C cable, a USB-C to USB Type-A standard cable, a SIM tool, and a USB-C to USB Type-A Female OTG dongle.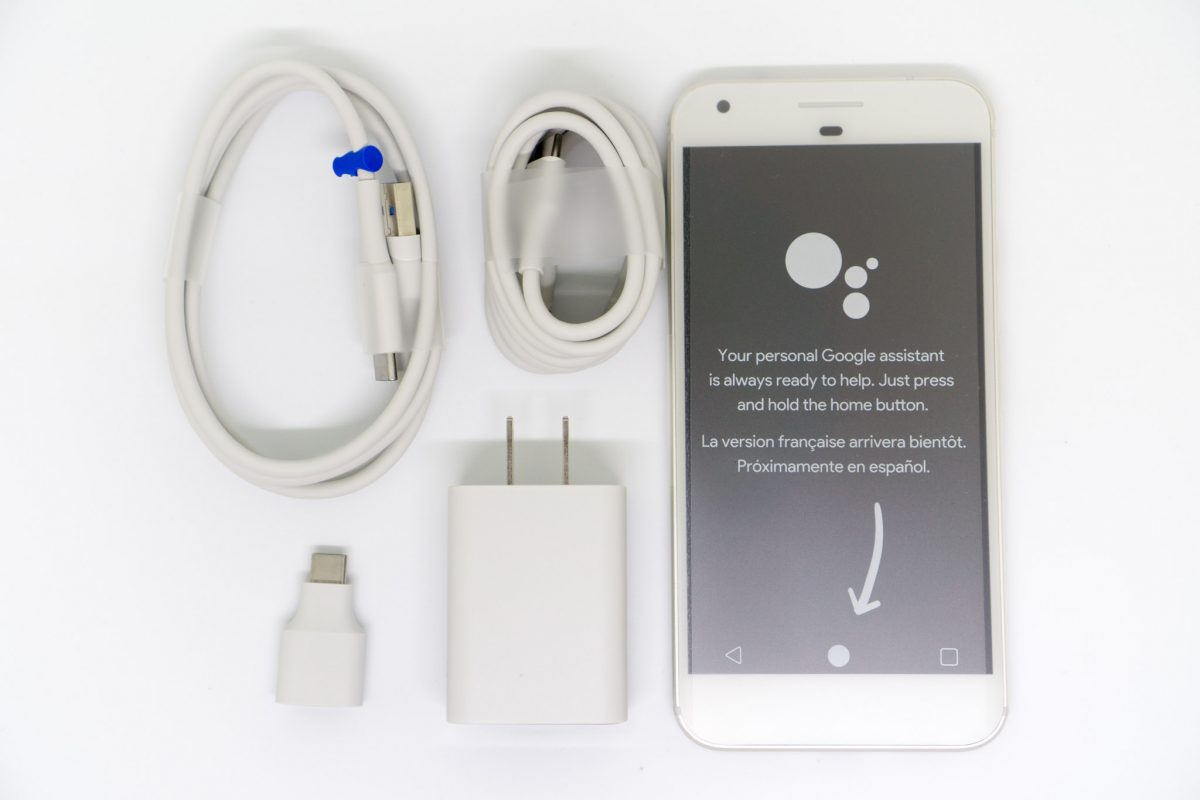 That last item, the USB-C to USB Type-A OTG dongle, is an interesting tool. Google calls this the Quick Switch Adapter, and they've included it so that you can very easily transfer data from your existing phone to the new Pixel XL. This transfer is supported with any iOS device running iOS 8 and up, as well as most Android devices running Android 5.0 Lollipop and up. Transferring from other Android devices is already quite easy, so perhaps the main benefit with this Quick Switch Adapter is for iPhone users to migrate to the Pixel XL.
That OTG dongle, of course, can otherwise be used for other purposes too, including plugging in your regular USB flash drive.
The Pixel XL's design is rather unadventurous. The front face is simply a slab of glass with the 5.5-inch screen under it. No other distractions, except that with a white coloured face, you can see where the speaker, 8MP camera and other sensors are. This is the nice part.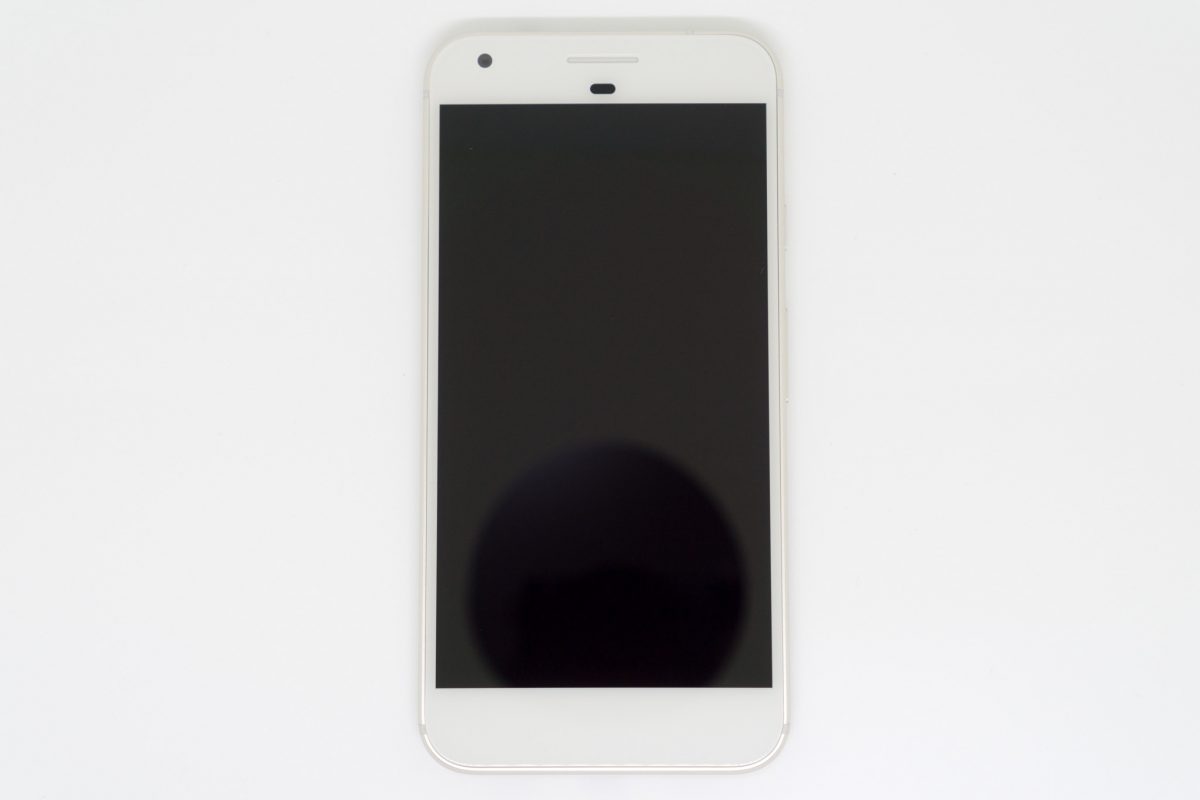 The part that's not so nice is the immensely large bezels. The chin, in particular, is a huge expanse of nothingless. It's even larger than the top bezel! The Nexus 6P might have huge bezels too, but at least it had a pair stereo speakers in the top and bottom space.
On the bright side, the extra space means that the bottom of the screen, where the Android soft buttons are located, are slightly easier to reach with your thumb. Also, the screen-to-body ratio at 71.2% is stil better than the iPhone 7 Plus.
The left side of the phone contains a lone slot for the SIM card tray. It takes in only one SIM card, and it is of a nano SIM type. The single SIM is not surprising, since all the previous Nexus phones have all been of the single SIM variety. It would have been nice to support dual SIM though.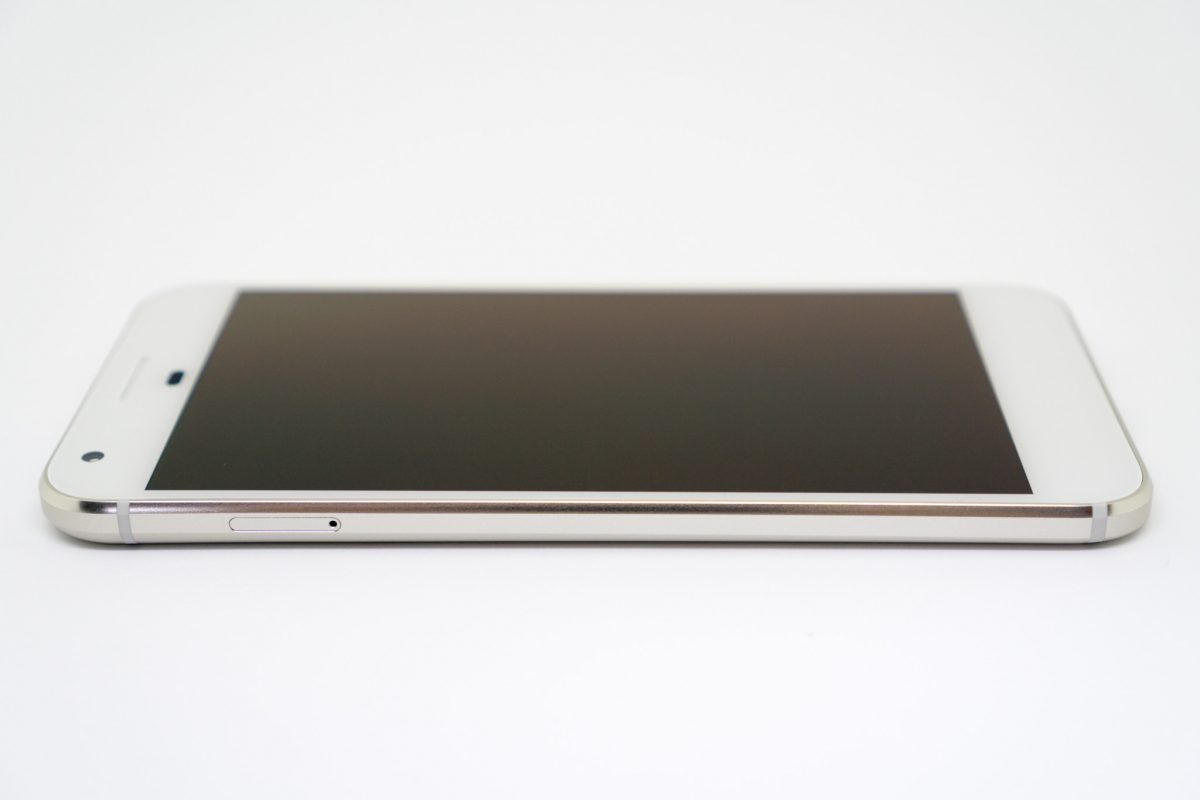 There's no support for microSD cards, in case you were wondering. I don't particularly miss that myself, and I tend to agree that just having a single type of storage makes using it a lot less complicated for users.
You'll notice from the side view that the Pixel XL is slightly wedge-shaped. The bottom is thinner, measuring just 7.3mm, but that increases up to 8.5mm at the top part where the camera is located. There's no camera bulge on the Pixel XL, because that's been hidden by the wedged design.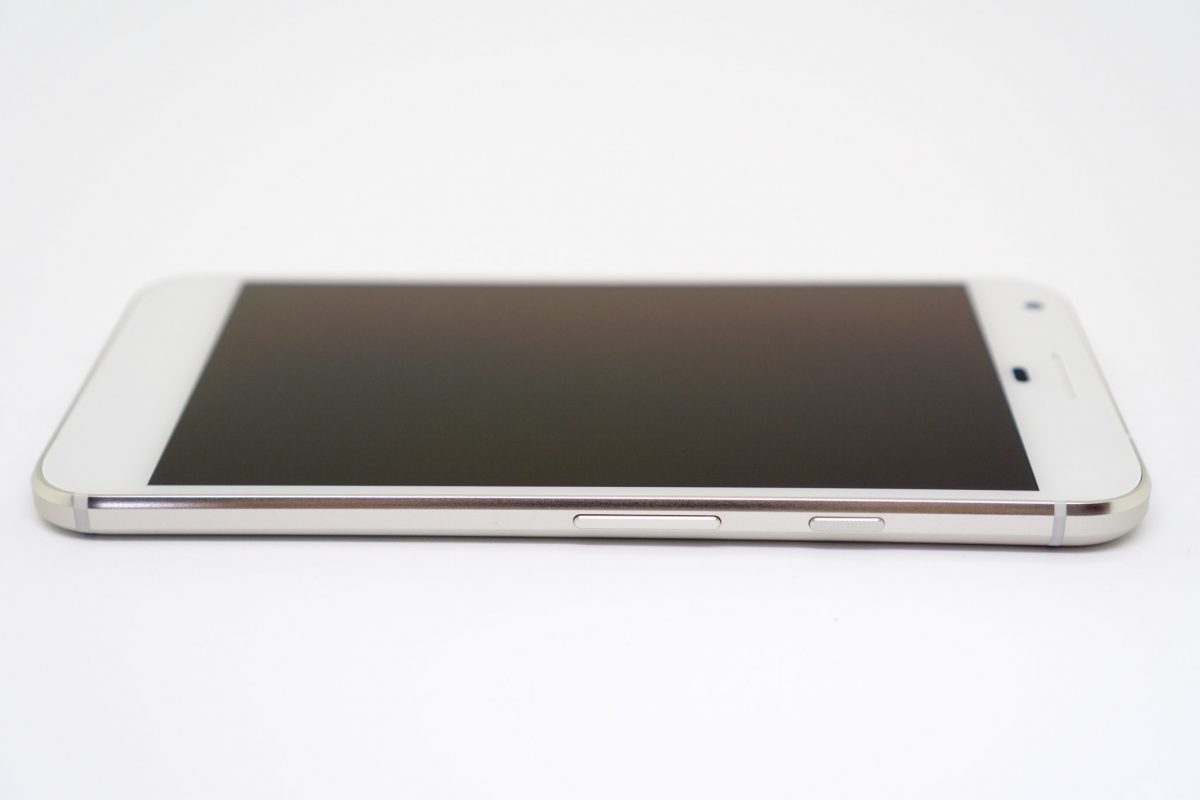 On the Pixel XL's right side, there's the usual power button and volume rocker. Both buttons are really well made. The power button has a textured surface so it's easy to feel which button is under your finger. I do find the Pixel XL's power button hard to press, in perhaps a good way. It's a rather stiff button that puts up quite a bit more resistance than I'm used to on other phones. Double-clicking, for example, to invoke the camera shortcut does take more effort to make sure I've applied enough force.
The good thing, though, is that this stiff button is very, very, much less prone to accidental power button presses. It has happened all too many times I held my phone too tightly and was unknowingly pressing on the power button. The long persistent press results in a forced shutdown of the phone (or reboot).
Down on the bottom of the Pixel XL, there's a USB-C (USB Type-C) port flanked on both sides by ports that look like stereo speakers. Well, unfortunately, only the left one is the speaker, and it's a mono one. The right port, designed in exactly the same look to achieve a balanced look, houses a microphone.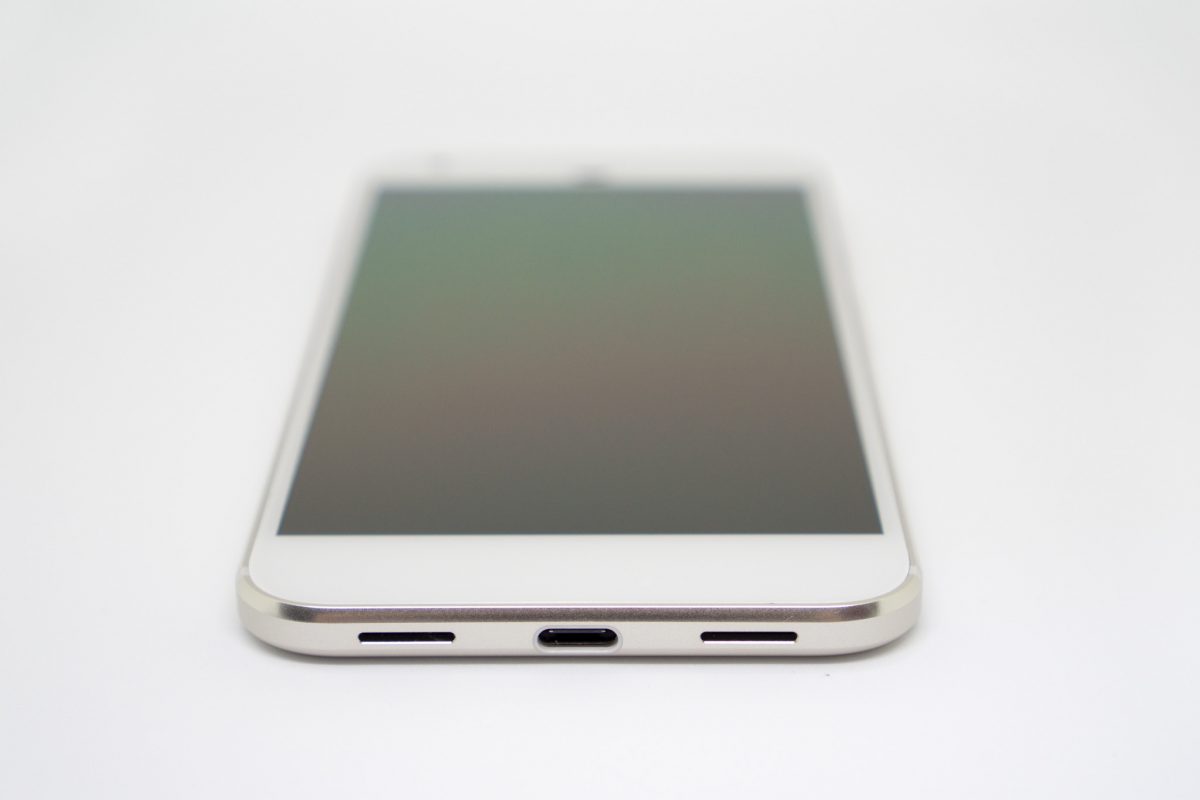 Last year, USB-C might have been considered forward-thinking but perhaps a bit premature. Nexus 5X and 6P weren't the first smartphones with USB-C, but I'm sure many of their owners found the new port somewhat inconvenient.
There are clearly more USB-C devices around now, but if you haven't jumped onto USB-C, then you'll still find the new port rather inconveneint. It's just a matter of when you come onboard.
The top of the Pixel XL has an important feature Google made sure everyone knows about. There's a 3.5mm headphone port. Horay.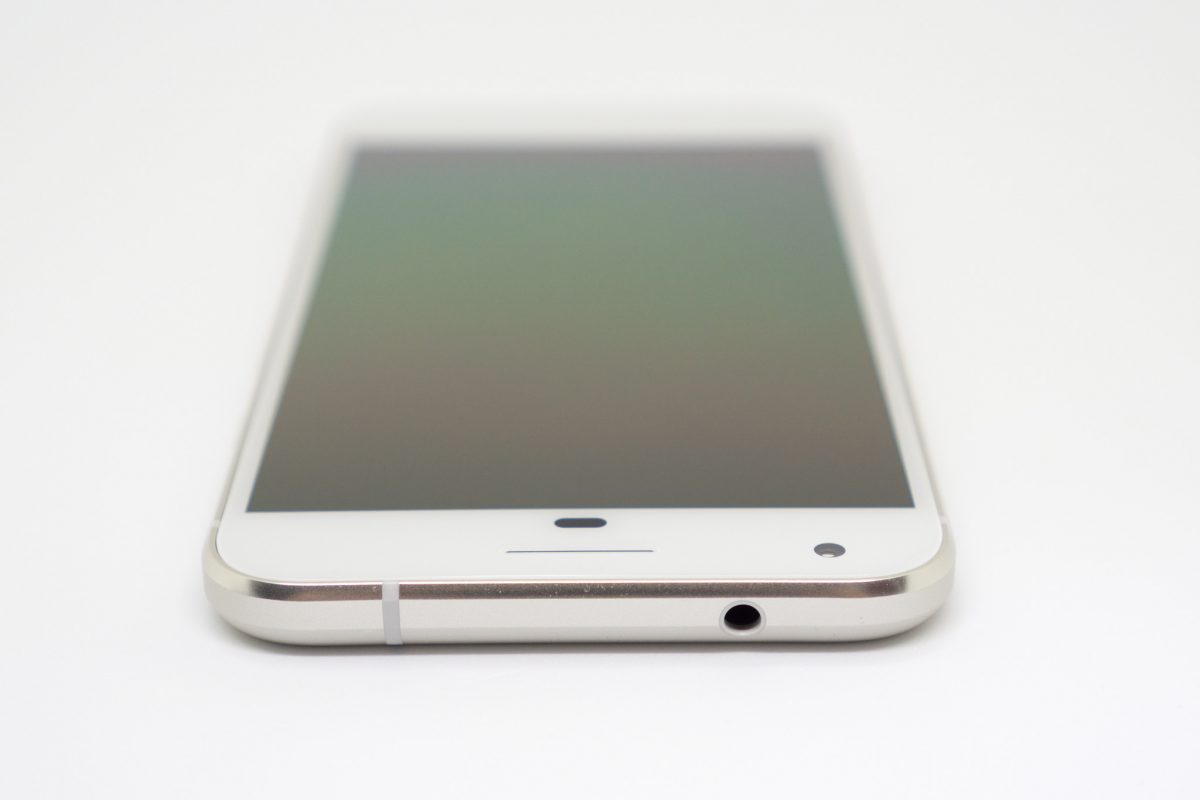 Around the back is where the Pixel XL starts to get interesting. That somewhat uninteresting design of the Pixel XL finally has some style here that makes the device identifiable. Two-thirds of the back is made of aluminium, like the rest of the frame. The top third, however, is glass. It's white, like the front, on the Very Silver coloured Pixel XL. The Quite Black and Really Blue coloured devices have clearly differentiated tones too, so you can easily see the two parts.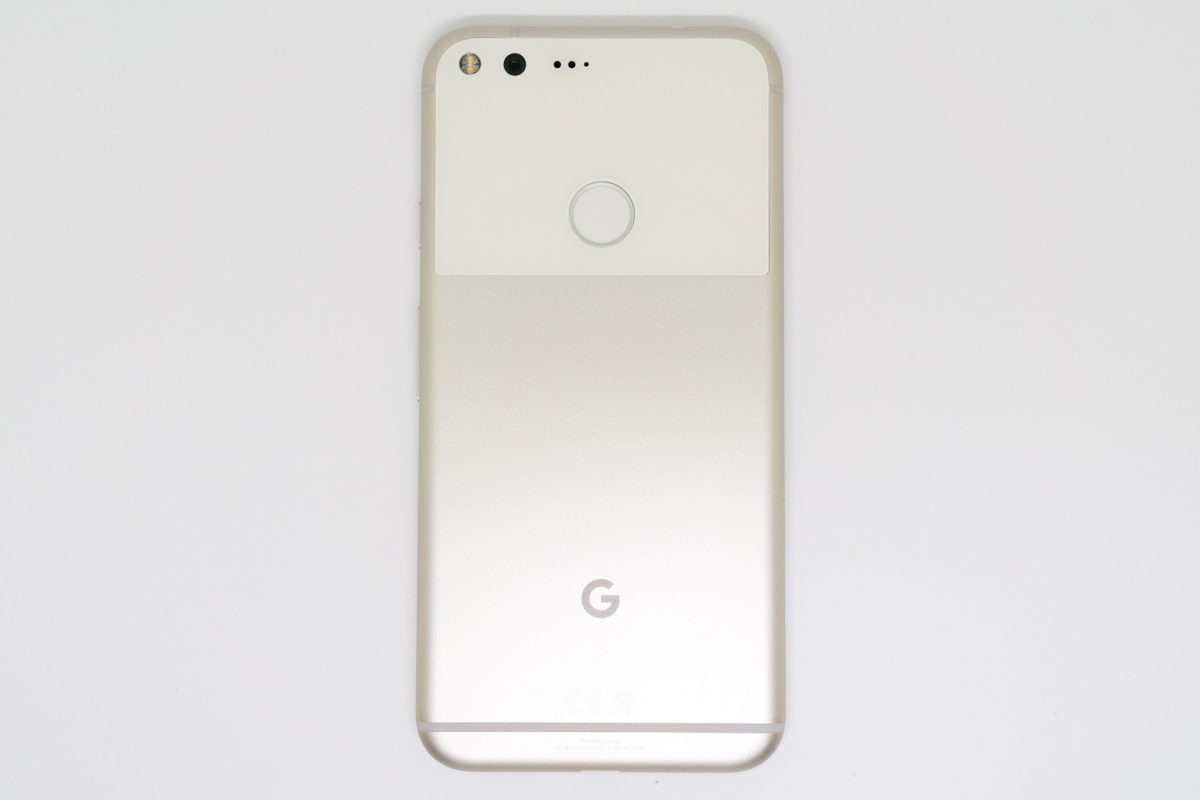 Set on the glass part is the fingerprint sensor, not unlike the one found on the Nexus 5X and 6P, but now called Pixel Imprint. At the top, there's a two-tone LED flash, a 12.3MP camera, phase detection and laser autofocus sensors, and another microphone.
There is no camera bump at all. The wedge shaped design takes care of that. They simply covered the bump with a gentle sloping design. Now, the slope might not be terribly obvious if you're not looking for it, but it does make the phone rather thick at the top end at 8.5mm. I would rather have had the Nexus 6P style visor.
This smartphone is all made by Google. On Nexus devices, the hardware partner gets to put their brand somewhere on the phone, and that's typically on the back in small print. With the Pixel XL, that small print says "Phone by Google". It does also say "Made in Taiwan".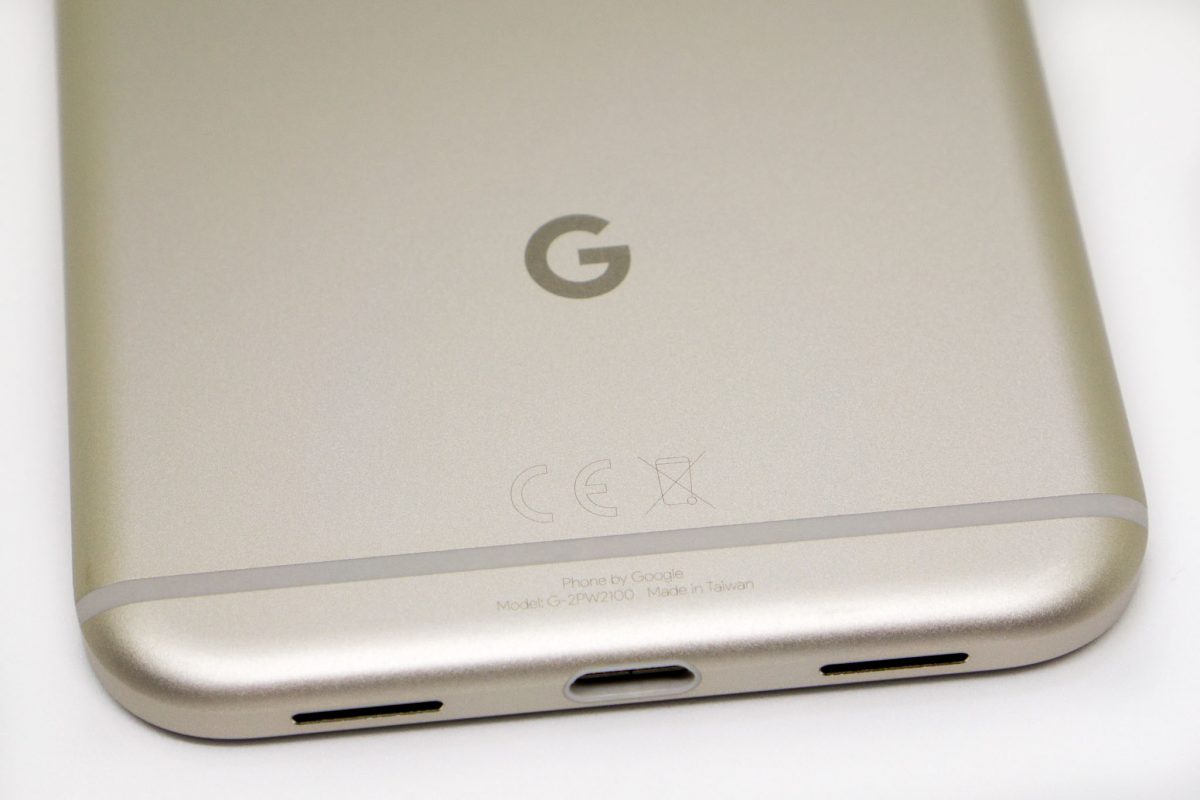 The Pixel XL feels like a really good, solid phone. I hesitate to call anything flawless, but there's nothing at all to complain about the build of this device. The metal finishing, the cutouts, and the edges, they are all immaculate. Buttons are firm and rigid. This looks just like a premium flagship device from a market leading manufacturer, be it Samsung or Apple. In fact, by just looking at the front, you might think the Pixel XL is the upcoming iPhone 8, which is rumoured to be doing away with the home button.
One thing that is notably lacking, and which I'm disappointed, is IP67 (or better) rating. Even Apple's iPhones have started to boast water-resistance this year. The Pixel XL isn't designed to be taken for a swim.
The Pixel XL's front is covered by Corning Gorilla Glass 4, which has a slight, subtle 2.5D curve. The display under the glass is really beautiful. It's a 5.5-inch AMOLED display with 1440 x 2560 pixels, translating to about 534 ppi pixel density. Being AMOLED, the display produces vivid colours with deep blacks. It can get quite bright too, so it's easier to see the display outdoors.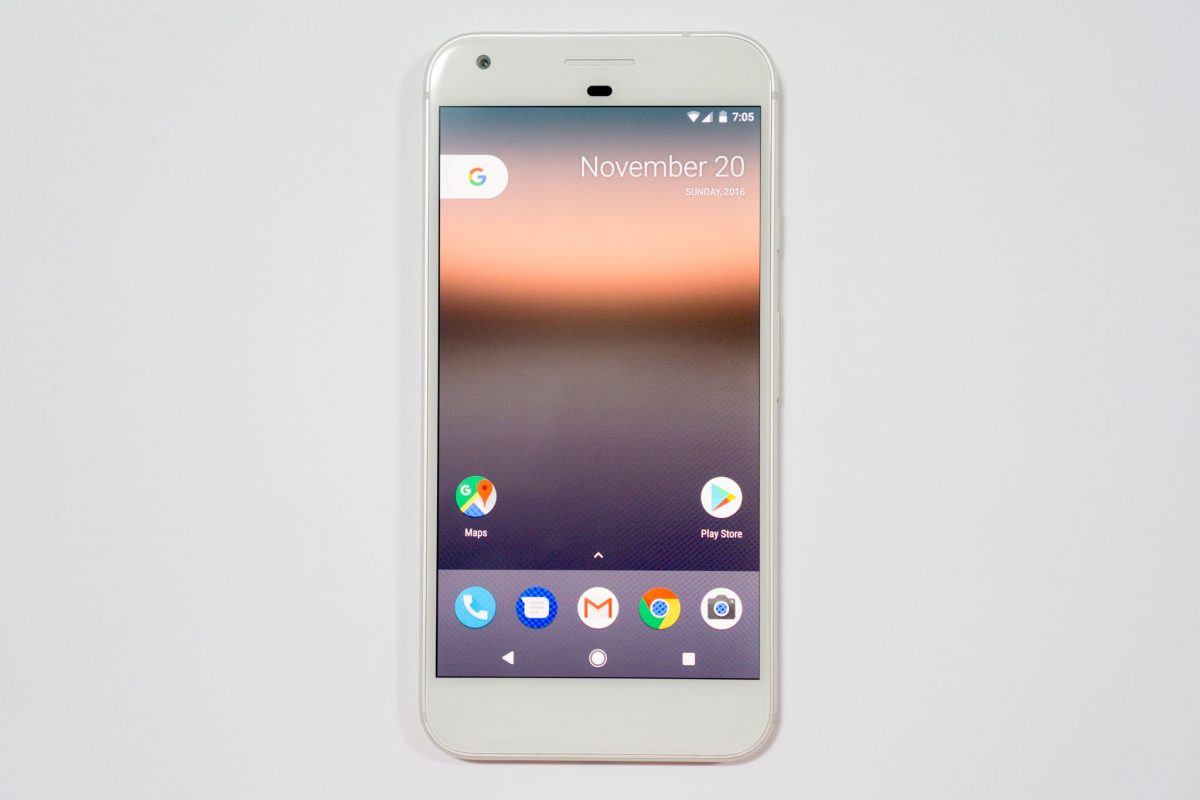 The high pixel density of the AMOLED display makes it well suited for VR. The Pixel XL will be the first (along with the 5-inch Pixel) to support Google's Daydream View VR headset. The larger screen and higher resolution will provide a more immersive, vivid and rich VR experience.
Under the hood, the Pixel XL is powered by Qualcomm's Snapdragon 821 processor. This is an improved version of the Snapdragon 820, which is found in many of this year's flahship smartphones, that draws slightly less power and can be clocked at a slightly higher speed for better performance. Paired with 4GB of RAM, the Pixel XL has plenty of compute capacity.
Google offers two storage capacities with the Pixel XL, 32GB and 128GB. The 32GB is alright, but if you take lots of photos, or more than the occasional videos, that space might be just too tight. 128GB certainly provides a lot more breathing room for anything you even want stored in your mobile.
If that space is still insufficient, Google offers free unlimited photo and video storage in Google Photo cloud. This is unlimited original quality, uncompressed, photos and videos, including 4K videos! This applies to all Pixel smartphones. For non-Pixel devices, the Google Photo unlimited storage applies only to compressed photos. This special deal for the Pixel smartphones could be worth a part of the premium Google charges on the devices.
While on the topic of photos, this might be the time to talk about the camera. Google was very proud to announce that the Pixel XL has the best smartphone camera ever. This isn't just them saying, this is all according to DxOMark, which gave the Pixel XL camera a DxOMark Mobile score of 89.
I won't write a camera review for now, so I'll recommend you read this TechCrunch Pixel camera review. They have more cameras to test against to give a better comparative review.
The Pixel XL's main rear camera is 12.3MP, which is relatively low, but allows for much larger 1.55µm pixel size on the 1/2.3″ sensor. The f/2.0 lens might not be the fastest, and there's still no OIS, which is a bit of a letdown. However, very fast phase detection and laster autofocus enables you to take shots literally instantly with zero lag. I mean, iPhone-esque zero lag.
I should also mention the camera applies HDR+ processing automatically if needed. You can turn it off, but it is always on by default whenever you launch the camera app. HDR+ processing will take up time, but it happens in the background, so it won't slow down your shooting. In fact, the Pixel XL still captures the shot just as quickly, HDR+ on or not.
For video shooting, the Pixel XL supports 4K video, and it cleverly uses gyro-based EIS to stabilise footage. The result of the Pixel XL's EIS is quite impressive. By default the camera app uses 1080p video, and you need to switch to 4K resolution in the settings.
I can expect that Pixel XL users are going to find themselves shooting more photos and videos than ever. Good thing Google offers unlimited storage.
The front-facing camera has a 8MP sensor with f/2.4 aperture and 1/3.2″ sensor size. This is a perfectly functional camera that won't disappoint.
It's more of the camera app that I have complaints about. It's basic, which for most purposes is fine with me. But I wished it had a few extra features like, for example, the now very ubiquitous face detection focus. There are third party apps that provide far more features, like Open Camera, but I'd expect more from Google.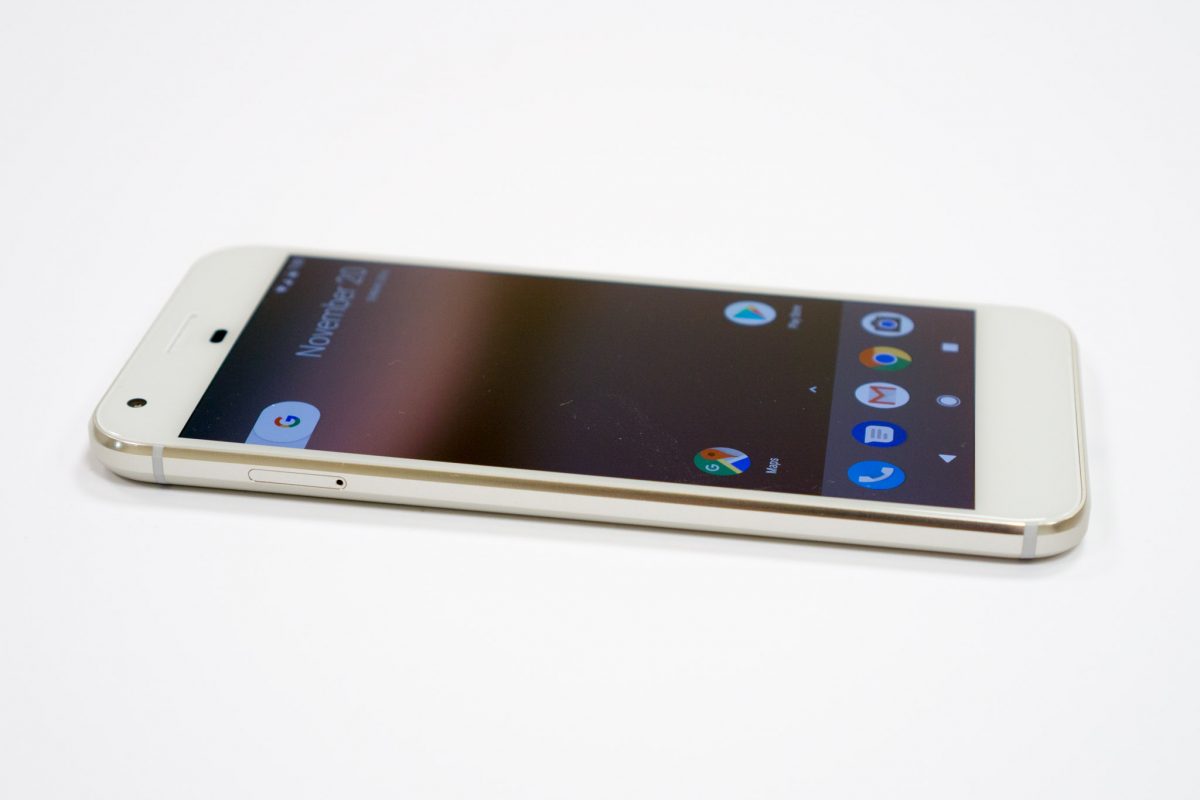 The Pixel XL comes with Google's latest Android operating system, which is now version 7.1 Nougat. For the most part, this is another incremental, evolutionary, upgrade to Android.
But the star this year, according to Google, and available only on Pixel smartphones at least initially, is the new Google Assistant. This is Google's new voice-activated virtual assistant much like Apple's Siri and Microsoft's Cortana.
Oh wait, it's that Google Now? Well, sort of. But no, it's separate, at least for now, because it does seem to make sense that Google Now and Google Assistant really ought to be the same thing. Google Now works within the Google app on Android and iOS, whereas Google Assistant exists in Google's new Allow chat app and integrated into a few Google devices such as Google Home and the Pixel smartphones.
In essence, Google Assistant is like the new improved version of Google Now. They seem to do pretty much the same things, but Google Assistant understands context better, so you can speak to it in a more natural conversational style. CNET has a post to talk about them.
Google Assistant works. But it is still some ways from the likes of Jarvis. There's hope though.
Elsewhere on the Pixel XL, the home screen is now served up by a new launcher. The Search bar is replaced by rounded tab. Icons are now round. There's no button for app drawer. The app drawer is now pulled up by swiping up from near the bottom of the screen. Now the slot in the tool bar that was occupied by the app drawer button is freed up to put some other app shortcut.
The interface has been tweaked, but it's pretty much the same familiar Android, polished over another round. If you're a fan of the pure Android experience, you'll like this.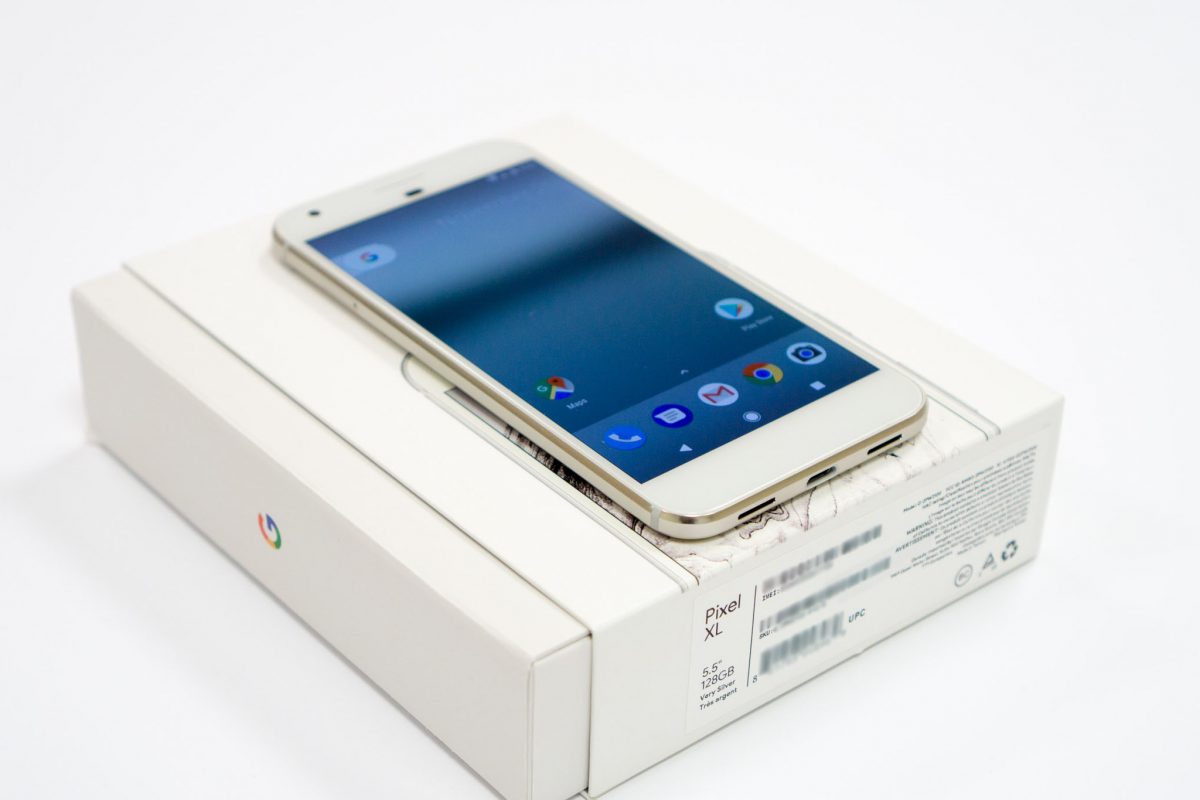 For their first smartphone, even for Google, the Pixel XL is a remarkable accomplishment. But the fact is that they have significant experience from their Nexus programme, and they know, certainly, that there will be very high expectations to compare with current market flagships. For the very premium price that Google is asking, the Pixel XL is lacking a few important features. I can live without second SIM and microSD support. But it is disappointing not to get IP67 rating.
However, there is no other smartphone that comes close to this unadulterated Android experience. The Pixel XL gives you the best that Android has to offer. The camera is truly amazing. You get 24/7 live support, unlimited Google Photos, and a bunch of other niceties.
Conclusion
The Pixel XL, along with the smaller Pixel, is Google's first ever smartphone all made by themselves, a truly remarkable accomplishment. It is really very well built, and boasts many impressive features, particularly with its excellent camera speed and quality.
Pros:
Excellently built
Amazing camera
The best Android experience
Bright, gorgeous, display
Cons:
No IP67 water-resistance
Peculiar wedge shaped design
No OIS