I don't often review business notebooks. When Dell recently announced their 14 and 15 5000, and 14 and 15 3000 notebooks, I thought it'll be interesting to take a peek into some notebooks that are designed primarily for business users. For this review, I have the Vostro 14 5000 (model 5468), a notebook that packs modern and sleek design, powerful performance and security for small-medium business owners and professionals.
Business notebooks have a look and feel that's different from consumer notebooks designed for personal and home use. The Dell Vostro 14 5000 certainly looks its part as a business notebook. The silver-coloured notebook has a simple functional design. It packs quite some powerful performance, yet remains reasonably light.
The wedge-shaped design of the Vostro 14 5000 allows it to feel a little slimmer, at least at the front, than it actually is. Overall, the notebook isn't exactly a slim notebook. The good thing, though, is that it comes with a reasonably good repertoire of ports.
The left side has the DC power input port, a RJ45 Ethernet port, HDMI port, 2x USB 3.0 ports, and a headphone port. On the right, there's a SD card slot, another USB 3.0 port, a VGA port and a kensington lock slot.
The VGA port is particularly useful. It is still the most universally used connector for projectors, and you know for business people, being able to make presentations by projecting directly from their notebook is really important. When you're about to make a business presentation, I'm sure the last thing you want is to be hampered by display connection issues.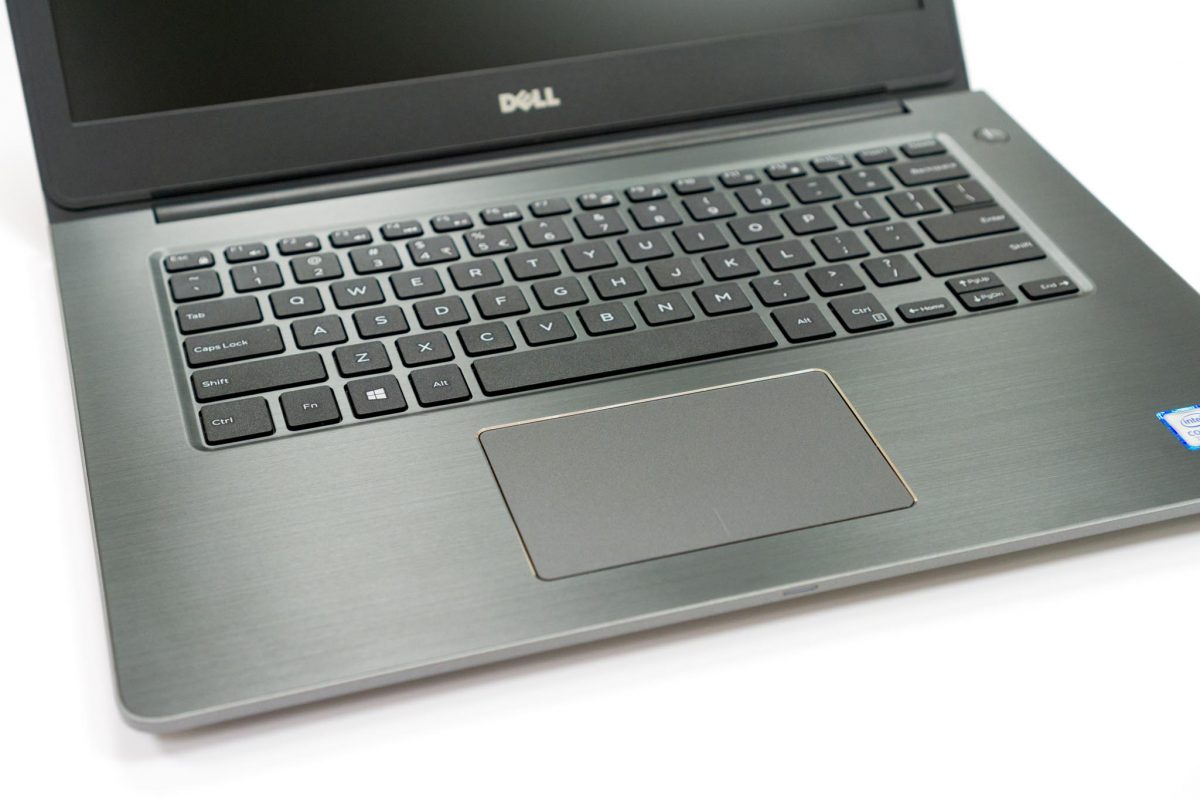 The keyboard on the Vostro 14 5000 is comfortable and spacious. The keys have a good amount of travel, so you shouldn't have trouble typing long emails and documents on this notebook.
While many notebooks go for a smooth finish on the trackpad, the Vostro 14 5000 has a matt finish one with some texture on it. It's not something I terribly fancy. It's functional though, and although it would be better to be larger, since there's a lot of empty space around it on the palm rest, it isn't small either.
The screen, unfortunately, isn't terribly stellar. The 1366×768 resolution is underwhelming by today's standard. There's no touch screen capability either.
Where the Vostro 14 5000 shines better is under the hood, but even then it's a bit mixed. The good part is the really powerful 7th generation Intel Core i7-7500 CPU clocked at 2.9 GHz. This is some serious compute power for a notebook. To add on, the integrated Intel HD Graphics 620 is complemented by NVIDIA GeForce 940MX GPU.
The bad, though, is that the powerful processor is paired with 8 GB of RAM, and 1 TB of 5400 RPM SATA hard drive.
Apart from wired RJ45 Ethernet, the Vostro 14 5000 also has 802.11ac 1×1 Wi-Fi and Bluetooth 4.0 support.
The Dell Vostro 14 5000 sells from S$1164.
Conclusion
For business users, the Dell Vostro 14 5000 is a good, reasonably priced, functional notebook.
Pros:
Powerful processor
VGA port
Cons:
Little RAM and no SSD
Low resolution display