Fans of Marvel's Avengers probably know that the Avengers S.T.A.T.I.O.N. interactive exhibition has made its way to Singapore's Science Centre. It's refreshed and updated from the New York debut, which probably won't matter to you anyway if you haven't been there or know about that one. It's here in Singapore and it's a fun excursion for the whole family.
This exhibition is an immersive experience, one that requires you to download the AVENGERS S.T.A.T.I.O.N. MOBILE app into your smart device. Both Android and iOS are supported, and you should be sure to have the app installed before you head down to the Science Centre, as there's quite a bit of download to be done, and it might take a while.
In principle, the Avengers S.T.A.T.I.O.N. would have been a really fun experience. The exhibit itself seemed really good. The app, however, was a completely major let down. The Wi-Fi provided at the Science Centre was also ridiculously more complicated than necessary.
I went there with three kids, the four of us sharing three mobile devices: a Google Pixel XL, OPPO R9s, and Leagoo Shark 1. We encountered a variety of problems. Let me start on the Wi-Fi portion.
There are simpler ways to create an easy-to-use Wi-Fi network. I don't understand why they had to choose a method with Enterprise WPA/WPA2. That's not really a problem per se, but look at the signage above, the first one that greeted us at the entrance. It specifies a username and password, but before that, don't we need to know the SSID?
Alright, so perhaps we could cleverly assume the SSID should be STATION, which was implied in another signage further into the exhibit area. But is it not a bit complicated to have to know to about EAP methods and what Phase 2 stuff?
If I were to dutifully follow these instructions like a novice user, I will not succeed with my Google Pixel XL device. Now, first of all, you might notice it seems a bit more complicated for Android than iOS. That doesn't have to be. But never mind that, suppose I try to follow through with the extra details required for Android users, this wouldn't work with the Google Pixel XL.
The instructions won't work, basically, with modern pure Android devices. One would have been required to specify CA Certificate type, and the instructions doesn't provide any direction on what to do here.
Why wouldn't something far more straightforward be used?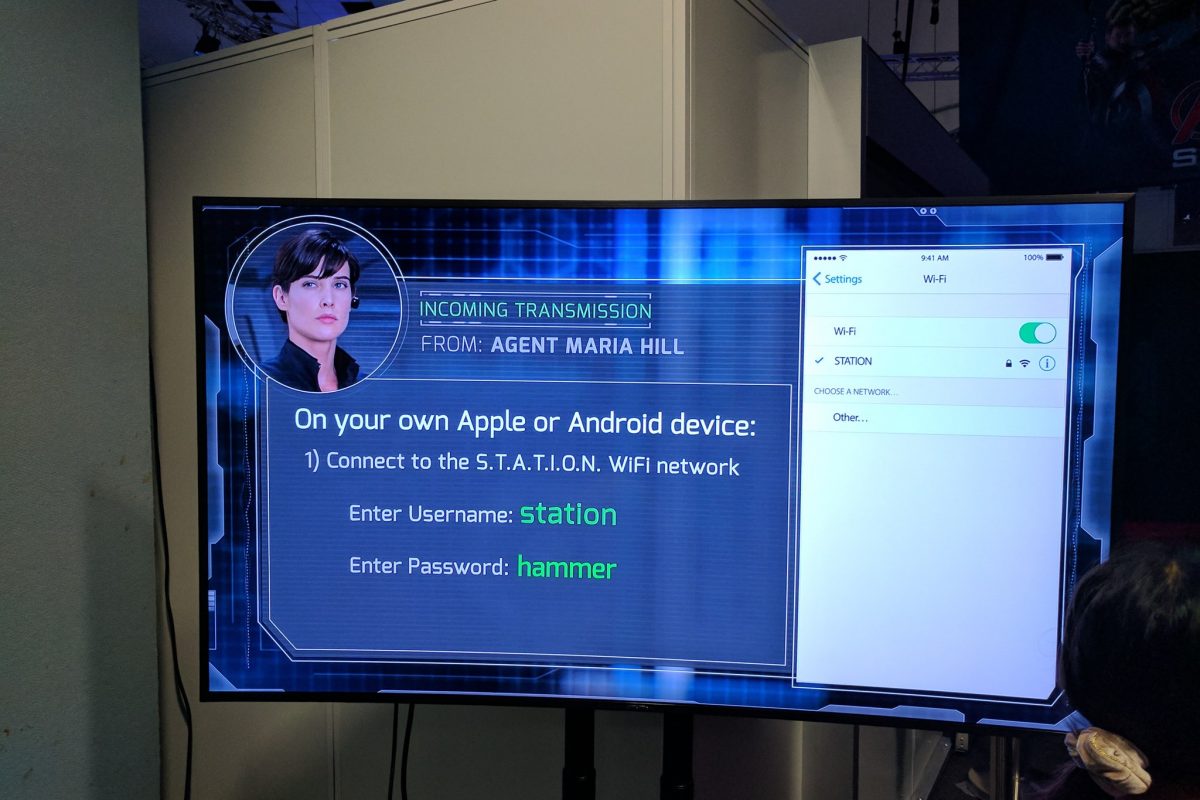 Apart from Wi-Fi, one is also required to turn on Bluetooth and Location Services (GPS). They need these to sort of figure out where you are within the exhibit, so that various parts of the app can be unlocked as you progress through the exhibit area.
That would be nice if it worked. It didn't work for my Google Pixel XL again. It sort of worked for the Leagoo Shark 1. The OPPO R9s needed some tinkering around, turning off and on Bluetooth, rebooting, etc, before it finally worked. The Pixel XL just could not work.
Well, that was until midway through the exhibit area, the Google Pixel XL suddenly found itself "located" in the very first exhibit area, the Briefing Room. How strange right? That's as far as it ever worked on the Google Pixel XL though. Everything else failed completely, all the way till we left the entire exhibit.
The Leagoo Shark 1, on the other hand, worked beautifully from the start, all the way until the final challenge in the exhibit. The site staff had some Bluetooth gadgets to help the phone sense its location, but the phone which had worked flawlessly from the beginning now failed to work. We struggled for a couple of minutes before the staff gave up and told us to just stand behind to watch the others.
This idea of having the app follow your location within the exhibit is nice. To do so automatically using Bluetooth is cool, but that's provided it works. If it doesn't, wouldn't be dead simple to just provide an alternative? E.g. you could ask visitors to scan a QR Code pasted in the area so that the app knows you have arrived in that space.
The insistence of using Bluetooth seems less than reliable.
Here's my humble tip for anyone wanting to make an app. Please don't make things over complicated. The Pokemon experience at Changi Airport just uses the web, and that works beautifully. If you don't have to make an app, please don't.
If you really do need to have an app, then at least make sure the app works on the broadest range of devices? It's extremely disappointing for visitors to turn up for a fun experience, but end up struggling with technology issues.
A side note: Don't make your Wi-Fi so complicated to setup too.
Although otherwise most things worked well at Avengers S.T.A.T.I.O.N., I've got to point out that there were other technology problems too. For example, at an interactive station where your "stamina" is tested with a sort of hand-pedalled cycling machine, two out of the three machines there were not working. While playing at the only working machine, it broke. Basically, it appears that the software had hung. There wasn't any staff around to rectify the problem, so there were no longer any working machines.
The Avengers S.T.A.T.I.O.N. should have been quite fun and engaging. Unfortunately, technology problems were a big hinderance.