You've been waiting for Amazon to come to Singapore. They already do deliver to Singapore, via their Amazon Global shipping program. But that wasn't enough. You wanted Amazon right here in Singapore. Well, that hasn't quite happened just yet, but Amazon just launched their Amazon Prime Now service in Singapore!
This seems to have come ahead of an official announcement, but the Amazon Prime Now app has become available on both the Android and iOS app stores. Just go ahead and install the Amazon Prime Now app, open it, and enter your postal code.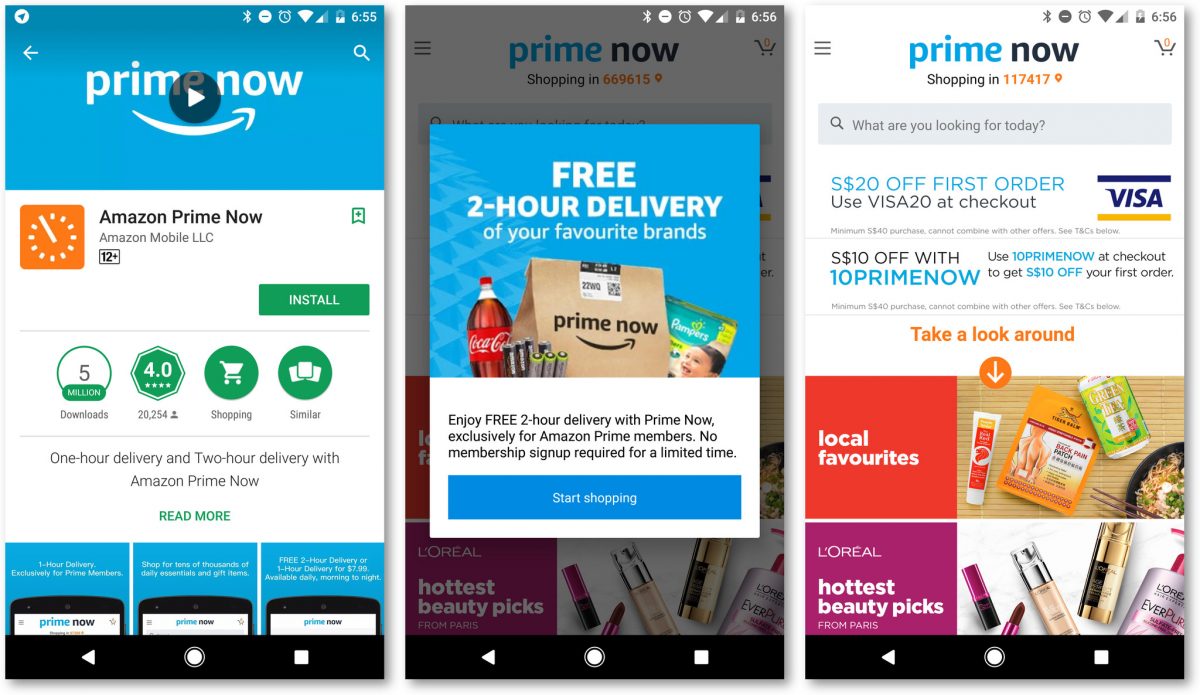 You get free 2-hour delivery on orders above S$40, or a flat fee of S$5.99 per order for orders under S$40. If you're in a hurry, 1-hour delivery is available for a flat fee of S$9.99 per order.
There is already quite a variety of category of items available on Amazon Prime Now here, including, interestingly, alcohol. Here are some of the categories listed on the app:
Amazon Basics items
Samsung electronics
Household essentials
Grocery products like dairy, rice, frozen foods, snacks, and beverages
Meat, seafood
Wine, beer and spirits
Health and beauty items
Toys
Computers, electronics and gadgets
Audio
Camera and accessories
Although there aren't a great number of items within each category, at least for the start, I'm impressed with the breadth of categories that Amazon Prime Now has covered.
Amazon Prime Now ordinarily requires an Amazon Prime membership. For a limited time now, Prime Now is available in Singapore for free without any membership needed.
There are a couple of promotions right now, like a S$20 off for VISA users.
Go start explore Amazon Prime Now, now!