This year, 2017, is truly the year that whole-home mesh Wi-Fi systems are taking flight. Many manufacturers, particularly the mainstream brands, have launched their first whole-home mesh Wi-Fi systems in the last year. TP-Link, too, revealed their Deco M5 whole-home mesh Wi-Fi system at CES this year, and they've just launched it for sale in Singapore last Saturday.
Mesh Wi-Fi systems are designed to be easy to deploy and convenient to use. Instead of getting a single powerful router and figuring out how to place it optimally, or filling out dead spots with Wi-Fi range extenders that are not-so-convenient to use, TP-Link's Deco M5 provides seamless Wi-Fi coverage throughout the whole home from multiple mesh devices.
The TP-Link Deco M5 is simple to setup and use. It comes in a bundle of three devices, so you're all set to roll out a mesh Wi-Fi network to cover your whole home. The three devices are good for up to 4,500 sq ft of coverage.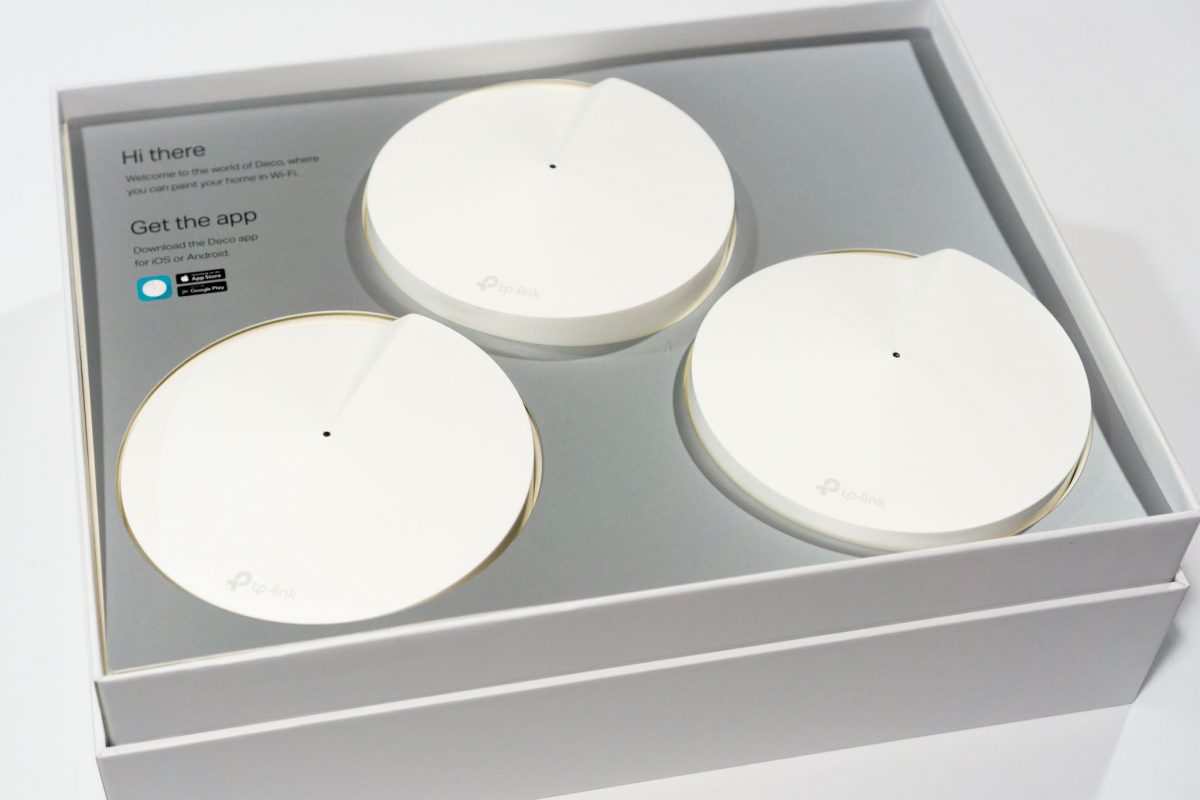 Each unit of the Deco M5 is a smallish white disc of 120 mm diameter and 38 mm height. The design is unobtrusive, and the Deco M5 easily blends into your living space.
Although you would have to designate one Deco M5 as the "main unit" that connects to your broadband, each device is actually identical to each other. Any one of them could be the primary broadband router, and in fact, you could choose to operate all three of them independently, setting up three separate networks instead of a single mesh Wi-Fi system.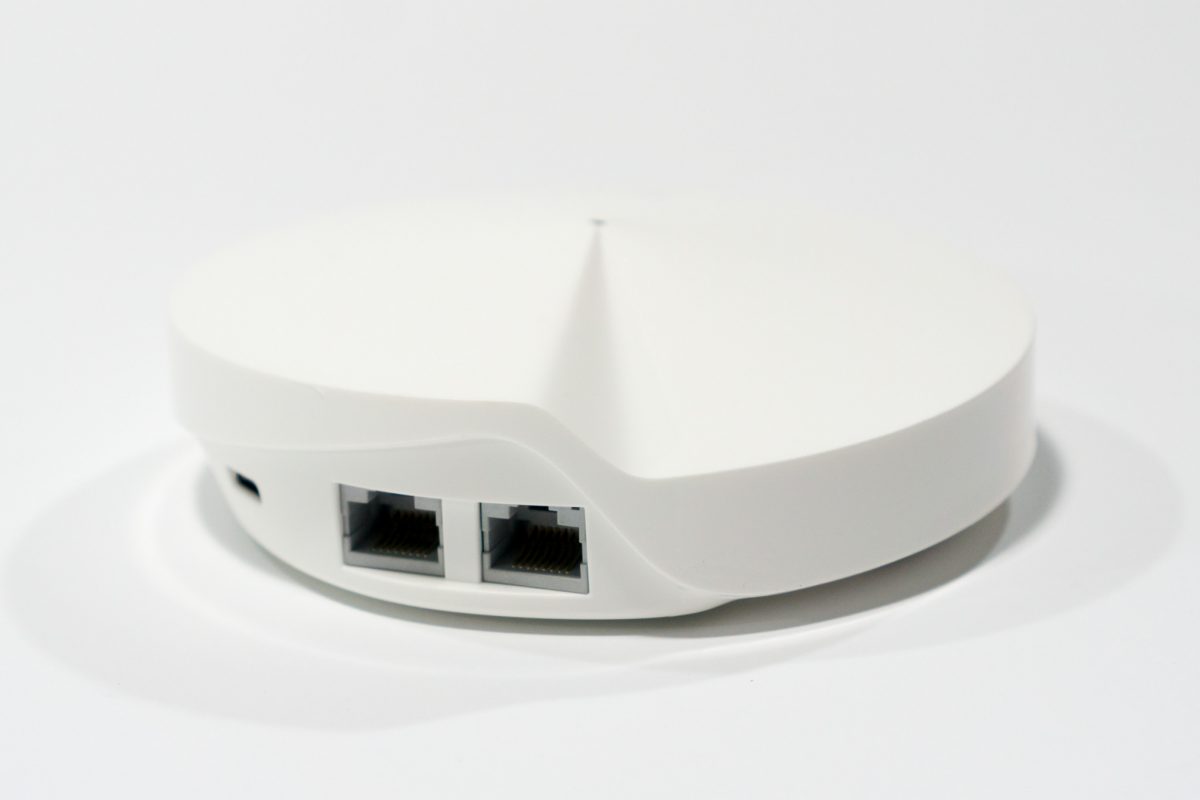 There are two Gigabit Ethernet ports on the back of the Deco M5. One of them will be used for your broadband connection, while the other (or both, on the other Deco M5 units that aren't connected to the broadband connection) can be used to either connect to a wired device such as a PC, or provide a wired backhaul connection to another Deco M5.
There's also a USB Type-C (USB-C) port to supply power to the Deco M5. TP-Link provides all the USB-C power adapters you need, and the choice to use USB-C is convenient.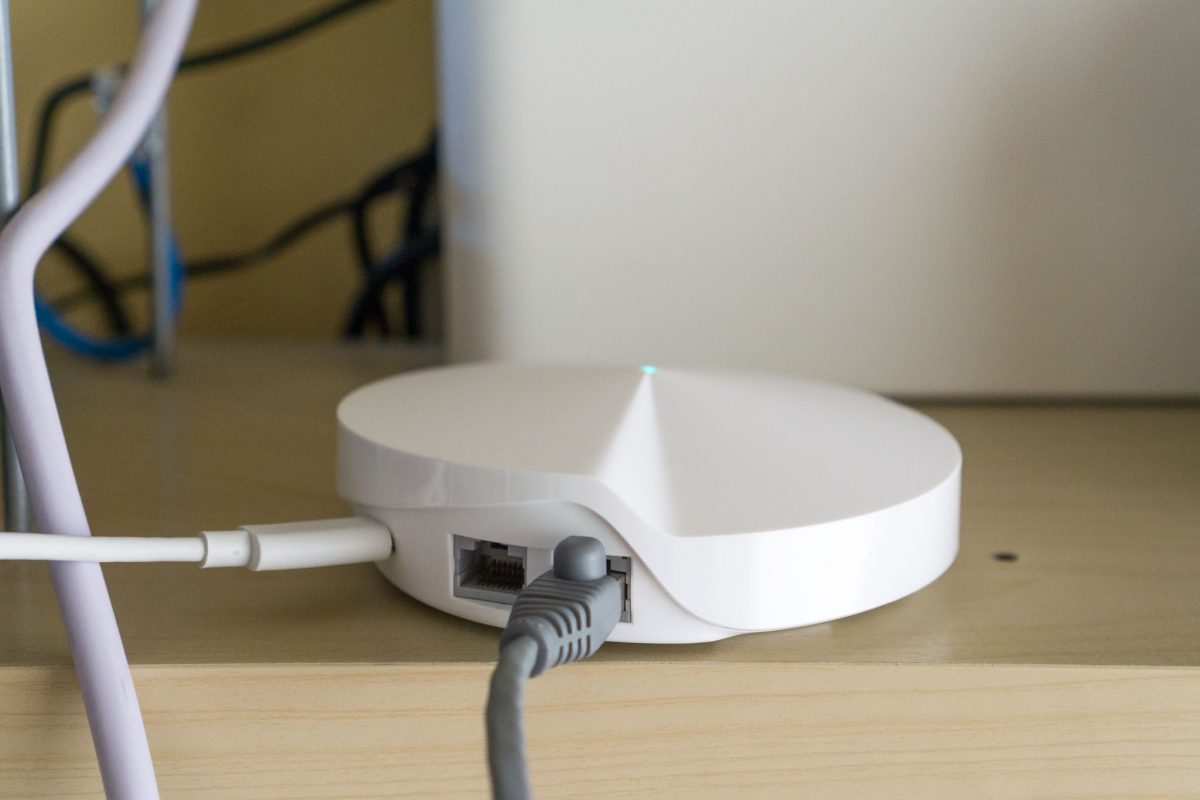 A single multi-coloured LED at the top of the Deco M5 provides status indication.
Setting up the Deco M5 requires the TP-Link Deco mobile app, available on both Android and iOS. The entire setup experience was pleasantly simple and straightforward.
The onscreen instructions are easy to follow along. The Deco M5 is cloud-connected, so you'll need to create a TP-Link account at the start, and subsequently you'll be able to manage your Deco M5 from anywhere on the Internet via the mobile app.
During the setup, the mobile app locates and communicates with the Deco M5 over Bluetooth. Unfortunately, this means you cannot simply connect a notebook with a RJ45 connection, or connect through a default Wi-Fi network, to perform the initial setup. This certainly has its pros and cons. Novice users will likely appreciate the simple Bluetooth setup, while tech savvy users may prefer the old-fashioned setup method via a web interface which is sadly missing in the Deco M5.
Indeed, from reading other reviewer reports of the Deco M5, the Bluetooth setup proved to be buggy and problematic in some cases. I had none of those problems though, and the setup was all good and plain sailing for me.
Once the first Deco M5 device has been setup, the subsequent units are simply added on using the TP-Link Deco mobile app, again via Bluetooth.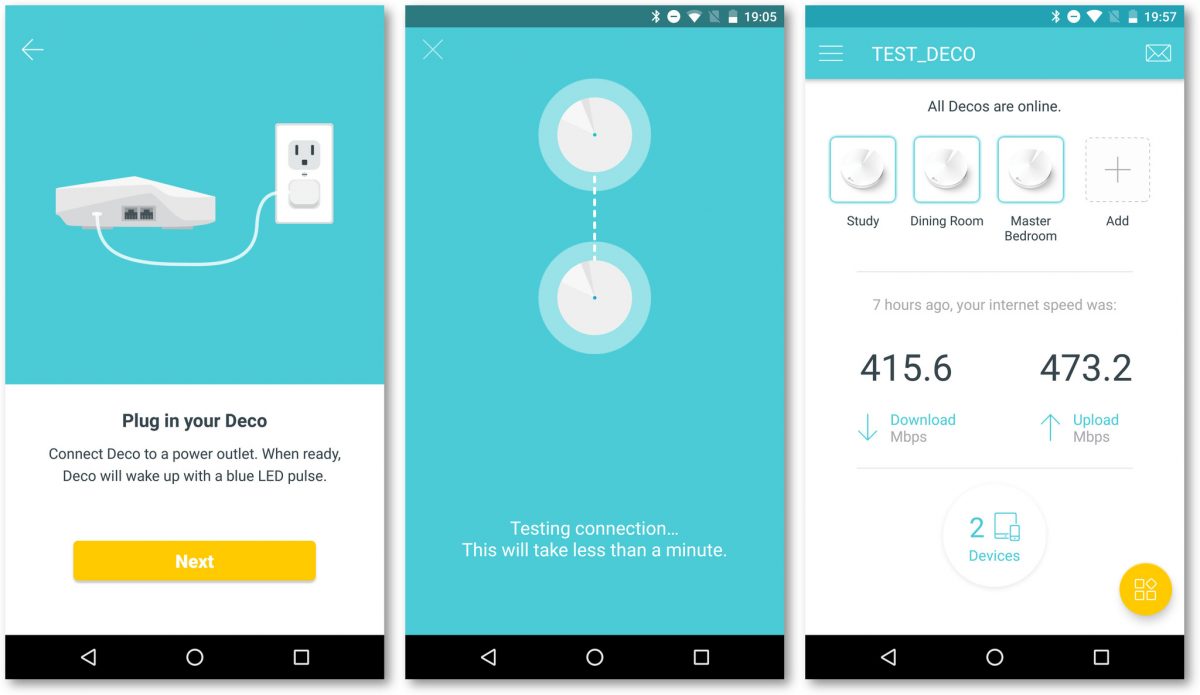 As a router, the TP-Link Deco M5 has all the basic features you'd expect from regular routers. You can configure port forwarding, DDNS, control the LED indicator, and reserve addresses. You can setup parental controls, QoS to optimise bandwidth, and there's malware protection powered by Trend Micro. The Deco M5 also supports IPv6, if that's something you look out for.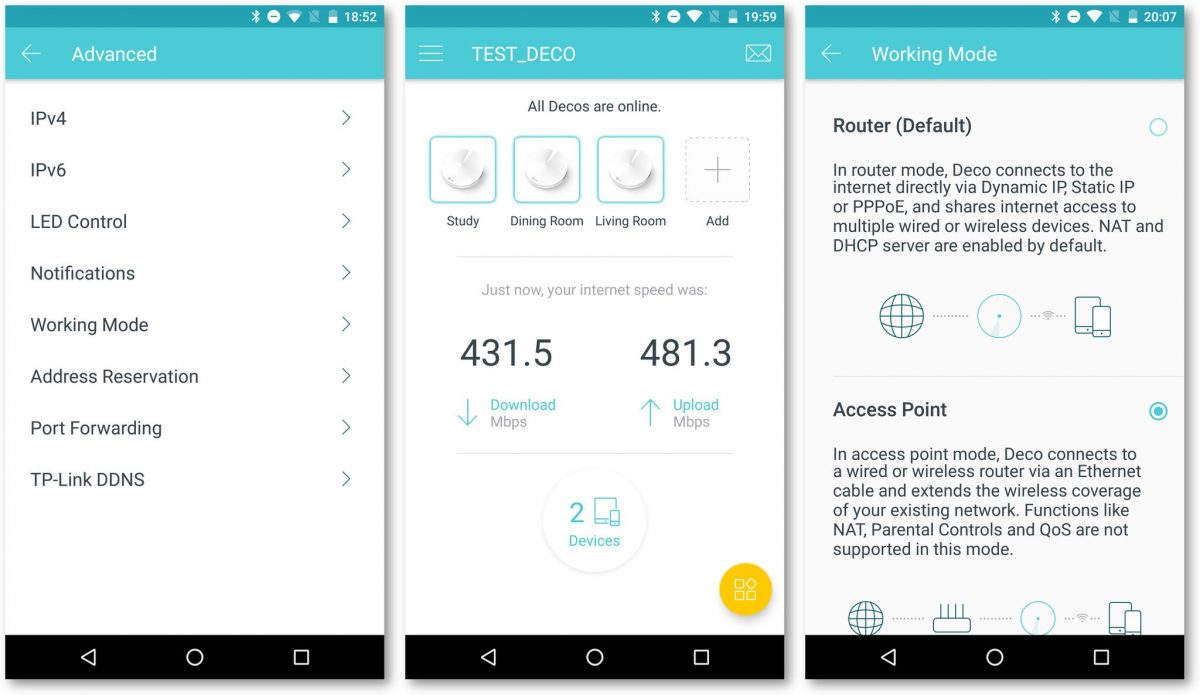 I'm happy to find that the TP-Link Deco M5 supports Access Point mode. While the default router mode will work for most users who intends to replace their existing broadband router with the Deco M5, the Access Point mode is useful when you want the Deco M5 to simply extend your existing home network. In this mode, the Deco M5 is simply connected to the LAN port of the existing broadband router. As you may notice from the above screenshot, some features are unavailable in Access Point mode, similar to other broadband routers when configured in Access Point mode.
I'll report on performance, including both speed and signal coverage, in a separate post, in a head-to-head comparison with an Aztech mesh router I also have on-hand.
Each TP-Link Deco M5 unit is powered by a quad-core processor, has four internal antennas, supports Bluetooth 4.2. and dual band 802.11 a/b/g/n/ac supports 400 Mbps on 2.4 GHz band and 867 Mbps on 5 GHz band.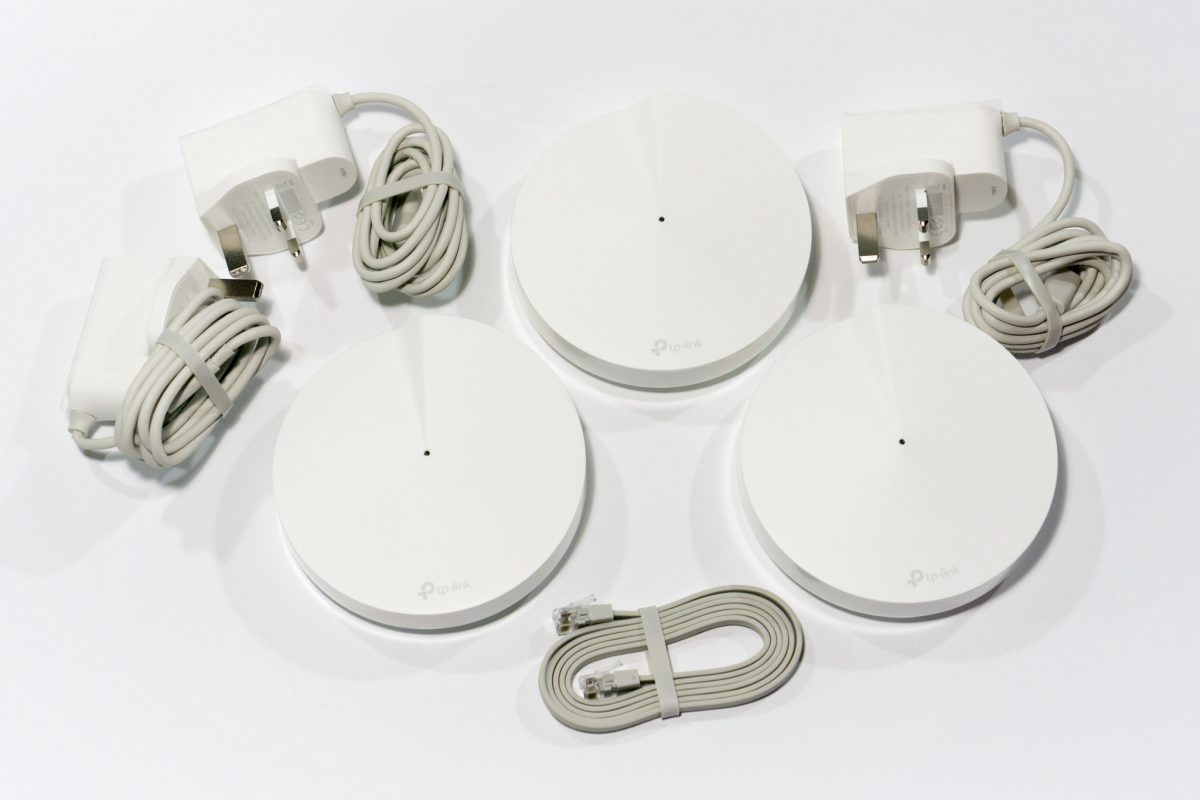 The TP-Link Deco M5 retails at S$459, for three units. The Deco M5 can mesh up to 10 units together. TP-Link will sell individual units in future, prices have not been announced at this time.
Conclusion
TP-Link's Deco M5 is a three-unit whole-home mesh Wi-Fi system that is very easy to setup and deploy.
Pros:
Good, unobtrusive design
Easy to setup and deploy
Optional wired backhaul
Cons: